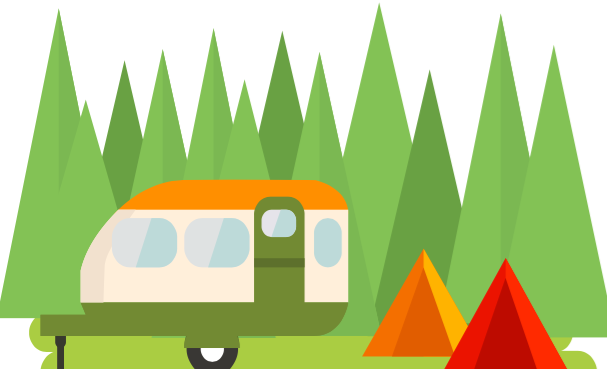 As students return home for summer and Big Rapids grows a lot quieter, there is one area that becomes significantly busier — campgrounds.
Big Rapids and the surrounding areas have more than a dozen unique campgrounds for those who want to pitch a tent or park a camper. Students staying in Big Rapids for the summer who want to enjoy the great outdoors don't even have to own their own camping equipment. The Student Recreation Centre (Rec) has equipment that they will rent to students, including tents, sleeping bags, hammocks and more.
With multiple campsites available for $20 or less and equipment rentals at the Rec ranging between $1 and $16, students have a lot of opportunities to camp this summer without breaking the bank.
Campsites
Paris Park
Location: 22090 Northland Dr., Paris
Distance from campus: 7.4 miles
Cost: $20 – $30
Campsites: 66
Haymarsh State Game Area Campground
Location: 20500 140th Ave., Big Rapids
Distance from campus: 8.5 miles
Cost: $13
Campsites: 19
Brower Park
Location: 23056 Polk Road, Stanwood
Distance from campus: 11 miles
Cost: $25 – $30
Campsites: 230
Bluegill Lake Family Camping Resort
Location: 15854 Pretty Lake Dr., Mecosta
Distance from campus: 15.7 miles
Cost: $26.50 – $42
Campsites: 99
School Section Lake Park Campground
Location: 9003 90th Ave., Mecosta
Distance from campus: 18.2 miles
Cost: $25 – $40
Campsites: 167
Sandy Beach County Park
Location: 6926 E. 30th St., White Cloud
Distance from campus: 23.6 miles
Cost: $16 – $36
Campsites: 225
Whispering Oaks Campground
Location: 8586 S. M-37, Baldwin
Distance from campus: 29.8 miles
Cost: $20 – $23
Campsites: 32
Necessary equipment
Almost everything you need to go camping can be rented at the Rec, but there are a few items they don't supply that you'll want to bring along. Some items, such as a cooler with ice, might not be completely necessary, but if you want to bring perishable food or keep your drinks cold, it's an important addition to your gear.
You'll also want to check ahead to see if your campsite has electricity or water. If it doesn't, you'll probably want to bring a portable charger for your cellphone and extra water for drinking and putting out your fire.
All rental prices listed are per day.
Rec rentals
Tent: $8 – $16
Sleeping bag: $4
Camping chair: $1
Hammock and straps: $3
Headlamp: $1
Other items to bring
Food and drinks
Lighter
Cooler with ice
Warm clothes
Flashlight
Bug spray
Sunblock
Extra water