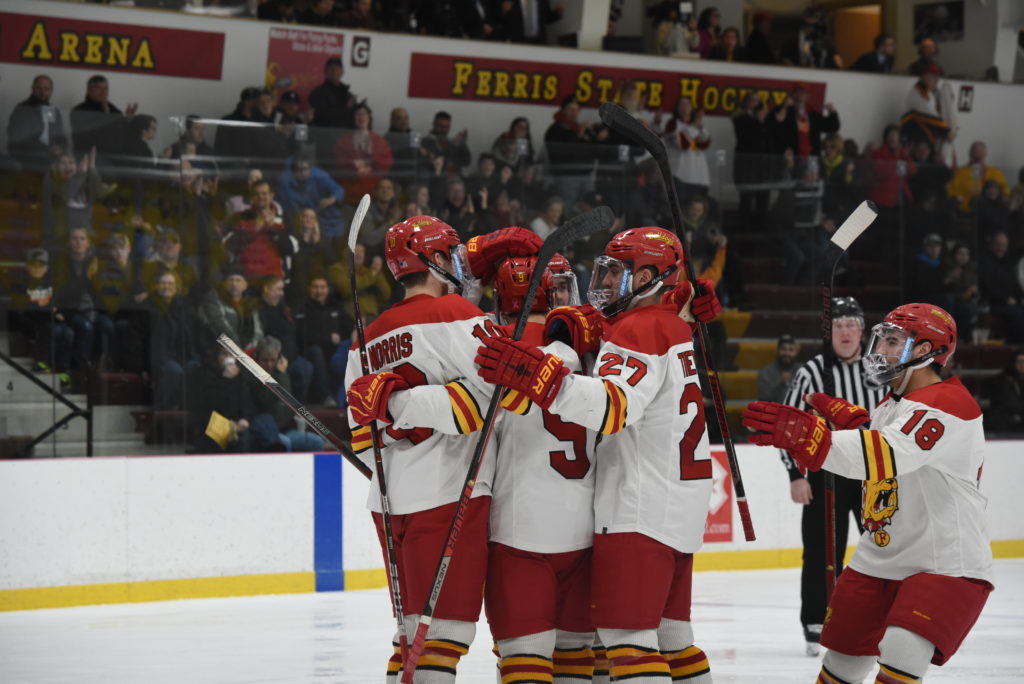 The rumors of league realignment became a reality this year for the Western Collegiate Hockey Association and the move could hold many benefits for Ferris' hockey program.
Ferris and six other college hockey teams announced Friday, June 28, that they will be leaving the WCHA in two years to explore new options.
The other teams leaving are Bemidji State University, Bowling Green State University, Lake Superior State University, Michigan Technological University, Minnesota State University, Mankato and Northern Michigan University. WCHA bylaws required a 25 month notice, according to spokesman Morris Kurtz, and by the 2021-22 season the teams will begin playing in a new league.
Ferris Athletics cited "improving regional alignment and the overall student-athlete experience" and building "a more compact geographic footprint" as reasons for leaving. The three WCHA teams not included in the group leaving are: University of Alabama-Huntsville (UAB), University of Alaska Anchorage (UAA) and University of Alaska Fairbanks (UAF).
"This is something that, just because you're for something doesn't mean you're against anything else," Kurtz said. "These seven institutions are for providing the best possible athletic and academic experience for student athletes and they feel following this course of action will allow them to achieve that goal."
Ferris president David Eisler was not available for comment and Ferris athletic director Perk Weisenburger declined to comment on the announcement. WCHA representatives also declined to make a comment besides commissioner Bill Robertson's official statement.
Cost, while not explicitly stated in Ferris Athletics' press release, is an implied factor in the decision and intention to create a more compact geographic footprint. Many teams make two separate trips to Alaska every season for conference play and the bus ride to Alabama is more than 10 hours one way, excluding stops or traffic.
This upcoming season, Ferris will make one long trip to Alaska to play UAF and UAA back-to-back weekends. The cheapest round trip ticket flying Delta from Chicago to Fairbanks departing Nov. 20 and returning Dec. 1 is $867.61 a ticket. With 28 players, coaches and staff members traveling, that sums a grand total of $24,293. The Torch was informed it is possible that Alaska subsidizes a portion of the cost of travel, but the amount was not disclosed.
This absence also means staff and students are away over thanksgiving and miss classes Monday through Wednesday and must pay for a hotel and food that entire week.
Trips to Alaska and Alabama also require leaving early Wednesday mornings, according to past travel itineraries. With the exception of Bemidji and Michigan Tech, all other travel to WCHA away games depart Thursday morning or afternoon. By no longer being in a league with the three aforementioned teams, three weeks are removed where players have to miss any Wednesday classes.
The WCHA statement called the news "disappointing" but said it would ensure any member schools leaving would follow league bylaws. Both UAB and UAF released statements claiming they had no prior knowledge of the seven teams leaving before, and UAF stated they were hopeful of benefits from the realignment in a public announcement.
"While the current configuration has had its advantages, UAF, the University of Alaska Anchorage and the University of Alabama-Huntsville have been financially disadvantaged in this conference, and a realignment may benefit all three universities in the long run," UAF announced. "While disappointed in our WCHA colleagues' decision to leave, we look forward to the chance that lies ahead for building new partnerships."
UAA head hockey coach Matt Curley said he was surprised and disappointed when he heard the news from a colleague. Curley said he loves the WCHA and the competition within the league, despite UAA consistently finishing at the bottom half of the league standings.
"I had a ton of respect for our league and league members. There's a lot of tradition there with old conference members, us included. Teams like Michigan Tech, ourselves and then the newest members like Ferris State and some of the other schools who have long, great hockey traditions and programs," Curley said. "So, yeah I was really happy, it's a great league, it certainly this year showed it with having two teams represented at the national tournament."
The UAA hockey program was hit with another blow shortly after the league announcement Friday when Alaska Governor Mike Dunleavy cut $130 million in state funding from the university, which is about 40% of the 2019-20 budget, according to Anchorage Daily News.
Curley claims the budget cut impacts more than just the hockey program and is a statewide issue.
With the UAA hockey program facing concerns about its future, Kurtz said the viability of their program and all hockey programs is a national issue.
"I think it's an important issue — the viability of all 60 Division I men's ice hockey programs. But I think it's a question that needs to be addressed by all 60 schools," Kurtz said. "Is it important to the college hockey community to have 60 viable programs? And I certainly hope it is — and if it is — that needs to be a national conversation that takes place amongst all those schools to how to best determine a path moving forward to make sure all are viable."
Despite the initial disappointment, Curley remains cautiously optimistic about the league realignment.
"Certainly, when one thing falls or falters, there's always other opportunities and doors that are opened and I expect the same for us here," Curley said.