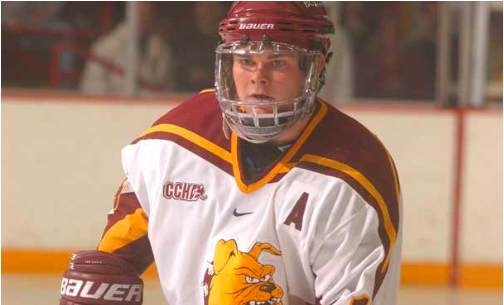 After a 15-year career with four different teams, four Stanley Cups, a gold medal, more than 1,000 games and more than 250 goals, Chris Kunitz has decided to hang up his skates for good.
After playing for the Anaheim Ducks, Pittsburgh Penguins, Tampa Bay Lightning and Chicago Blackhawks, the Ferris Alum played his last game for the Blackhawks back in April and announced his retirement Tuesday, July 30.
In his last season, the 39-year-old played in 56 games, scored 5 goals and 5 assists.
"It was such a great ride, jumping right into it and adapting to the level of the NHL," Kunitz said. "It was such a crazy up and down lifestyle and having the mindset of everyday working hard and getting better."
Kunitz experienced the highest of heights as an NHL player not once, not twice, not even three times. Four times he won a Stanley Cup, the first time in 2007 with Anaheim and three with the Pittsburgh in 2009, 2016 and 2017.
"It feels like you are just floating around the ice holding the cup and screaming," Kunitz said.
He still remembers looking at his dad in 2007 and seeing tears roll down his face.
"My dad was standing on the ice crying and so proud of me," Kunitz said. "He chased the cup his whole life, a good player but not at that level and he was the biggest hockey fan. He got to experience his son holding the Stanley Cup and he was so proud. And then in Nashville at my last championship, my son was standing on the ice watching his dad hold the cup up. It was a full circle moment for me."
Although Kunitz reached great heights in his career and will be remembered by most for his professional career, he was and will always be a Bulldog and credits his college career for many lessons that played a part in his success as a pro.
"The biggest thing that I took away from my four years at Ferris was learning how to buy into the family atmosphere and develop my role and leadership as the years went by," Kunitz said. "Each year you buy into your role and grow closer as a group."
Though retired from professional gameplay, the Blackhawks couldn't let him go quite yet. His next role will be as the new Player Development Adviser, as well as aiding the Blackhawks' American Hockey League affiliate, the Rockford IceHogs.
Kunitz said an advising role fits perfectly with his situation because of this past season. He was an experienced player and took the role of being a mentor to the younger guys.
"I wasn't playing as much, but I still felt value in the locker room talking with the guys about hockey and life," Kunitz said of his last season.
Through all the victories and losses a 15-year career brings, having his family with him was the best part.
"All of it was a great journey, and early on my wife and I enjoyed moving around to different cities, meeting different teammates and becoming good friends with people," Kunitz said. "Experiencing it as a family was the best part of it. My kids got to see what their dad did."
The most exciting part about this transition for Kunitz is being able to spend more time with his family. Over the years he has missed birthdays and quality time with his wife and son, and he claims he is ready for the more flexible time he will have with his new position.
So after his start in Juniors in the Saskatchewan Junior Hockey League, to four years with the Ferris Bulldogs to 15 successful years in the NHL, Chris Kunitz may be off the ice, but is not leaving the game just yet.