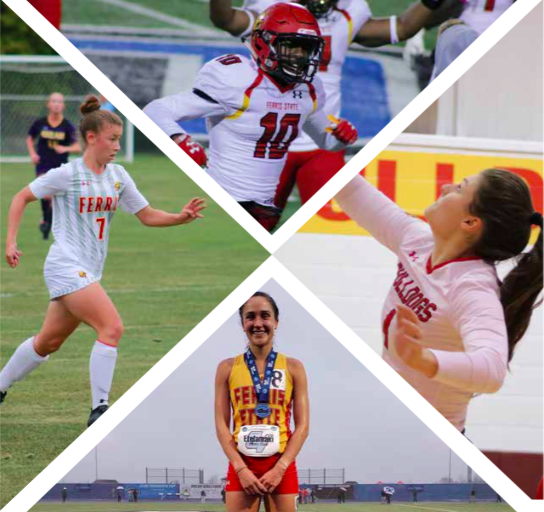 There is always excitement and buzz around campus as everyone moves back up to school, freshmen move into the dorms and classes start. However, the excitement and buzz has increased exponentially because of last year's fall sports success and the expectations that have been put upon them.
I'd rather not say that the pressure is on, however, people are expecting a lot of the same trends as last year. Football is coming off a national championship appearance last season, volleyball won both the Great Lakes Intercollegiate Athletic Conference (GLIAC) regular season and conference tournament for the fifth straight year and soccer is coming off its best year in school history.
So what will this year hold? Only time will tell, but I have a few predictions for this fall.
Football takes home the national title
Our football team started camp on Monday, Aug. 12, with only one thing on their minds and one mission to complete: a national championship. They know what it takes to get there and are hungry to make it back and change the outcome from last year. They have already been pegged to win the GLIAC again after their 15-1 season last year.
They have also been ranked No. 1 in the nation in two different Division II computer polls entering the 2019 season and are officially ranked No. 2. They are returning key players such as senior defensive end Austin Edwards, senior slot receiver Jevon Shaw, junior linebacker Sam Heyboer and most importantly last year's Harlon Hill Trophy winner, senior quarterback Jayru Campbell. However, Campbell's return date to playing remains undetermined after his surgery for an offseason elbow injury.
They lead all NCAA Division teams in Michigan for most wins since 2012 and have the best record (60-7) in all of Division II in the last five years. My prediction is that Campbell will return and win his second Harlon Hill Trophy and the Bulldogs make it back to the National Championship Game. But this time, they bring the trophy back to Big Rapids.
Volleyball to the Elite 8
Moving on to volleyball, they are also expected to have another dominating year. I am not exaggerating when I say dominating year. The last five years, the Bulldogs have taken the GLIAC by storm. They have an overall record of 79-6 in regular season play, which has led to five straight regular season titles. They have also won the last five GLIAC Conference Tournaments which has given them automatic bids to the NCAA Tournament.
The defending GLIAC Champs were picked to win the conference again in a preseason poll. They are returning a veteran group with senior setter Maeve Grimes, middle hitters in sophomore Sam Herman and senior Mekayla Carey and outside hitters junior Katie O'Connel, senior Courtney Brewer and All-American senior Allyson Cappel. I think this veteran group is ready to move on to the next step and make some noise in the post season.
I predict that they win their sixth straight regular season title and also win their sixth straight GLIAC Conference Tournament. However, this year they will make it past Regionals and make it to the quarter finals and be one of the last eight teams standing. When you get to that point, anything can happen.
Women's soccer to make another NCAA tournament appearance
Next, we have the women's soccer team coming off their best season in school history. After having a record of 17-4- 1 and making it to the Sweet 16 in their first national tournament appearance, the Bulldogs have been ranked No. 12 in the nation by the United Soccer Coaches Preseason Rankings for the first time in school history.
They also have been ranked No. 2 in the 2019 GLIAC Preseason Poll. Although their coaching staff resigned from last year, they brought in an experienced head coach Greg Henson who has an impressive track record. Before becoming the Head Coach at Ferris he was the Head Coach at Concordia with an overall record of 82-38-16 along with three conference titles, two NAIA Tourney berths, and was named the 2017 coach of the year. I would say that this team is in good hands.
With an experienced roster that has been battle tested and fought through the wars of the GLIAC, I predict they finish second in the GLIAC. They'll make it to the conference tournament championship and get into the national tournament for the second straight year.
Etelamaki will make another run at Nationals
Moving on to Men and Women's Cross Country, both should be very good. Even though the Men's Team lost Damien Halverson, who competed in the Nation- al Championship, they are returning a strong core of runners including seniors Ethan Israels and Gage Cleveland and junior Dylan Hearns. I am predicting they compete at a very high level and make some noise in the GLIAC.
The Women's Team is looking for another strong year as they return their All-American Katie Etelamaki for one more season. She finished 16th overall in the women's 6K at the National Championships last season. Along with her teammates I think that the women's team will have a very successful year and Katie Etelamaki will go back and compete in the national championship.