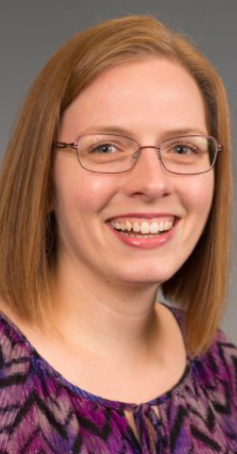 It wasn't long ago that Ferris professor Sarah Pelton was a student at Ferris taking classes taught by people who are now her colleagues.
Job shadowing as a high school senior, the first time Pelton set foot in a hospital laboratory she was set on pursuing a career in medical laboratory science. Looking to receive her secondary education away from home, she left Mount Clemens, and began studying at Ferris in 2000. In 2004 she graduated with a degree in medical technology (now rebranded as clinical laboratory science) and was offered a job at the University of Michigan hospital, where she had interned as a student.
"I started off in one section and then moved to blood bank which is what I always wanted to do. I worked in that lab for about five years — all shifts. I started on midnight, then second and then finally made it to day shift. Then left because I wanted to do more specialized testing. In the lab there is routine testing, every- day you're doing it, and then there is stuff that is more specialized that you don't do as frequently and takes a little more knowledge and thought processes and problem solving," Pelton said.
Pelton's drive for problem solving transcends her professional career and is a major part of her personal life. Jigsaw puzzles, some as many as 13,000 pieces, ll her free time, along with Sudoku and other puzzle games. On her desk sits a 3D model of the puzzle game Tetris, which she describes as the greatest game ever made.
This search for more specialized and difficult work lead Pelton to get her specialist certification in Washington, D.C., at the National Institute of Health. That certification helped her land her teaching job at Ferris, during which she earned her master's degree in clinical lab management.
During her time at Ferris, Ferris clinical laboratory science professor Dan deRegnier was one of Pelton's regular professors and later on was the one who contacted her about applying for a teaching position in the program. Pelton, now in her late 30s and 15 years removed from being deRegnier's student, described the transition from having deRegnier as a professor to working with him as a colleague as a strange adjustment.
"For the first bit of time it was 'weird' sort of seeing the other side of things and interacting with him on a different level. I'm not going to lie, it was weird. At the same time, it helped because I knew him and his personality so it made it more comfortable but also more nervous because I was afraid he'd look at me as the same person I was as a student in 2004 and I've definitely changed. It was a learning curve for me, maybe not for him though because previous people that have taught her have been students so he already had that experience but it was a little odd being a colleague instead of 'Oh, you're Dan, I'm afraid of you and you intimidate me' to 'Wait no, you're actually a really great guy to work with."
DeRegnier said he remembered Pelton as a great student, which is why she was contacted about the job. However, he never looked at Pelton as a former student when she began teaching, but rather as someone with real world experience that made her a perfect addition to the program faculty.
"I've seen great improvements in our curriculum because of Sarah, because of who she is, she can see a problem and look at multiple ways to solve that problem. She's very methodical in that she's got a lot of great ideas and I think a lot of those come from the fact that she's young and it hasn't been that long since she was working professionally. She knows what the students are going to be seeing on internship and eventually beyond internship," deRegnier said. "I don't know if it's because she's closer in age but she has a really good rapport with the students."
Pelton's professional experience is especially useful to a program like clinical laboratory science, which has a fully functioning lab atmosphere where students are immersed in a realistic workplace atmosphere.
"My experience de nitely gives me a lot of stories to tell that if you weren't working, you wouldn't believe these things actually happen. A lot of weird things have definitely happened to me over time and I kind of think about this as training new employees. So not only teaching 'OK, so here are the steps of the procedure' but also being able to add in tricks and tips that I've picked up from working over the years."
Pelton's ability to connect with students along with the professional experience she brings from the lab to the classroom has proved to be beneficial for students as they learn about the professional applications of their classroom learning.
"She'll talk in lecture about her experience in blood banking and what it was like and the different patient circumstances and it really ties in well when she's like 'I really had to do this,'" Ferris clinical laboratory science senior Kathleen Gray said. "I definitely think her being young helps. She relates to us and what we're experiencing and of course because she's a younger professor, she has been in our shoes more recently than other professors and remembers what it's like being a student and she just connects with us well. She makes us laugh and brings out jokes, she says she's mean but she's really not. It just shows how much more connection she can bring to us because she's younger and has been through this program."