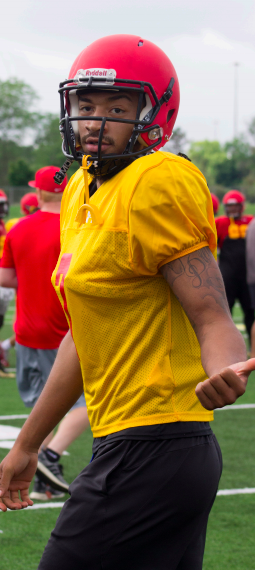 Last year's Harlon Hill Trophy winner Jayru Campbell will not be starting in Ferris' home opener against Findlay and may not even start their second game, according to head coach Tony Annese.
After surgery this offseason on his non-throwing arm, the senior quarterback sitting the bench on Thursday, Sept. 5, is a precautionary move. Campbell's been cleared for full contact for a while now, but the coaching staff isn't taking any chances with the high expectations of returning to the national championship this season.
Campbell is in Annese's ear, though, itching to get back on the field. But he claims he trusts Annese's decisions in regard to how much he plays.
"I know Coach Annese is the type of guy, he wants to do what's best for you and what's best for the team, so we've had our conversations about getting reps and just how practice goes and things like that but I'm definitely in his ear, though," Campbell said.
Campbell's original elbow injury happened when he was in eighth grade attempting to dunk a basketball and he fell on his hand first. He said he immediately knew something was wrong.
"I wanted to go to the hospital but…my dad, he was a hard parent as far as toughing it out and stuff like that, you know, I just had to deal with it. I think I went to practice maybe two days later, even though I was complaining about it," Campbell said. "Eventually I learned how to deal with it. The first couple days it obviously was hurting way worse than the rest of the years but I learned how to deal with it. I remember even doing curls with a dumbbell and just was struggling and I knew it didn't feel right."
After playing with a bad elbow for nearly a decade and having it reinjured at the end of last season, Campbell finally had surgery this offseason and said he can already feel the difference.
"I definitely can tell the difference, doing pull-ups, doing push-ups," Campbell said. "I can tell the difference in my structure and I'm just looking forward to seeing how it'll help me out and I'm looking forward to using it, kind of like a kid getting a toy, almost."
The Bulldogs are in more than capable hands, however, with senior quarterback Travis Russell starting and a possible appearance by junior quarterback Evan Cummins. Russell started without missing a beat against Northwest Missouri State in the second round of the playoffs last season when Campbell was out due to his injury. Annese doesn't even consider Russell a backup at this point.
"You can't even call him a backup, he's legitimately a great player," Annese said. "He's been extraordinary for us, really from the beginning, so it's incredible to have not only such a great player, but such a high character leader and someone who drives the team every day."
Russell graduated in May and had the opportunity to be a graduate transfer and play somewhere else, but he said there's no one he'd rather play with than his team.
"My number one mission is to do whatever I have to do to help our team win. If they need me to block, I'll block. If they need me to start, I'll start. If they need me to sweep the floors, I'll sweep the floors. I love the guys on this team and that's the main reason I decided to come back is because I'm here to serve them and do whatever I can to help us win," Russell said. "There's no one else I'd rather play with when I strap up my helmet on Saturdays. These are the guys I want next to me."
Don't be surprised to see appearances from Cummins, either. At six foot three inches and 230 pounds, Cummins is a very physical runner according to Annese.
"I love Evan Cummins so…his skills are as good as anybody's. His arm's live, his running ability is live, last year he scored two touchdowns in the playoffs," Annese said. "He just came on, came on, came on and so I've gotta use him, I've gotta use him as an athlete. He brings something different than what Jayru and Travis bring, so I gotta roll with him some. It'll be interesting how we can transition from maybe playto-play or possession-to-possession or however we're going to do it but he's gonna be in there for sure."
Whether or not Cummins and Russell go in to take more runs, Annese made it clear that play calling will adjust to be a little more cautious with how many runs Campbell takes throughout the season.
"We — as everybody knows — we've led the nation with quarterback rush yards each of the last seven years," Annese said. "We've got a huge dual-threat quarterback situation to the degree that we sometimes put our quarterbacks' bodies in peril a little bit. We're gonna be more careful."
However, Campbell's mindset isn't changing much and he said the injury from last year and his rehab won't affect his decision making on the field.
"(In) football, you can't be out there second guessing yourself and overthinking," Campbell said. "You just gotta go off reactions and just roll with the punches. You can't be out there second guessing and I'm definitely not trying to do that."