Ferris football fought tooth and nail to edge out the Findlay Oilers 24-23 in the home opener at Top Taggart Field Thursday night.
The Bulldogs, nationally ranked at No. 2, led by a touchdown with just under 12 minutes left in the game. But Findlay battled their way down the field from their own five yard line and scored with 51 seconds left. The Oilers went for the two-point conversion and the win, but ultimately came up short.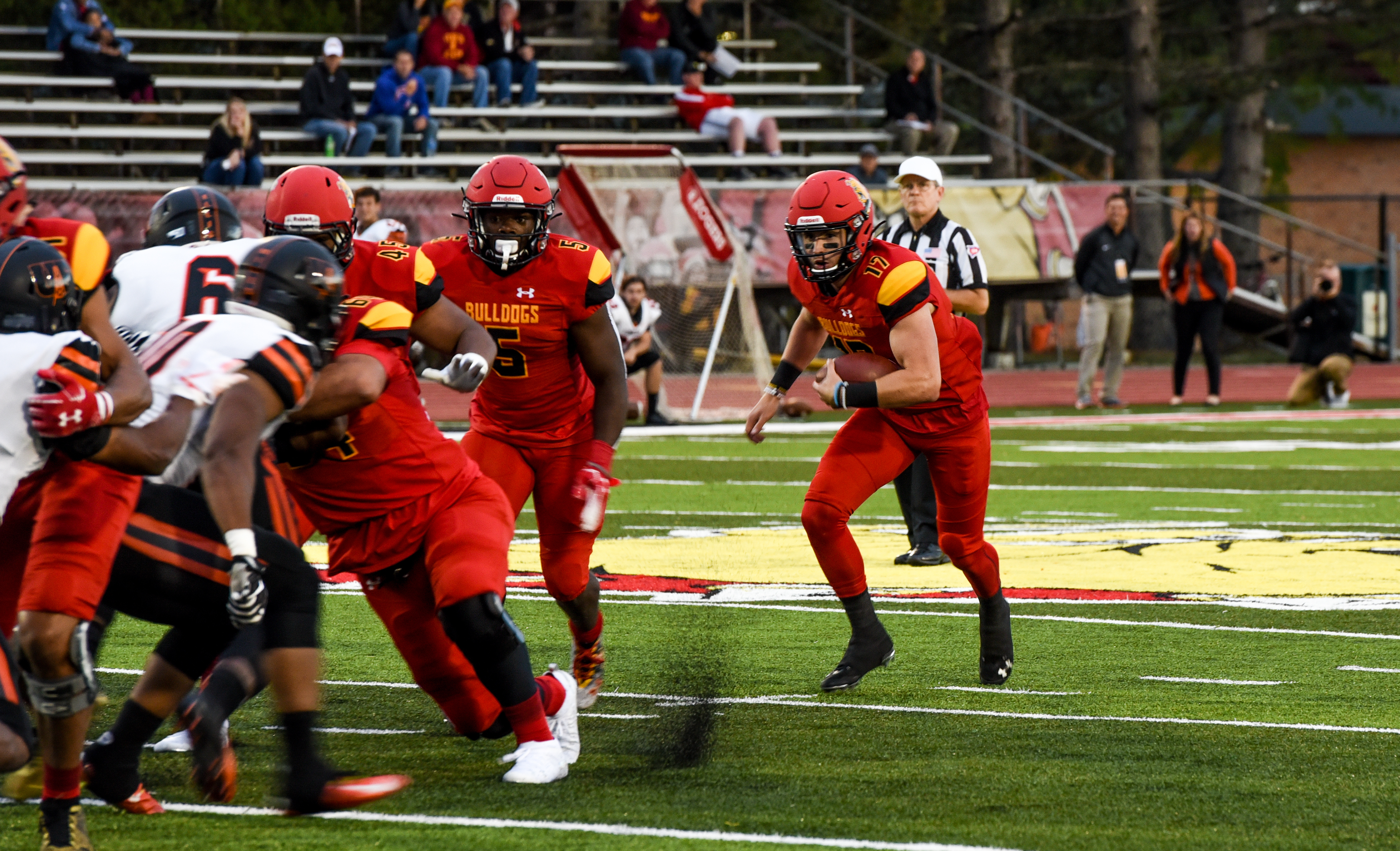 Ferris head coach Tony Annese said Ferris' 13 penalties to Findlay's two on the night was a "tough pill to swallow" and the team needed to clean some things up. Three of Ferris' penalties came from pass interference calls on Findlay's final drive that put the Oilers two yards from the goal line with a minute left in the game.
"When they first lined up, coach was screaming at us to get guys manned up and stuff and we knew they were gonna do something funky," Ferris junior lineback Sam Heyboer said of the two-point attempt. "It eventually worked out, but there was a little lack of communication as far as defensively scheming for that."
Heyboer, who had 10 tackles on the night, said the defense needed to get back to their game after allowing 244 rushing yards.
"Definitely some frustration and definitely something we need to work on is eliminating penalties," Heyboer said. "We haven't had a team run on us for 244 yards in a long time and the [run-pass option] game, they had a good RPO game and we were kind of struggling with that, too. It was our first game and we knew they were going to be a good test as far as rushing the ball and RPO's but we know what we've got to do better now."
Despite the struggles on both sides of the ball, Annese was pleased with the win. He said they didn't have much intel on the Oilers' offense going into the game with several transfers on offense, including Findlay's junior quarterback Matt Winzeler and a few receivers.
"We're spoiled as heck around here, people are acting like we lost," Annese said. "That is one huge win against one great football team. That's as good a football team as we've played in a long time. So all in all, I give a lot of credit to Findlay and I told my team in the huddle, 'That's a huge win for us.'"
Findlay started off the scoring with a touchdown on their first possession, but the Bulldogs answered quickly on their first offensive play of the night. Senior quarterback Travis Russell found a wide open Sy Barnett and the sophomore wide receiver ran it in to the end zone for a 59-yard touchdown.
The next two quarters saw back and forth scoring and left the game tied up at 17 at the end of the third. The teams remained in a stalemate until Ferris senior slot receiver Davontae Harrington ran the ball in the fourth quarter to put Ferris on top, 24-17.
After averaging just over 491 total yards of offense per game last season, the Bulldogs were held to 405 total yards Thursday, with only 192 yards
in the first half. Russell started the game and had his shining moments, but they were broken up by two significant turnovers. He had a passing and rushing touchdown, but gave up an interception and fumble nearly back-to-back midway through the game.
Annese was happy with Russell's performance. He considered it "solid for [the] first game," but said the turnovers hurt the offense.
"When we completed passes, they were big, but the two turnovers really hurt us," Annese said. "We went aggressive after we got the turnover and Avonte recovered the fumble and then we threw a pick right after that. So it wasn't a perfectly clean game but there's some things that I'm very optimistic about, I felt out fight and passion and those kind of things were there. People don't expect me to be optimistic in certain circumstances but I felt optimistic about moving forward and I felt great about winning that game."
Russell led the team in rushing yards with 61 and completed 15 of 24 passes for 228 yards. Sophomore quarterback Evan Cummins rotated in throughout the game to take some runs and had the longest rushing play of the night with a 43-yard run. Cummins only saw the field on a handful of plays because the Oilers were forcing the pass the majority of the night, according to Annese.
"Evan's probably going to be more of our quarterback run guy and they loaded the box and forced us to throw the ball," Annese said. "So we felt like Travis is more of the accomplished, not so much a better passer, but accomplished knowing our system, passing game wise. So we rolled with Travis in that situation more than Evan."
Annese said he hopes senior quarterback Jayru Campbell will play next week in their matchup at Central Washington University on Saturday, Sept. 14. Russell will still be starting again, but that doesn't mean Campbell won't see the field, according to Annese.