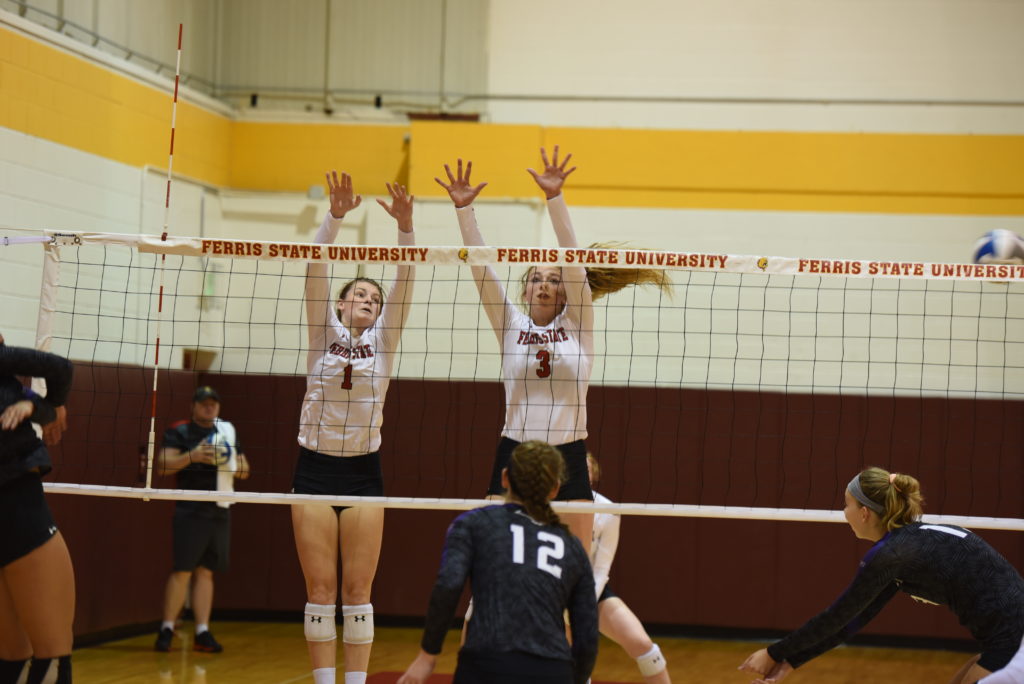 The Ferris Women's Volleyball team is off and running for their 2019 season.
The Bulldogs defeated Ohio Dominican on Thursday night and put McKendree University away in four sets on Friday in the annual Ferris State Invitational Tournament.
They looked to be in mid-season form as they swept Ohio Dominican 25-13, 25-19 and 25-12.
The Bulldogs were firing on all cylinders; their defense was nearly perfect and good defense leads to easy offense. The Bulldogs held their opponent to extremely low offensive stats: .043 hitting percentage, with only 17 kills and 14 assists. The Bulldogs wrote a different story on the opposing end; they racked in 41 kills, 39 assists, 52 digs and six blocks. They nailed a hitting percentage of .273 with eight aces.
On Friday, however, the team was tested early and often against McKendree's Bearcats. But the Bulldogs tackled many obstacles to ultimately prevail.
All four sets were neck and neck, with McKendree taking the first 26-24 and Ferris winning the last three 25-16, 25-21 and 25-21.
After losing that first set the Bulldogs had to emerge with a statement in the second. They had a large lead 18-11 at the longest volley of the game. A rocket kill from Katie O'Connell put the Bulldogs up 19-11 to win the set. It looked like the turning point in the match.
"Always important to win the rally and win every game," Ferris head coach Tia Brandel-Wilhelm said. "We try not to focus that we lost that first set and move on to the next ball and the next set."
As they moved to the third set, some similar trends from the first set emerged — great defense and all the bounces going McKendree's way. The Bulldogs were down early 10-3 when everything changed.
"We battle like that every day in practice, so it's nice to see that come out. Morgan Ross came off the bench, went in and made some key plays for us. Lauren Helson had a couple digs that gave us the opportunity to battle back and tie that up," Brandel-Wilhelm said.
Even though the Bulldogs faced some early struggles, they still found their groove to play their game. The Bulldogs lead the game with 62 kills, 61 assists and four aces. They hit a percentage of .326 while holding the 'Cats to .248.
Some key Ferris players made big plays in big time moments. Three Bulldogs had more than 10 kills. Katie O'Connell stepped up both nights with 12 kills each game. Courtney Brewer dominated at the net with 10 kills on Thursday and 13 kills friday. Allyson Cappel led the team high with 15 kills and she seemed to find her game in the second set Friday and never looked back.
"I think just going back to basic skills and looking to my team. We had a lot of people off the bench that did a really good job and helped us out. I thought as a team we just brought each other back," Cappel said.
Once again Ferris senior Maeve Grimes had more assists than the entire combined opponent with 54. Lauren Helson's game-high 17 digs contributed another solid night. The Bulldogs were working together and trusting each other on the floor.
"It's really fun. Once we get in a groove we play as a team and as a unit and it's the best feeling ever," Cappel said. "We're all on the same page and it's the best feeling in the world."
The Bulldogs have put themselves in a great spot to start the season by winning two big regional games. They look to stay unbeaten as they compete in a double header with a 3-2 win against
Gannon University (Penn.) 10 a.m., and an upcoming 6 p.m. match against Seton Hill University (Greensburg, Penn.) Saturday, Sept. 14.