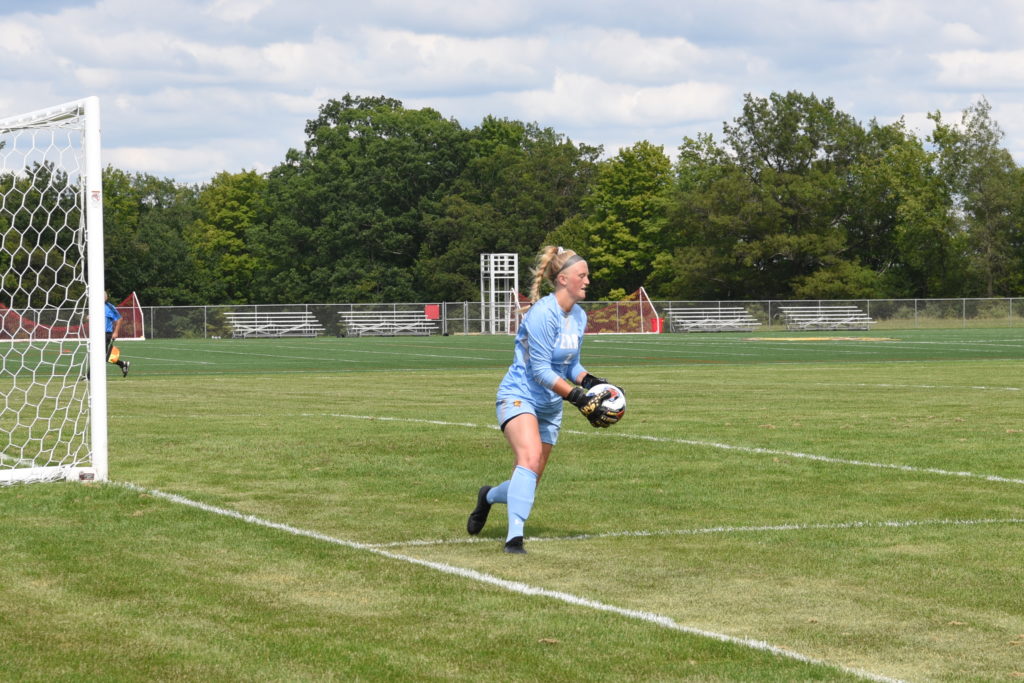 Position battles are heating up as a new season begins for Ferris women's soccer and none seem more intriguing than the goalkeepers.
Former head coach Andy McCaslin must have heavily valued the position, seeing as he left head coach Greg Henson with five options on the roster.
Depth at any position is nice, but five players at one position seems like a bit of overkill, and I'm sure the rest of the Great Lakes Intercollegiate Athletic Conference (GLIAC) agrees. In fact, out of the 10 teams in the GLIAC that have a women's soccer program, Ferris is the only school with more than four goalkeepers.
"Competition breeds success," Henson said. "It's good for us because we can utilize them in many different ways in training and having that type of quality at that position allows us to compete not only game-to-game but also practice-to-practice."
The Bulldogs used only three of the five goalkeepers on the roster in 2018, as now-seniors Alison Chesterfield and Grace Kraft shared most of the workload with now sophomore Taryn Meiste making scattered appearances. Chesterfield was the unquestioned leader last season, starting 12 times in 13 games played and compiling 76 saves, a .866 save percentage and five shutouts.
Last season was the first Chesterfield really saw much time on the field, though, only starting three games as a sophomore and two as a freshman.
Kraft is not easily counted out of the competition, either. As a freshman, Kraft started 13 of 14 games played, collected nine shutouts the 2016 season and had a save percentage of .890. Her sophomore year she started 13 games, but went 6-7 on the season, despite having 71 saves and an .835 save percentage.
Henson is in no rush to name an established starter at the goalkeeper position however. Winning appears to be priority whether that means all five goalkeepers share time in the net or not.
"We're still taking a look at what we have," Henson said. "No job has been won or lost at this point. We're going to look at the opportunities we have and the roster as a whole. Whether it's field players or goalkeepers, we're going to roll with who gives us the best chance to win."
Despite what Henson says, one player will undoubtedly see more time than the rest, and if I had to guess, that will be Chesterfield once again. No other goalkeeper for the Bulldogs managed to come near to the 10-2 record that Chesterfield posted last season. Meiste showed ashes of greatness, going 4-0-1 in five starts and it will likely earn her a spot as a rotational player this season. The experience and leadership that Chesterfield and Kraft bring to the team will give them an edge in the race for starting goalkeeper, but who gets the nod all remains to be seen. After a scrimmage with Adrian college Sunday, Aug. 25, and an exhibition match with the University of Findlay Saturday, Aug. 31, the Bulldogs are now ready to kick-off their regular season.
Henson's squad will start their season at home as the Truman State University Bulldogs (Missouri) come to town 4 p.m. Friday, Sept. 6.