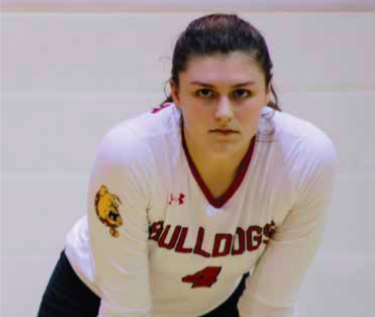 As the women's volleyball team prepares for their season, exhibition games are an opportunity to find their weaknesses and areas that need work.
They kicked off their exhibition play in Big Rapids against Central Michigan on Saturday, Aug. 24. Although they did not get the results they were looking for, they learned some valuable lessons about themselves.
"We learned a lot in the exhibition match against Central," Ferris senior outside hitter Courtney Brewer said. "We love playing teams like them because they show us what areas we need to get better in, in order to win when the games really count. Although it didn't end how we wanted, it made us motivated to work even harder at practice." The Bulldogs bring back a solid core of veterans and upperclassmen. However, they also have brought in six freshman and are forming a new culture and chemistry.
"Preseason has gone a bit different this year since we have only had one week of two-a-days," Brewer said. "I think that the freshman are doing amazing seeing as how this is their first time away from home, adjusting to Ferris, a new team, and even a new assistant coach. Everyone on the team has been adapting really well."
A key to their success and a key to any team's success is how they will be able to build that culture and chemistry. Along with the freshmen and the rest of the team adjusting, there also have been a few standouts.
"As far as players that stand out are some regulars, Allyson Cappel. She's a big weapon for us as well as Courtney Brewer and Katie O'Connell," Ferris senior setter Maeve Grimes said. "We also have Lauren Helsen who is stepping into a big role this year. She was originally a setter and is now one of our liberos. Samantha Herman is also a player who has worked really hard in the off season and has consistently performed well in our preseason and that's so exciting to watch every day."