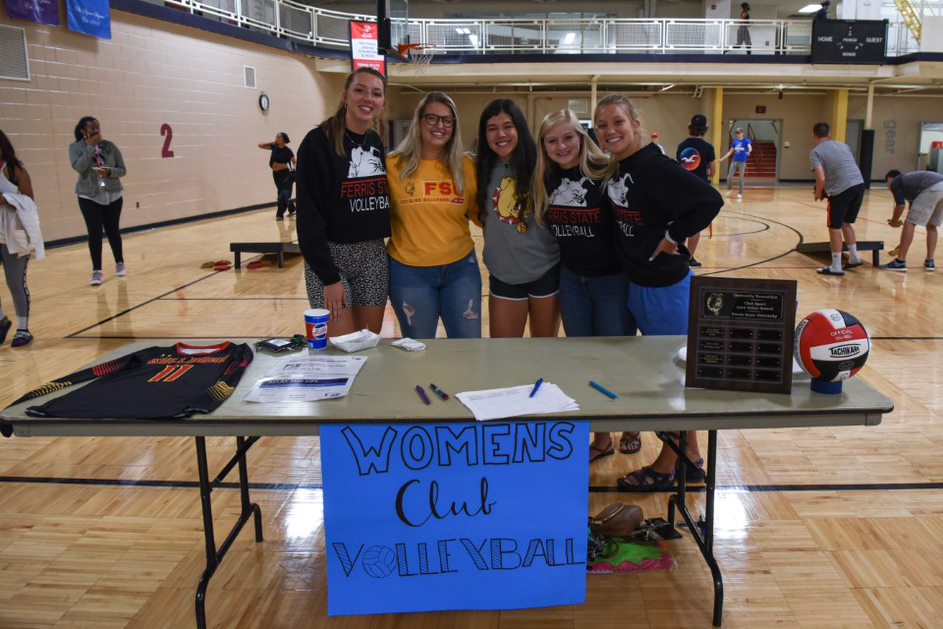 This year's annual Rec Fest was held on Monday, Aug. 26 in the Student Rec Centre.
With free food and games everywhere, students were exposed to the different intramural and club teams.
According to the Ferris intramural and club sports website, intramural sports are leagues that generally last four weeks with one game per week and a tournament at the end of the four- week season. On the contrary, club sports are university-recognized student organizations that are student-run and student-funded. Typically, the clubs are year-round and compete in intercollegiate competitions on local, regional and national scales.
With 31 clubs that vary from club fishing to baja racing, Ferris nearly has it all.
But for those who are interested in a sport that isn't offered, the process of making your own club isn't too difficult.
"They must gather five students – including themselves – and an advisor that is also interested in the same club sports, submit an application and ll out the necessary paperwork to the Center for Leadership, Activities, and Career Services (CLACS), then they must present in front of Student Leadership and Activities Advisory Council Committee. If approved, you will receive a letter of confirmation, a Bulldog Connect profile and a mentor. If your RSO is not approved, a CLACS rep will instruct you on how you may be able to reapply," Ferris biology and medical laboratory technology senior and Club Sports Vice President Baylee Edwards said.
Edwards said club sports are a great way to get involved on campus.
"Some of the perks for students can vary from meeting new friends, staying active and playing the sport that a student may love to play, or could learn a new one," Edwards said. "They can be involved in the community through volunteer events, and a way to be competitive and release built up stress."
For those who aren't interested in a club sports, intramurals are always an option.
Ferris pharmacy senior and Intramural Supervisor Veronica Mills said any student can participate in an intramural regardless of skill level.
"Intramurals are perfect for students that want to be involved with a sport but do not want to commit to a lot of time or money, because intramurals are only about an hour a week and only about $16 per sport." Mills said.
Ferris criminal justice junior James Stacks is a member of the Club Rugby team and encourages other students to join club sports, as well.
"You get to meet a lot more people, you get to travel a lot and you meet a lot more people outside of Big Rapids, which is really nice because this town isn't always the funnest," Stacks said. "It's not fun to sit around the dorm at all times. You've got to go out and experience college."
To get involved with a club or intramural sports, students can look out for club tryouts or sign up for an intramural online through MyFSU and get friends to make a team, or you can sign up as a free agent and teams that need players can select students for their team.