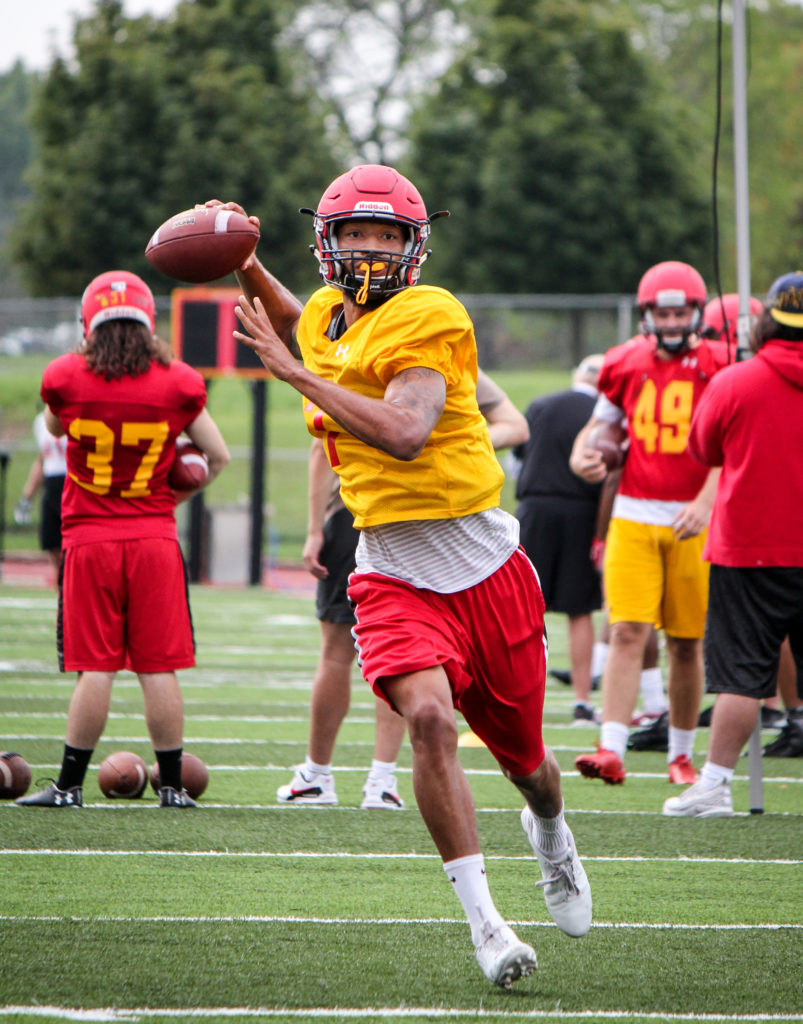 Top Taggart field was quiet Tuesday evening after a full day of practices, except for two lone figures. Senior quarterback Jayru Campbell's six-foot-five figure could be seen throwing balls downfield to a teammate, doing whatever necessary to regain last season's form.
With fellow senior quarterback Travis Russell nursing a broken rib from last Thursday's narrow win over Findlay, Campbell is expected to retake the field against Central Washington University (CWU) Saturday, Sept. 14.
Whether it's extra time throwing or getting in another run to recondition his game legs, Campbell has been quietly and diligently preparing for his debut this season.
"It all depends how I feel, personally," Campbell said. "Been times when I threw way less during the week and ran, just because I probably felt a little slower or felt like I needed to get my legs going a little bit more or vice versa."
According to head coach Tony Annese, Campbell is in the best shape he's ever been, healthwise, and he's ready for full in-game contact.
"He's ready to take hits, for sure," Annese said. "He's very fit, his elbow is really good, he's doing push-ups and pull-ups. The training staff and strength staff think he's like as good as he's ever been from a health perspective. So he's ready to go."
Campbell was back with the first team in practice Wednesday, Sept. 11, and claims he's ready to play Saturday if that's what Annese's call is.
"I'm ready, I'm excited. I barely got any sleep last night," Campbell said with a laugh. "(I'm) getting a lot of reps in practice, getting back in the groove, I'm real excited. I know this team we're playing (is) real good — I know they got some athletes — so (I'm) just ready to compete."
Besides Campbell being ready healthwise, Annese said he looks ready to run the offense and has prepared well this week.
"I think he looks good," Annese said. "He's very cerebral when it comes to his ability to learn the system, and so he's focusing on just the little installs we've got for Central Washington, and I think he's done a really nice job in preparation."
The team has their work cut out for them in this weekend's matchup against CWU, though.
Although currently unranked, CWU gave Division I FCS opponent University of Idaho a run for their money in their season opener Saturday, Sept. 7, falling short by a respectable score of 41-31. The CWU Wildcats compiled only 114 rushing yards, but also added 245 passing yards and four passing touchdowns.
Only two of those touchdowns,however, were thrown by redshirt freshman quarterback Canon Racanelli. The Wildcats bring a dynamic offensive threat, as wide receivers Tony Archie and JoJo Hillel each threw for a touchdown via trick plays.
The Wildcats ran an efficient offense last weekend, scoring 31 points despite only gaining 359 total offensive yards, as they converted every red zone opportunity. Archie will be a player to watch after an impressive showing in the opener, as he had eight receptions for 146 yards and three touchdowns on the night: one passing and two receiving.
Running back Michael Roots will also pose a threat on the Wildcat offense, as he accounted for 112 of the team's 114 rushing yards on 22 carries.
Annese said the goal for the defense this week is to keep CWU one-dimensional, whether that means stopping the running or passing game.
"Last week, we couldn't make Findlay one-dimensional. They just completely kept us off balance the whole time," Annese said. "Circumstances where we had to stop the run, we couldn't. Circumstances where we needed to stop the pass, we couldn't and part of it stems from the fact that they're really good and they had a really good system … they just kept us off balance and so hopefully we can make Central Washington somewhat one-dimensional."
Russell, who started against Findlay, is questionable for this weekend after breaking a rib in the first quarter of the opener on Thursday, Sept. 5. However, Russell still played the rest of the game through the pain.
Russell believes his status is day to day, but he hopes to be back for the Northern Michigan game Sept. 28.
"He's just an unbelievable young man, a hard worker and you know he does whatever he can to help the team," Annese said. "You say he's out, that's what people think the word is, but I asked him today, 'Can you play?' and he said, 'Yeah, if I need to.' So you may see him Saturday, you never know."
Annese remains steadfast in his decision that more than one quarterback will see the field this weekend, claiming that Campbell, Russell and sophomore Evan Cummins are all ready to take reps.
Russell sat out of practice Wednesday, but besides Campbell and Cummins, senior slot receiver Jevon Shaw rotated in as quarterback. Shaw, who came to Ferris as an All-State quarterback from Farmington Hills Harrison, is "prepared to take reps" if Russell isn't ready to play Saturday, according to Annese.
After last week's near loss, Annese said the team's response in preparation this week has been solid.
"I think they've realized that there's little things that'll make a big difference in our preparation," Annese said. "I feel, truthfully, like we're in the playoffs right now. I mean, Findlay was a great team, we got Central Washington and I don't want to look beyond that, but there's another one looming that's great. It's been a really tough way to start a season but we're just trying to grind it out, we're just trying to look at it and try to grind it out and hope that things go our way."
Ferris will kick off against Central Washington at 7:05 p.m. EST this Saturday, Sept. 12, and the game will be nationally televised on ESPN3 as part of the NCAA Division II National TV Showcase.
Fans will be able to stream the game online at ESPN.com or on the ESPN app.