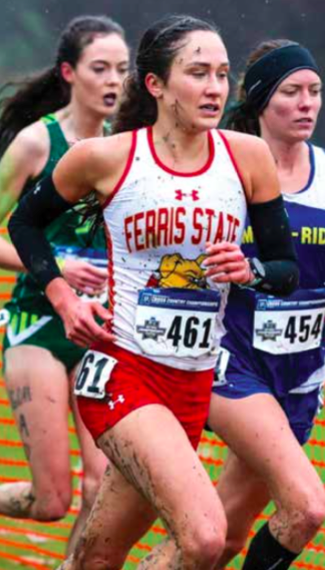 Ferris senior cross country runner Katie Etelamaki runs nearly 365 days a year, including summer training at home in the upper peninsula with a training partner she's had since birth.
"Summer training went well. I spent my summer back home in the Upper Peninsula, but I have a great training partner up there — my dad," Etelamaki said. "He bikes with me on every workout and long run and didn't miss many of my recovery runs either. We got many miles in together and I stayed healthy and am going into the cross country season feeling strong and ready to get to work with my teammates."
Her junior season, Etelamaki qualified for the Division II Cross County National Championship, where her 23:07 6K placed her 16th overall and gave her All-American honors. But her standout year didn't stop there. Etelamaki also claimed the league title in the 10,000 meters with a time of 36:34.91 and the competition wasn't even close, with the second place runner 26 seconds behind her.
The time qualified her for the track and field national championship, where she placed 9th and gained second team All-American honors.
Her running motto to keep her motivated is that "running reminds me that I can do difficult things."
As Etelamaki enters her senior year, she is hoping for an injury free season. With many returning runners from last year's team and adding six freshmen, she wants her team to qualify for the cross country nationals as a team for the year. She also hopes to qualify for nationals in track for the 5k or 10k or even both.
"Last year I qualified as an individual to compete at the national meet, but would much rather experience competing at that level with my teammates," Etelamaki said. "(I want to) keep growing closer and improving our program overall. Go sub 5 minutes in the mile, an event I don't typically train for as I'm a 5k and 10k runner, but (I) have always wanted to break that barrier."
Etelamaki is on both the cross country and track team, which means she only gets a few days off here and there throughout the entire year.
From the end of May to the end of December she trains for the fall cross country season, after which she gets 12 days off to completely rest and heal both physically and mentally. Then she starts indoor track in January through March when she then takes a whopping one to three days off before outdoor track runs from April to May. Then she take another 12 day break before it starts all over again.
And that's just her training schedule. Etelamaki, a biology major hoping to go to physician's assistant school after graduation, is also in the honors program, the Tri-Beta National Biology Society, Pre-Med Club, volunteers at the Great Lakes Hospice and is a caring aide in home healthcare.
Etelamaki said her daily routine consists of a good breakfast, workout, classes, a small light lunch, practice from 3 to 5 p.m., dinner, homework and finally working at her healthcare job.
Currently, she is unsure of her future on running after graduation, but she is considering working out with her coach, who continues training his athletes after graduation for half and full marathons. Etelamaki said her and her coach has a great relationship and that she enjoys his training style.
Etelamaki and the rest of the Bulldogs will kick off the fall season at home at the Ray Helsing Bulldog Invitational Sept. 7.