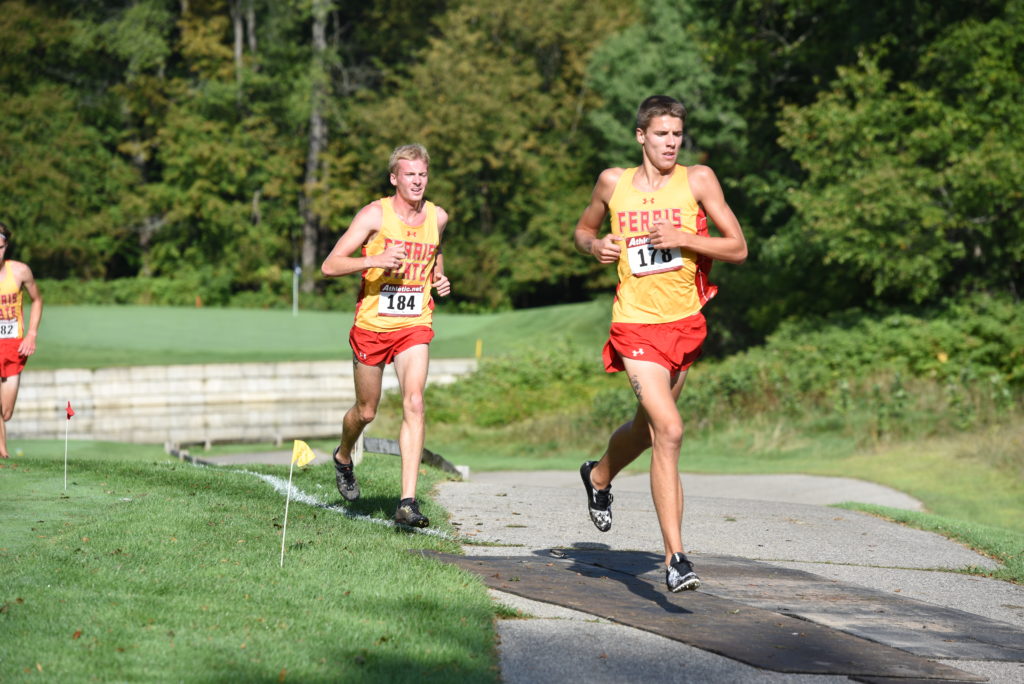 The Ferris men's and women's cross country teams ran their home course to kick off the season Saturday, Sept. 7th.
Ferris hosted the 45th annual Ray Helsing Bulldog Invitational at Katke golf course. The women's team ran the 5K first with the men's 8K following afterward. Both teams collected 15 points on the day.
Ferris senior runner Katie Etelamaki finished in first in the 5K with a time of 18:41.42 and she helped pace a group of teammates into the top 19 places. Ferris sophomore runner Paige Deitering was the runner up with a time of 19:38.61.
"I was going to pace for the first mile and a half to get the team and groups to come through at a certain time, and then take off from there, and this helped with all our fast finishes," Etelamaki said. "Having a season opener where you can just work into it and use it as a rust buster that's not stressful, but you can give a good effort, and it's a good atmosphere to shake of the rust."
Etelamaki said she ran faster than she did last year with less effort than previous years. She was happy with her effort and time for not having a lot of competition at the invitational. Only two runners from Kirtland Community College (KCC) ran in the race besides the 19 Ferris runners.
"The team I think did really well and they packed up in little tiny packs, and we are trying to get a bigger pack to race together, but they did group up in two's and three's so that was awesome," Etelamaki said. "We gave a good effort, and I'm happy with my time based on my effort, which was faster than last year."
The Ferris men's team had the top 12 finishes with Ferris junior runner Weston Rackley coming in first at 27:22.22. Ferris junior runner Aaron Jarema followed him in second place with a time of 27:31.72, with Ferris freshman runner Brandon Wirth coming in third at 27:35.52. The men's race had 30 finishers overall, with 12 runners from Alpena Community College and KCC.
"Overall it was a really solid first race. There wasn't a lot of competition, but we used it to get it out of the way and was great for everyone," Rackley said. "I had a pretty solid race; it was the first one back, and we treat it as a rust buster."
Ferris cross country head coach Jared Kelsh said that he was very happy with the results from Saturday and that it sets the Bulldogs up well for the season.
Kelsh said the biggest thing he saw from both teams was how they came together and stayed together. He was trying to find his race groups today and was very proud of both teams' performances in the wet conditions.
"We had a lot of freshman show up today and run really well along with a lot of returners from last year who ran this course in better conditions, and they ran faster this year," Kelsh said. "Everyone is very good with being self-sufficient as far as pushing them- selves, and now we have a good starting point, and we know what kind of fitness level we are in now."
Kelsh said he loved what he saw from his runners and Etelamaki did fantastic while looking very smooth and relaxed. He also said Rackley had a personal re- cord from last year and that it was an excellent start for him with all the work he put in this summer.
With the season underway, both teams look to continue this success all season and hope to improve each week. Kelsh wants to see the teams tighten up their packs and keep them all close in times as well as stay consistent and not ruin any momentum. Next week is one of the biggest meets of the year, according to Kelsh and he hopes to continue to see what he saw Saturday.
The Ferris men's and women's cross-country teams will head to East Lansing Friday, Sept. 13, to compete in the Michigan State Spartan Invitational.