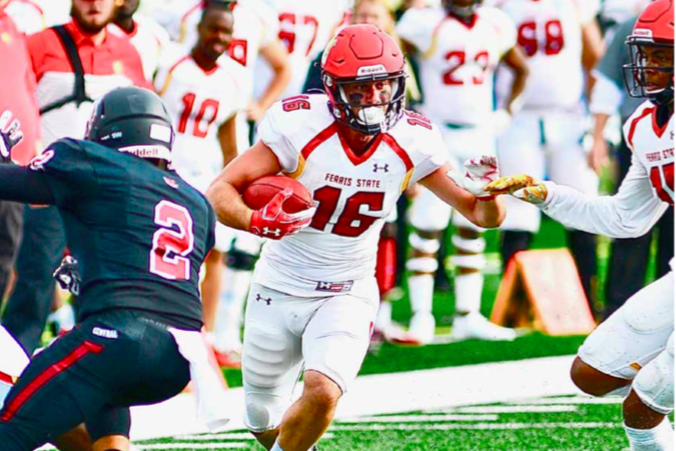 Senior quarterback Jayru Campbell and the Bulldog offense found their stride against Central Washington, putting up over 60 points on Saturday, Sept. 14.
With the 62-28 win, the nationally ranked No. 2 Bulldogs are 2-0 heading into conference play this weekend. Campbell made his season debut and the team had 627 yards of offense to show for it.
Central Washington made it a close game early in the fourth quarter, 34-28, but Ferris went on to score four unanswered touchdowns to secure the win. Campbell had three passing touchdowns and sophomore quarterback Evan Cummins rushed for three touchdowns. Ferris head coach Tony Annese likened Cummins' athletic ability to run the ball with his size to former Ferris quarterback and 2014 and 2015 Harlon Hill winner Jason Vander Laan.
The Campbell-Cummins quarterback duo took some time to find their balance, but once they did, everyone caught a glimpse of the team's offensive potential.
Ferris head coach Tony Annese said scoring 62 points "isn't that big a deal" and was more impressed with his team's response when the game got close.
"What was most impressive is when they closed it to six,
we immediately responded in a positive way," Annese said. "Sometimes when you're in that situation where things don't go your way, your guys can end up panicking but we made
a big play, Jayru to Xavier right after they closed it to six and
that was a big momentum booster. All in all, handling the adversity that's thrown your way, traveling that distance, I thought we really had a good showing against a really good [team]."
Six of Ferris' nine touchdowns were on the ground and with eight players besides the quarterbacks contributing to the Bulldogs' 356 rushing yards, it's safe to say their running game is in midseason form. Having several players contribute during their running game is "critically important" as the season goes on, according to Annese.
"It's very important," Annese said of their offensive depth. "We've got guys that are guys that haven't completely learned the system and they're very talented. A good example is Tyler Minor, he rolled in there, had two touches for two touchdowns, so he's an exceptionally gifted athlete, we're just slowly progressing to get them in the mix because it's just learning the system."
Minor, a junior running back, led the team in rushing with 115 yards on his two touchdown runs. Sophomore wide receiver Sy Barnett had three receptions for 70 yards, as well as 48 yards on three carries, with 42 yards coming from a jet sweep play turned into a touchdown in the second quarter.
"It's awesome, Tyler Minor just came out, two carries, two touchdowns, you gotta love that," Barnett said. "He didn't play the whole game and when he got in there, he took advantage of it. That's with a lot of guys on our team, we have studs all over the place, even guys that don't get to play that much."
Campbell far surpassed his average of 195.4 passing yards per game last season, but struggled to find his rhythm in the first half with only seven completions for gain. Three passing touchdowns is nothing to overlook, though. The veteran went 17-29 for 271 passing yards overall, his longest pass coming from a 72-yard touchdown pass to sophomore receiver Xavier Wade.
Annese said he was happy Campbell was able to contribute and he isn't the only one. Any fan watching the game could see Campbell's spirit on the eld after big plays was contagious.
"It's key, he did have a very good demeanor about him, he felt very happy to be out there," Annese said. "So that is really cool to see that he just felt like… it's his happy place. That's neat to see and I'm happy he felt that way."
However, Campbell took a few more risks than Annese would have liked, such as lowering his shoulder into a Washington State player on a run rather than sliding. Annese said initiating fewer hits is part of their terms of playing.
"It is a part of our agreement for sure," Annese said, chuckling. "We're trying to minimize the [amount] of predetermined contact that he takes. So that's why part of our quarterback run package we use Evan a lot. But we called Jayru's number on some of the quarterback run plays and he handled them really well. But we're trying to minimize those situations or the jump over a guy and ip over, we're trying to get those under control."
The defense played a key part in the win as well, collecting two interceptions and stopping all four fourth down attempts by the Wildcats. Annese said the defense settled in this game but still gave up some big plays.
"The first touchdown we gave up, though, was just a blown coverage and was a communication situation, we gotta clean that up," Annese said. "…Central Washington completed a low percentage of passes but the big plays we just gotta eliminate. Because they had too many yards for the amount of passes they completed, so we just need to minimize that."
The Bulldogs will face their first conference opponent in Ohio this weekend, taking on Ashland 7 p.m. Saturday, Sept. 21.