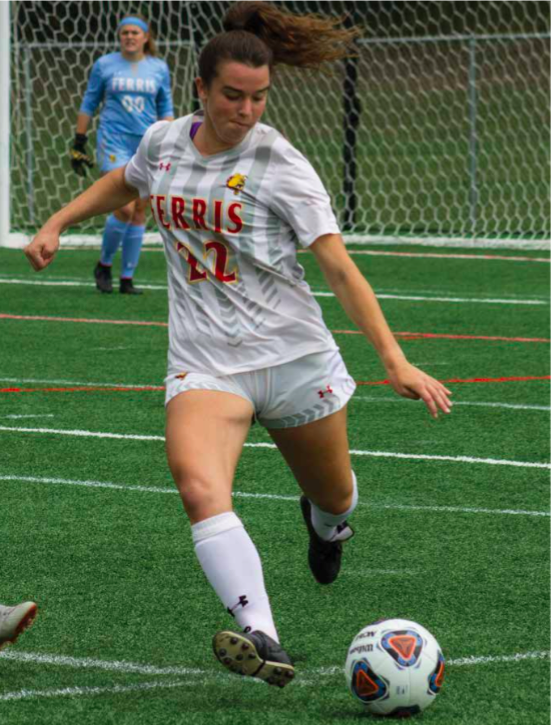 The Ferris women's soccer team ended with a win and a tie to start the Greg Henson era last weekend.
With two home games to kick off 2019, Henson and his Bulldogs were hoping to show ashes of the greatness the team displayed last season.
Henson said kicking off the season on their home turf gave the team an edge over the competition.
"It's huge to be able to start the year off in a familiar setting," Henson said. "You always want to get off to a good start no matter what. It's a huge advantage."
Despite escaping the weekend without a loss, the Bulldogs struggled to find the back of the net. Friday's double-overtime draw with Truman State University (Missouri), saw Ferris push the ball into their opponent's defensive zone most of the night without a point to show for it.
The box score for Saturday's matchup makes it even more surprising that it ended in a stalemate. Ferris outnumbered Truman State 22-9 in shots and 14-4 in shots on goal.
"Truman is a good program, and they have been for years," Henson said. "At this time of the year, it's all about us and what we're trying to do and accomplish throughout the game."
The first half of Sunday's matchup with Quincy University (Illinois), looked like more of the same as the Bulldogs outpaced Quincy 12-0 in shots and 6-0 in shots on goal.
At 51' however, Ferris sophomore forward Pia Nagel found the back of the net to put the Bulldogs on the board with a 1-0 lead. Ferris would ride the lone goal to a victory.
"We're always looking to attack when we have the opportunity," Henson said. "We want to keep the ball on the ground, slash and create as many opportunities as we can."
Even if Ferris left the eld with more questions than answers, they did find an answer to the starting goalkeeper position. Senior Alison Chester eld guarded the net in both games, although she didn't see much action. She only saved five goals throughout 200 minutes of play.
Ferris will need to regroup and focus on converting opportunities this week as they head on the road for a pair of weekend games in the Dakotas.
The Bulldogs will take on Minot State University (North Dakota) 8 p.m. Friday, Sept. 13 before traveling to Northern State University (South Dakota) for a matchup 1 p.m. Sunday, Sept. 15.