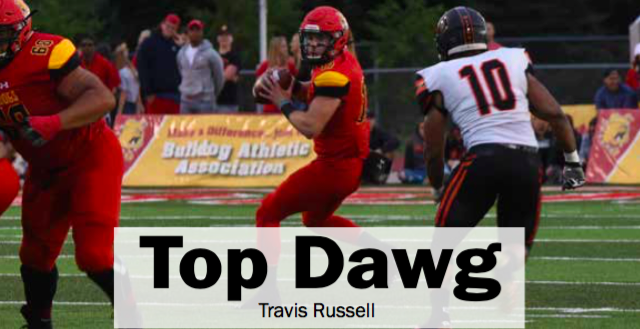 Senior quarterback Travis Russell took control of the Ferris football team's offense in the absence of last year's star athlete Jayru Campbell.
Russell kept the ball moving, and for that, he earns Top Dawg honors this week.
The Bulldogs managed to stave off a late two-point conversion attempt in the 24-23 victory over the University of Findlay Thursday, Sept. 5.
Russell and the offense found themselves trailing 7-0 early in the first quarter, but Russell connected with sophomore receiver Sy Barnett on a 59-yard bomb to even the score.
The Oilers and Bulldogs went back and forth most of the night, but one thing stayed consistent for Ferris: the arms and legs of Russell.
Russell ended the night completing 15 of 24 passes with 228 yards and a touchdown. He also added 61 rushing yards on 11 carries and one score.
Ferris head coach Tony Annese has announced that Russell will start again in week two.
Ferris hits the road Saturday, Sept. 14, for a 7:05 p.m. EST matchup with Central Washington University. The game will be broadcast on ESPN3 as the National Game of the Week.