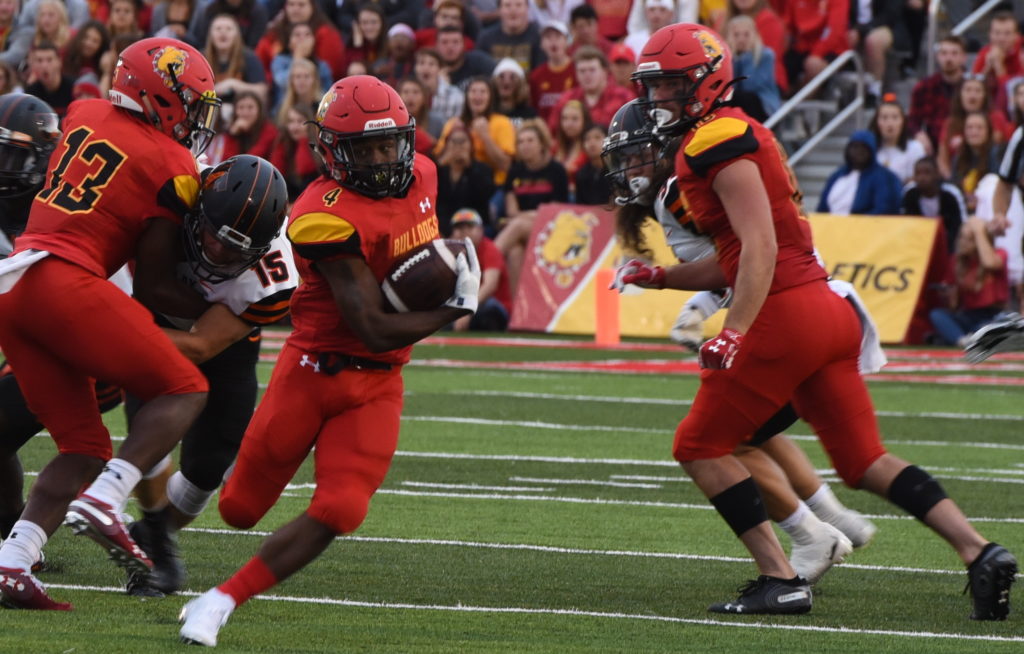 Ferris football confronts another tough opponent in Ashland this weekend, a team chosen by many to finish second behind the Bulldogs in the Great Lakes Intercollegiate Athletic Conference preseason poll.
The Bulldogs will head to northeast Ohio to take on the Ashland Eagles at Jack Miller Stadium 7 p.m. Saturday to kick off GLIAC play.
Ashland, led by head coach Lee Owens, opened the season ranked No. 23 in the nation before losing to No. 16 Indianapolis 23-9 at home. They rebounded this past weekend with a win at Walsh University by a score of 34-12. Sitting 1-1 on the season, they will look for the upset bid, which would be their 500th win as a program if they succeed.
A consistently tough opponent, the Bulldogs have only won two out of the last six meetings with Ashland, including a 28-21 win last season that saw Ashland come up inches short of completing a 21-point comeback in the final moments against the Bulldogs.
Ashland is led offensively by sophomore quarterback Austin Brenner, ranked No. 31 in the nation in passing yardage with 485 yards to accompany 104 yards on the ground in two games. He also has two touchdown passes, three interceptions and a rushing score on the season.
The Ashland offense is averaging 21.5 points per game this season, with 374 yards per game. When broken down, they average 242 yards through the air and 132 yards on the ground. The defense is ranked No. 43 in the nation, allowing 18 points per game.
They will be facing a challenging Ferris offense that is fresh off an explosive offensive display at Central Washington that saw the Bulldogs put up 62 points, 28 of which came in the fourth quarter. The Bulldogs offense is averaging an impressive 43 points per game and 516 yards of total offense per game.
Ashland is led defensively by linebackers Clay Shreve and Ryan Corkrean, who lead the defense with 38 combined tackles in two games.
Ferris senior quarterback Jayru Campbell will look to continue his success after earning GLIAC Offensive Player of the Week after a dominant performance in which he passed for 271 yards and three touchdowns, with 46 yards on the ground.
Campbell is accompanied by emerging sophomore quarterback Evan Cummins, who ran for three touchdowns last week.
The Bulldog defense will pose a challenge to the Eagles as well despite allowing 25.5 points per game in the first two games this season. Senior linebacker Avonte Bell leads the Bulldog defense with 11 tackles, a sack and a fumble recovery on the season.
Saturday's game will be aired live by the Bulldog Sports Network and Sunny 97.3 FM with coverage beginning at 6:30 p.m.