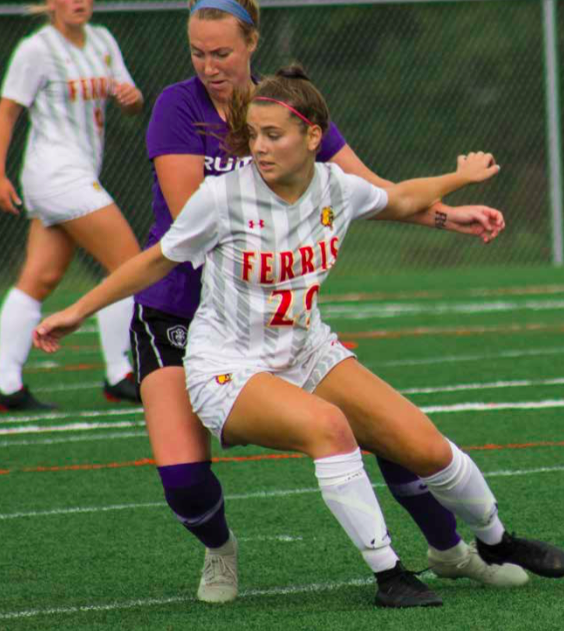 Ferris women's soccer team recruited just four players this offseason — the lowest number of recruits for the Bulldogs in the last decade — but their impact outweighs this deficiency.
Three of Ferris' four true freshmen have played in at least one game this season, and although they haven't ruled the box score, their presence on the field has boosted the team to a 3-0-1 record.
"Everyone has an important role whether they show up in the box score or not," Ferris women's soccer head coach Greg Henson said. "There's going to be players that come in and start right away and there's going to be players that come in and maybe it takes them a couple of years to work into the program. Neither is more valuable than the other."
2019's recruit class consists solely of mid elders with Jessie Bandyk, Carissa Carriveau, Payton Price and Katie Nestico. Nestico hasn't seen many minutes, debuting her first action of the season Sunday, Sept. 15, against Northern State (South Dakota).
Bandyk and Price have led the pack to this point, as both have contributed quality minutes. Bandyk started in Ferris' opener with Truman State University (Missouri) while Price has played a substitution role in the Bulldogs' first four games of the season.
Bandyk is a big name to watch for Ferris as she took home the Miss Michigan Soccer title in 2019 and helped Novi High School to a state championship in 2018.
"She's been in big games and big moments which is important," Henson said of Bandyk. "We're really asking her to take on more of a leadership role in our offense. We want her to take things on herself and be more of a goal-scorer, not just looking to get assists."
Bandyk searched for the goal in her lone appearance with Truman State, taking three shots, two of them on goal.
The Bulldogs have a high ceiling, especially if the young guns continue continue to improve and contribute more as the season progresses.
"We're going to continue to challenge not only Jessie, but all of our players," Henson said.
Ferris heads into an away match Thursday against Walsh University (Ohio) and will finally play on their home turf again against Saginaw Valley State University 1 p.m. Sunday.