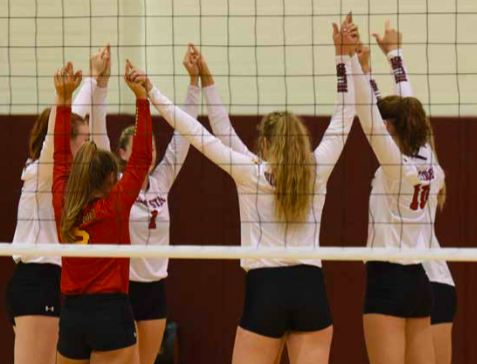 The Bulldogs are nearing the time of year where they feel most comfortable: conference play.
But this past weekend they faced some strong competition to finish out their non-conference games, as The Colorado Premier Tournament held some of the top talent in the nation.
"We are excited for the opportunity to test our level of play against some of the top teams in the nation. It's a great opportunity for our team to grow together and build relationships," Ferris senior libero Lauren Helsen said.
Unfortunately, the Bulldogs did not get the results they wanted in their first two games.
The Bulldogs lost their first match on Friday, Sept. 13, in a heartbreaker to West Florida 3-2 with set scores of 22-25, 25-22, 23-25, 25-19 and 9-15.
Ferris won the first set, followed by alternating dominance with West Florida throughout the match. Ferris also dropped their second match, getting swept 3-0 against Concordia-St. Paul (Minnesota). The Bulldogs could not start strong on the offensive end. Senior outside hitter Allyson Cappel held the team high with only nine kills.
However, the Bulldogs bounced back on Saturday, Sept. 14 with a convincing sweep against defending national champions and nationally ranked No. 1 University of Tampa.
In their second match of the day, Ferris topped Barry University 3-2 after being down 2-1.
Now that conference play is right around the corner, the Bulldogs will look to dominate the Great Lakes Intercollegiate Athletic Conference (GLIAC) for a sixth straight year. Given their record, the expectations are high once again.
"We have high expectations and we are hoping to come out with another GLIAC Championship," Helsen said. "We just try to do the best we can every day and hold ourselves to a standard in practice that allows us to be prepared for conference play."
One of the main reasons for their past success has been preparation. The Bulldogs are known for their competitive play in practice which prepares them for game situations. Dominating the GLIAC for five straight years comes with some responsibilities; defending the league title, handling the pressure and having a target on your back.
For the Bulldogs it is just another year. This core veteran group knows what to expect and how to handle the challenge.
"Every season is a new season and we're just excited to be able to go out and play together. There's always pressure, but it makes it fun," Ferris senior outside hitter Allyson Cappel said.
The GLIAC will be competitive this year with 21st ranked Michigan Tech picked to finish second in the North Division behind Ferris. Ferris was picked to finish first in the GLIAC North preseason poll, having a 79-6 record in GLI- AC regular season play the last five years.
That record has led to five straight regular season championships and five straight Conference Championships. Ashland, who was picked to win the South Division, will also compete against the Bulldogs.
The Bulldogs open their conference play on the road 6:30 p.m. Friday, Sept. 20, against Lake Superior State University and 2 p.m. Saturday, Sept. 21, at Saginaw Valley State University.