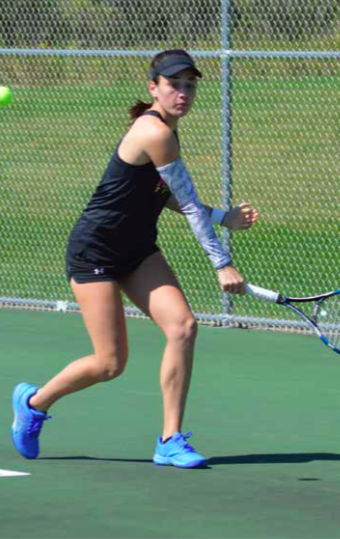 The women's tennis team beat Northwood University in conference play for the first time in 15 years this weekend, adding more sugar to a so far undefeated season.
Ferris' season opener on Saturday, Sept. 14, resulted in a win with the Bulldogs dominating Saginaw Valley State University 5-2. Sunday's win against Northwood was much closer; a 4-3 thriller of many twists and turns.
The Bulldogs started Northwood match off slowly, losing the doubles point 2-1 after sophomores Agata Klak/Isabela Paixao and freshman Morgan Waller/ sophomore Sam Stephenson lost their respective matches 7-5 and 6-4. Sophomore Brittany Lavenant and senior Silvia Verebes won their doubles match 7-5.
"One thing that we need to improve upon is believing in ourselves a little bit more in doubles," Ferris head tennis coach Mark Doren said. "We're super talented but we have some young people who are new to doubles spent their entire lives playing singles. So, once we focus on doubles it will be huge."
Losing the doubles point meant the Bulldogs had to win four out of the six singles matches to earn the victory.
After the first four matches, the score stood 3-2 in Northwood's favor. As the final two matches were underway, play was stopped briefly by a stray dog that was able to breach the building and made its way onto the courts. After a few minutes, the dog was herded from the complex.
"Our official said that she has been officiating for 30 years and she has never seen that happen. I mean, we're indoors," Doren said. "But it did make for a little laugh and actually I think it helped loosen everybody up."
The interruption proved to be in Ferris' favor as Waller won the fifth match in straight sets, setting up the sixth and final match to clinch. Senior Johanna Frye of Ratingen, Germany, took on fellow German Paula John of Northwood in the final match of the day.
Frye won in a three-set thriller, holding off a furious comeback that saw John break Frye twice while coming back from a 5-2 deficit. With a 5-5 draw, Frye bounced back, winning the final two games to win the match 7-5.
"I found my focus again after losing the second set, but I think I have trouble getting the final game and finishing the set, so it was kind of intense. It's really nice finishing the set and getting the win," Frye said.
Doren was happy with the dramatic wins his team was able to pull off.
"I tell them to believe in themselves and believe in what they practice. Don't second guess. Always play the game that they want to play," Doren said.
The team will hope to use the momentum gained from this weekend as they play in the Intercollegiate Tennis Association (ITA) Regionals Friday, Sept. 20, to Sunday, Sept. 22, in Grand Rapids.
"It's a different year than normal, usually we play the ITAs first then start the GLIAC, so I was a little bit worried about that, but actually I think this is just going to propel us to have so much confidence at the ITAs," Doren said. "It's actually an individual tournament not a team tournament, and I'll think we'll have a lot of success."