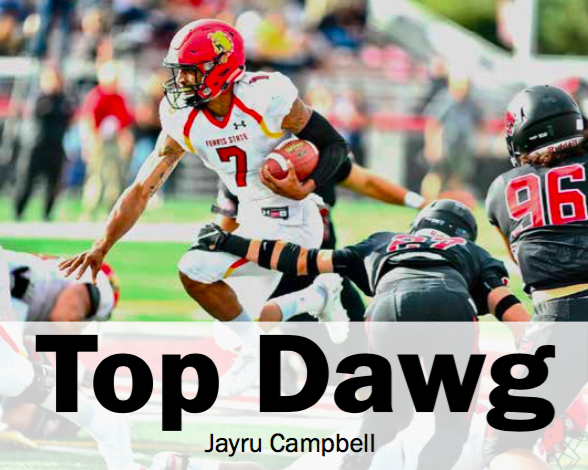 This week's Top Dawg is staying on the football field after senior quarterback Jayru Campbell's performance at Central Washington University.
Campbell went 17-29 for 271 passing yards and three touchdowns. Campbell took several possessions to find his groove, but connected key passes in the second half. Maybe most significant was the 72-yard touchdown pass to sophomore wide receiver Xavier Wade after CWU cut Ferris' lead to six points early in the fourth quarter.
His debut performance earned him Great Lakes Intercollegiate Athletic Conference Offensive Player of the Week honors. Campbell helped lead the team to 627 total yards of offense and the team converted 10 of 19 third downs.
After missing all spring season and the first week of camp in Au- gust, Campbell getting a game under his belt was huge in head coach Tony Annese's eyes. Campbell's slow start was not surprising, given he hasn't had in-game reps since the national championship game in December.
"People don't assess it that way, but people are like 'Well, has he been practicing?' Yeah, he's been in the mix practice-wise but he wasn't involved in spring ball at all," Annese said. "So it's gonna take him a little bit of time, it did take him a little bit of time. But he was just narrowly missing some big plays and then he did, as the game wore on, he did seem more comfortable and so I feel very good about his performance. I'm happy that he's back and able to contribute."
The second half was another story, however, and Campbell looked comfortable running Ferris' offense, finding receivers and making runs. He ended the game with 13 carries for 42 yards and got ambitious with his rushing game, even leaping over a player that resulted in him doing a ip and luckily landing on his lower back.
Campbell will be back in action 7 p.m. Saturday, Sept. 21 when the Bulldogs take on Ashland, their first conference opponent.