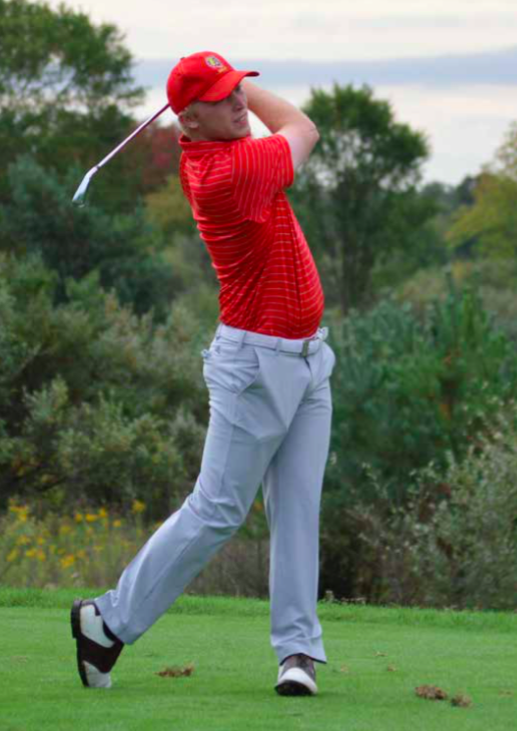 The Ferris men's golf team finished second at their home invitational this past weekend, with many aspiring underclassmen showing some real fairway promise.
The Bulldogs hosted the 2019 GLIAC North Invitational at Katke Golf Course Saturday, Sept. 14, and Sunday, Sept. 15. Ferris played school rival Grand Valley State University (GVSU), Saginaw Valley State, Lake Superior State University and Davenport University, finishing play in second place.
Three freshmen and two sophomores in Ferris men's golf lineup competed at a high level, entering the final round Sunday tied for first place with GVSU. The bulldogs ended with a 288 but fell just three strokes short of GVSU for the first place finish.
Throughout both days the Bulldogs shot a total 581 with a first-round score of 293 on Saturday. The Ferris men's golf team was led by sophomore Daniel Shattuck and freshman Nathan Kraynyk, who both earned a fourth-place finish after they totaled a score of 144 for 36 holes played. Kraynyk opened with a 77 score but shook that off Sunday, shooting a 67 while teammate Shattuck shot 73 and 71, respectively.
Sophomore Thomas Hursey placed eighth with a final score of 146 followed by his freshman team- mate Tanner Moore, who ended in ninth place with a 147 score. Hursey shot a 70 in round one and a 76 in round two. Moore followed with a 73 and 74 on the two-day tournament.
Trent Barth, another Bulldog freshman, finished in a tie for 28th when he ended with a 169 score, shooting 90 on day one and ended day two with a 79.
Bulldog freshman Zach Gildner competed as an individual and ended in a tie for 12th place with an end score of 150 where he shot 75 on both days this past weekend.
Ferris men's golf will be swinging back in action at the Findlay Fall Invitational in Ohio Sept. 23 and 24.