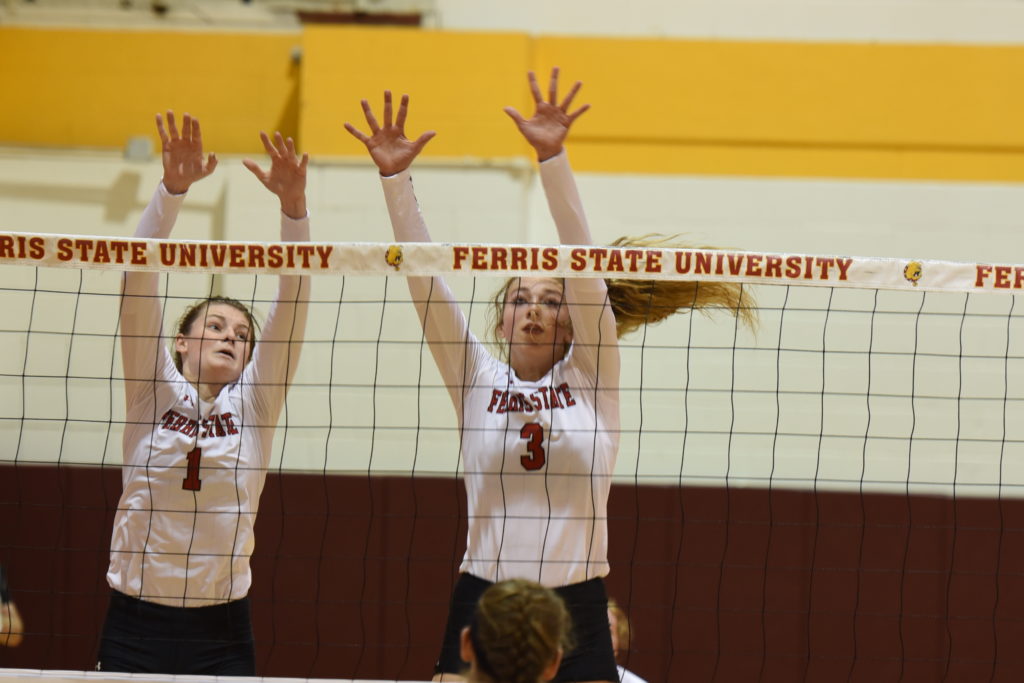 The Bulldogs went back to their winning ways Tuesday, Sept. 24 with a convincing win against Northwood University. They controlled most of the match, sweeping the Timberwolves in three sets.
They won the first two sets 25-12 and finished match 25-16 in the third set to complete the sweep. The Bulldogs improve to 8-3 overall and 2-1 in Great Lakes Intercollegiate Athletic Conference play.
Ferris head coach Tia Brandel-Wilhelm said her team responded very well after losing a few days before to Saginaw Valley State University.
"Definitely a good response, anytime you lose its very disheartening. I think that the team did a really good job of refocusing themselves and figuring out the things they wanted to do so that we could come out on the court and play better," Brandel-Wilhelm said.
The Bulldogs went deep into their lineup and had contributions from many players. They had eight different players with kills, with senior outside hitter Allyson Cappel leading the way with eight. The Bulldogs were accurate as they posted a .312 hitting percentage as a team. Freshman middle hitter Kira Mirkle led the way with four blocks, junior Nina Gorgijevska led the team in digs and sophomore setter Julia Mitchell had a team high 32 assists.
On the other side of the net the Timberwolves had seven different players with kills and a team high by Carson Rutherford with six kills. Ultimately, Northwood struggled against the Bulldogs defense and had a -.043 hitting percentage.
The team responded well to their last loss, using it as a little more motivation going into Tuesday's matchup.
"We were definitely motivated to play this game and to play to the best of our ability," Mirkle said.
A lot of different players got the chance to play on Tuesday night and the excitement and energy flowing through the team was evident.
"It's really neat to see a lot of kids to get in the game and play different positions," Brandel-Wilhelm said. "It was Julia Mitchell's first start tonight I thought she did a fantastic job. Really fun to see her out there confidently leading her team and I thought she made some really, really good decisions offensively to put her hitters into some really good spots."
Ferris put themselves in a good position Tuesday night to set themselves up for a big weekend ahead.
"We have two days of practice and two big matches against the other division and we don't see them as much, so it's a little bit harder preparation for us," Brandel-Wilhelm said. "A lot of preparation and video and implement that into our practice plans."
The team is back in action 7 p.m. Friday, Sept. 27th against Purdue Northwest and 12:30 p.m. Saturday, Sept. 28th against Wisconsin-Parkside.