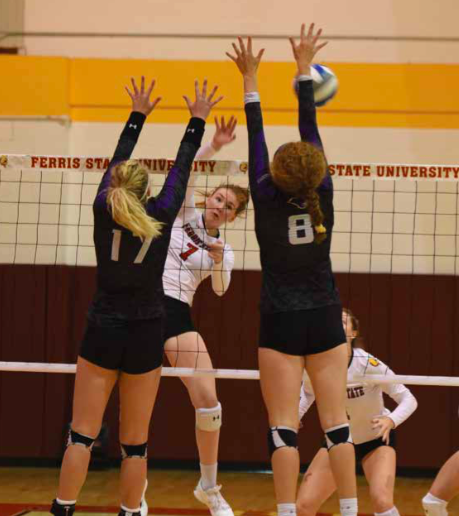 It's typical to have a player who racks up the kills every game, or a player who constantly hits the ground for digs … but to have a player that racks up stats in digs and kills? That's uncommon, but that's also Ferris junior outside hitter Katie O'Connell.
The team has an overall 7-3 record after a tough non-conference start and their first two conference games, led by a strong veteran core. Senior outside hitters Allyson Cappel and Courtney Brewer are the only other two players beside O'Connell to have more than 100 kills through 10 games. Besides O'Connell's 113 kills, her defensive stats are the second highest on the team with 147 digs.
"Katie has a great offense [and] her defense is excellent," Ferris head volleyball coach Tia Brandel-Wilhelm said. "She has a really con dent knack for lining up and seeing what hitters are going to be able to do. To have that kind of defensive player on the right side of the court in volleyball is a really good strength."
An All-American as a sophomore, O'Connell has carried some success to the 2019 season. In the Bulldogs' first 10 games O'Connell has had but one game where she did not reach double digits in kills. She has also been at least top three in digs for her team in every game so far.
Her best games so far were against Barry University where she had 15 kills and 21 digs in five sets and against University of Tampa, with 12 kills and 26 digs in three sets. Being such a versatile player, she impacts the team in a significant way. Despite being a leader in kills, O'Connell loves making big defensive plays on the ground.
"I love defense a lot, when you dig and there's no block, that's the best play to make," O'Connell said. "They think they are going to get a kill and then they don't."
It's not hard to see how close this team is or how they love playing with each other. O'Connell praises her teammates, giving them the credit for her success on the court.
"I think my confidence comes from my team every day in practice, giving each other feedback and cheering each other on. When the set is there and our middles are pulling the block, it really helps everything," O'Connell said.
According to senior setter Maeve Grimes, O'Connell's most important aspect is not only as a great player, but as a great leader and person.
"Katie is the definition of a great teammate and leader by example. Every day she goes out of her way to make sure everyone is taken care of before herself," Grimes said.
One key to being a great leader is serving your teammates and supporting them, and O'Connell's values and efforts do not go unnoticed by her coaches and teammates.
"Katie is an amazing person with really strong values and works really hard to live by her values," Brandel-Wilhelm said. "She is an excellent student, she's a nursing major with a really busy schedule. But she works everything out well and takes time with her teammates to make sure she's building relationships there."
The question is now, can O'Connell do anything wrong? Well, despite her athleticism and dominating presence on the court, O'Connell is apparently a bit of a klutz, according to her teammates.
"Katie doesn't do much dancing in the locker room, but she makes us laugh a lot as a team because she's so clumsy," Grimes said. "This isn't something that would hurt her feelings because she's the first one to laugh at herself. She's forever tripping over my feet and on her own during games and she gets right back up with a smile on her face ready to kill the ball."
O'Connell and the Bulldogs will be back in action at home this weekend for more conference play. The team will face Purdue Northwest, 7 p.m. Friday, Sept. 27, and Wisconsin-Parkside 12:30 p.m. Saturday, Sept. 2.