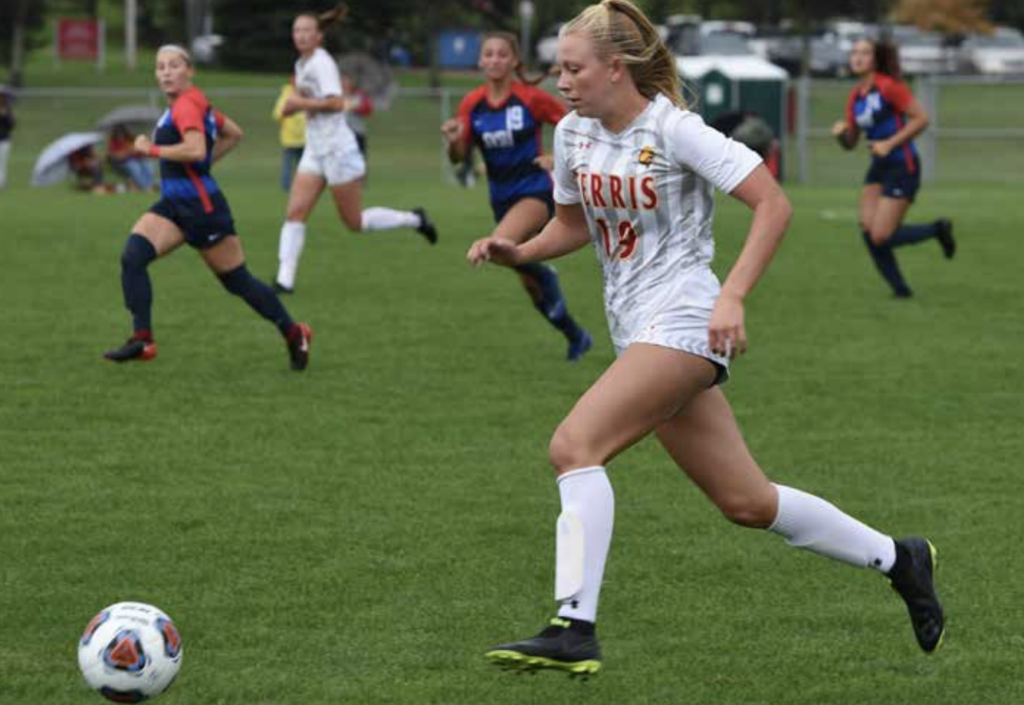 It's been a strong start for the Ferris women's soccer team and the Bulldogs have emerged undefeated through the first third of their schedule, currently owning a 5-0-1 record.
Ferris senior goalkeeper Alison Chesterfield has started in front of the net for five of the Bulldogs' first six games. Chesterfield has been impressive, allowing just one goal and posting four shutouts. "
I give so much credit to my defense and the rest of my teammates in front of me for the lack of goals against so far this season," Chesterfield said. "They do so much work on the ball and that makes my job a lot easier. Our coach always says that part of a team's job is to make your goalkeeper do as little work as possible, so I just try to be ready and do what I can when I am called upon."
The defense in front of Chesterfield has done an excellent job of keeping the ball away from their zone. Opposing offenses have only forced Chesterfield to make 18 saves over her first five starts.
Ferris' defense has shown that no matter who they put in goal, scoring against them is going to be difficult. Head coach Greg Henson inherited five goalies on his roster, so he has plenty of options in front of net.
"Obviously when you have five goalies competing for one position, there's going to be some tension," Chesterfield said. "We have so much respect for each other and we know that any one of us could step in at any time. I think we just try to do our best to be happy for each other no matter who plays, knowing that our coach chose that person that game for a reason."
Ferris senior goalkeeper Grace Kraft got her first chance to start in front of goal Sunday, Sept. 22. The Bulldogs' defense didn't miss a step in Kraft's first appearance, only allowing three shots on goal and giving Kraft a 2-0 shutout over Saginaw Valley State University (SVSU).
"Whether we're rotating goalkeepers, utilizing all five or rolling with the hot hand, whichever one of those is going to give us the best chance to win is what we're going to make our decision based on," Henson said. The win over SVSU was the first in a stretch of five home games for Ferris after being on the road for three straight. "There's going to be a target on our backs and that target is going to keep growing with every win," Chesterfield said. "We know we just have to take things one game at a time and focus on improving from game to game. If we do that, the goals and the wins will come."
The Bulldogs will be back in action 4 p.m. Friday, Sept. 27 for a conference matchup at home with Davenport University.