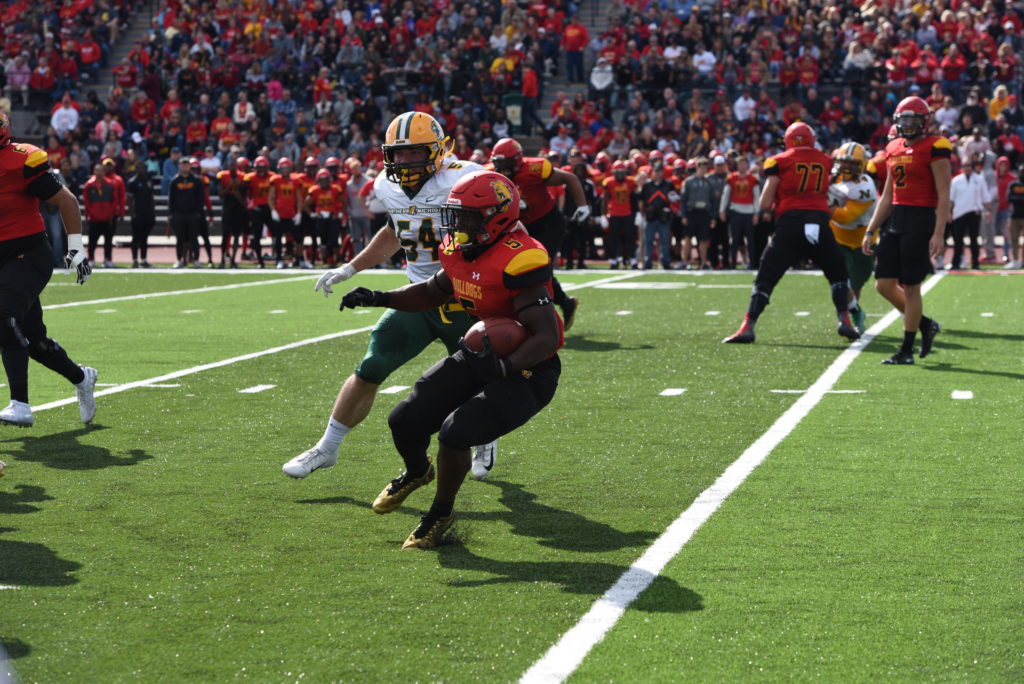 Ferris football team won handily against Northern Michigan University on Saturday, Sept. 28, despite struggling with several turnovers.
The Bulldogs won 38-10 behind the legs of sophomore quarterback Evan Cummins and junior running backs Marvin Campbell and Tyler Minor. The run-heavy attack beat down the Wildcats drive after drive, allowing the Bulldogs to put up 350 yards rushing and five rushing touchdowns.
Turnovers severely hampered the Bulldogs from putting up more points, with the team losing the ball on five of six fumbles. Two fumbles came inside the Northern Michigan 15-yard line.
"I don't know if we fumbled coming up to the press conference or not, but we fumbled every which way in this game," Ferris head football coach Tony Annese said. "Five fumbles lost on six fumbles, it's hard to be that bad with ball security, so I'm very discouraged about that obviously. I thought our defense played hard and crisp. I thought for the most part our offensive line controlled the game, we were able to rush the ball well. I'm pleased by that. I thought Evan played well, but the turnovers… there's just no excuse by that."
Another story from the matchup is the absence of senior quarterback Jayru Campbell. After not practicing all week, Annese said Campbell is "experiencing some health issues" but declined to elaborate further. With senior quarterback Travis Russell still recovering from a broken rib suffered week one, Cummins got the start.
Cummins finished the day with 79 passing yards off nine completions on 17 attempts and no touchdowns, but no interceptions, either. He also added 83 yards rushing off of 11 attempts, averaging 7.5 yards a carry. Cummins was responsible for one of six Ferris fumbles.
"I thought he was very comfortable and that just comes from all the things he does in practice. He was my project in the spring. I was relentless trying to get him going that spring and probably to the point to, I would say, I was being mean. But I knew I was going to need him for times like these. He's a great young man and a really gifted athlete," Annese said. "He's Jason Vander Laan-esque when it comes to running the ball."
Annese was careful not to announce a starter for next week's matchup, but threw senior slot receiver Jevon Shaw's name into the mix of possible starters.
"If you know, you're smarter than I am," Annese said about which quarterback would start.
Marvin Campbell led the way rushing with 85 yards on 15 rushing attempts. He also scored two touchdowns.
"Evan has a lot of versatility, so playing with him kind of opens up our offense and we kind of attack teams wherever on the field," Campbell said. "As a team we play good with everything and we got the win."
The most explosive plays of the day came from Minor, rushing for 82 yards on only four carries. This included the biggest play of the day — a 57-yard run early in the fourth quarter to put Ferris up 38-3. Earlier he had scored the first touchdown of the day off of a 14-yard run.
The defense was stifling throughout the game, only allowing a touchdown with just more than five minutes left in the game. The Bulldogs allowed only 76 yards rushing off 40 attempts, an average of 1.6 yards per carry. The defense also registered four sacks.
Senior linebacker Avonte Bell led the team in tackles with seven, including one tackle for a loss. Senior defensive end Austin Edwards also made a splash play, registering a sack.
"I think that over the first four games we've been making good strides to get better," Edwards said. "We're still working towards getting a zero on the board. That starts at practice have depth for our first string, second string, third string, in games like this having the net total go down a little bit. I think we played well though but we definitely have some stuff to improve on our side."
The Bulldogs return to the road to Davenport University this weekend with a kickoff at noon Saturday, Oct. 5.