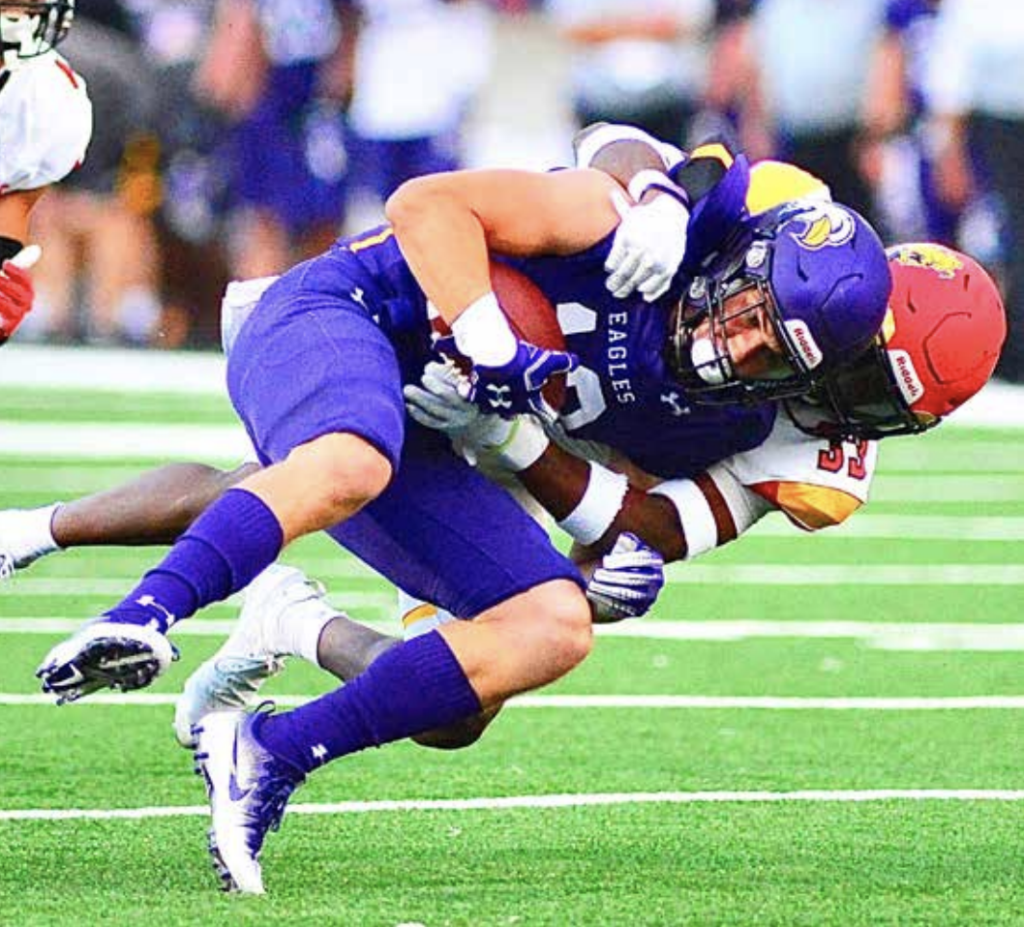 Everyone can collectively breathe again: Ferris defeated the Ashland Eagles to go 3-0 after facing three of their toughest opponents of the season.
Even head coach Tony Annese felt the pressure, playing three teams that make regular playoff appearances to start off the season.
"When I sat down and assessed the season, I worried about being 3-0, I really did because I felt like it was kind of a playoff situation … I really concerned myself with playing three powerhouse teams and so to be 3-0 is awesome," Annese said.
The 28-13 win over Ashland University was won by the defense, who held the Eagles to less than 300 yards of total offense on Saturday, Sept. 21. The Ferris defense also accounted for three interceptions and four sacks on the night.
"Our defense was the key to victory and if our defense can play like that and our offense can keep it together, there's a lot of positive moving forward because you look at the potential and you know we've got the capacity to do a lot of special things," Annese said.
Senior cornerback James Ceasar's performance earned his Great Lakes Intercollegiate Athletic Conference defensive player of the week. Ceasar had two interceptions, two pass breakups and four solo tackles against the Eagles.
The Bulldogs started the night quickly, with a 43-yard passing touchdown from senior quarterback Jayru Campbell to sophomore wide receiver Xavier Wade. Then they turned around and scored another on the next possession to gain an early 14-0 lead after senior linebacker Avonte Bell blocked Ashland's punt on their first possession.
But three turnovers left Ferris scoreless the rest of the first half and Ashland cut their lead to four going into halftime. Annese sees the potential of his offense once they clean some things up and take better care of the ball.
"We were really good in a lot of ways, we just had several plays that sabotaged our drives," Annese said. "So, you feel good about our potential, but we just need to minimize the big mistakes. We were ahead at halftime but we had three turnovers in the first half …you feel good about it but you still kind of look and say 'Dang, if we wouldn't have had those turnovers.'"
Campbell was 16-29 for 246 passing yards on the night with one passing touchdown and two goal line rushing touchdowns. Despite the three interceptions on his stat line, Annese feels that they weren't entirely on Campbell.
"Part of when you look at interceptions, there's a lot to do with a lot of things, one is protection. The first interception, if he had the capacity to throw it on time it would have been a big play, but he got flushed out of the pocket, so that became a force of negativity on that," Annese said. "The second interception he got pressure again and wheeled out of there, and the third interception was completely not his fault. So you assess those and there's just where a receiver can be, how the protection scheme is, so all in all it wasn't completely his fault on any of those."
Sophomore wide receiver Sy Barnett led in receptions with five for 81 yards and Wade wasn't far behind him with 80 yards on four catches. Junior running back Marvin Campbell led the rush with 18 carries for 74 yards and one touchdown. Jayru Campbell's composure in the pocket and patience to let the play develop was the mark of a seasoned veteran and led the Bulldog offense to have success against a tough Ashland defense.
"It's very important, the composure to take what the defense gives you and he's obviously a great improv guy," Annese said. "He can take plays that aren't there and make 'em there and so with that capacity obviously it helps because some plays that break down end up being really good plays for us. He's done it for two straight weeks where he's created good opportunities for our offense by improvising."
The Bulldogs get to catch a break from traveling this weekend with this year's homecoming matchup against Northern Michigan University 3 p.m. Saturday, Sept. 28.
"I think it's awesome to have the opportunity now to settle in," Annese said. "I'm proud of how we traveled, it was not easy to go to Central Washington and beat them and then Ashland, it's a tough team to beat… You gotta give them a lot of credit for being able to travel and play that well on the road. It really tells a lot about the character of your team and how committed they are to being successful."