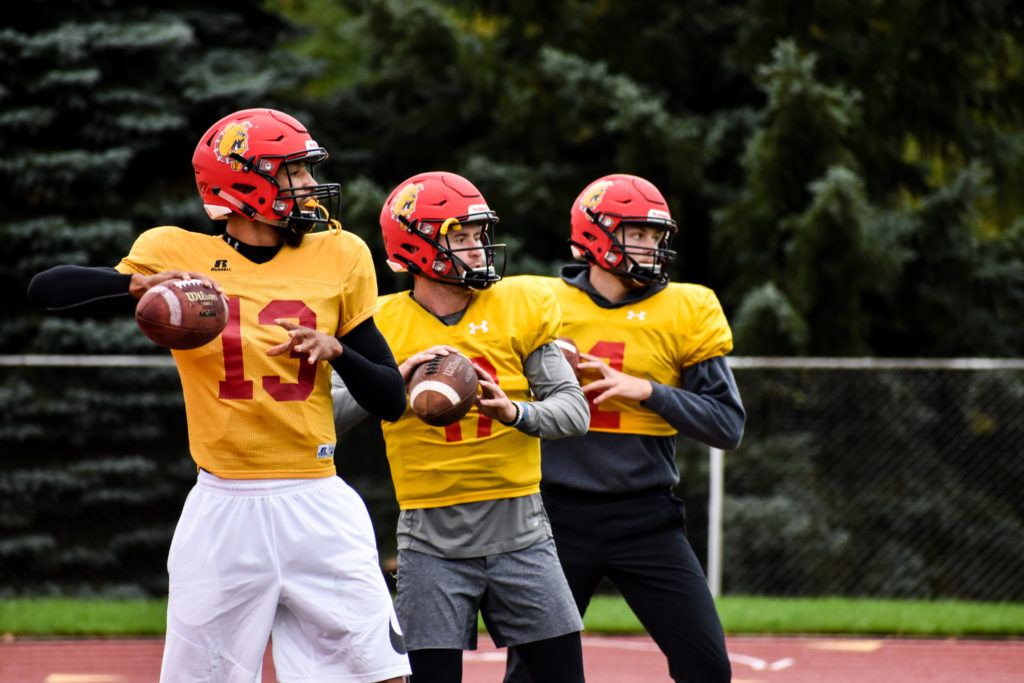 The quarterbacks' game of injury musical chairs continues this week with senior Travis Russell back in the mix at practice and senior Jayru Campbell questionable for this weekend.
After breaking a rib in the season opener against Findlay, Russell said he's now cleared to play and is "100% ready to go" Saturday, if that's what head coach Tony Annese decides. However, Annese said he is unsure of who will start at Davenport on Saturday yet.
"I haven't really thought about who will start this weekend. It really potentially might even have to do with what the first play is and play to their skillsets," Annese said after practice on Wednesday.
Ferris, who continues to hold their national ranking at No. 2, will face the undefeated Davenport Panthers on the road noon Saturday, Oct. 5. Ferris and Davenport are currently in a four-way tie for first in the Great Lakes Intercollegiate Athletic Conference standings, along with Grand Valley State University and Wayne State University.
This weekend, Annese will face a Davenport coaching staff of former Bulldogs, with Sparky McEwen, who coached with Annese from 2012 to 2016 and played at Ferris from 1986-90. McEwen's son, A.J., is his assistant coach and played for Ferris as a cornerback from 2011-15.
"Well, I think that Davenport's coaching staff has done a miraculous job getting those guys going," Annese said. "They play so hard and it's Sparky. I know he demands a lot of out their guys, but it's also A.J., who played here. So, a guy that coached here, a guy that played here and they definitely have those guys playing really hard. Very impressive watching them on film and it's going to be a hard fought battle."
Ferris sophomore quarterback Evan Cummins took a good portion of the reps in practice Wednesday, with Russell and Campbell rotating in frequently. Ferris seems to be close to having all three threats back to full strength.
"It was good," Annese said of having all three quarterbacks at practice. "First off Travis, he's had obviously his health issues so he hasn't been able to do much out here, so it's nice to have him back. Then Jayru being out here, too, because he's got his health issues. Two weeks ago, Evan was banged up with a quad injury and Jayru was the only quarterback, so it's kind of like juggling the quarterbacks, but happy to have all three of them out here. It helps to reduce the number of reps they've got to take."
According to Annese, Campbell's status is "day to day" and Campbell was not made available upon request. Campbell was confirmed absent from several, if not all, practices last week and did not play in Saturday's win against Northern Michigan University. Annese said it's not out of the ordinary for players to miss practice when injured.
"It's not unusual for people to miss practice when you're dealing with things from a health perspective. Evan missed three practices with his quad contusion, Travis missed, I think, three straight weeks. So it's not unusual, that's kind of how life rolls in college football," Annese said.
Russell has taken as many reps as he can after getting fully cleared this week and was enthusiastic as ever about getting to compete again.
"I am 100% ready to go and I'm fully available if they need me to roll. I've taken a bunch of reps this week, so I'm very prepared and ready for what's going to be a good game on Saturday," Russell said.
Being able to recover in time for the second half of the season is a second chance in Russell's eyes.
"It isn't the ideal situation, but thankfully I have another chance," Russell said. "The way I look at it in a positive light is that this is a second chance for me to be able to really relish my last opportunity to play football. So just to be able to have a new perspective and think 'wow, I get one more shot' and just really make the most of it this time."