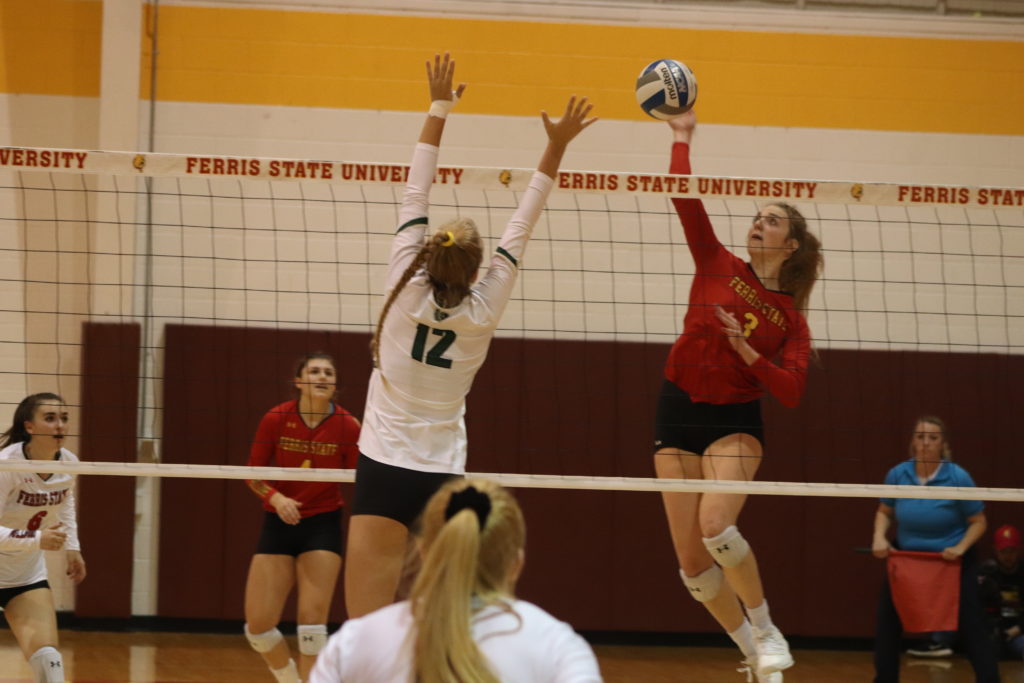 Ferris volleyball continued its hot streak in the Great Lakes Intercollegiate Athletic Conference this weekend with two clean sweeps against Purdue Northwest and Wisconsin-Parkside.
The Bulldogs controlled the Purdue Northwest game from the start, despite the matched intensity and energy. Ferris took advantage of their deep bench and overwhelmed the Pride in three sets, 25-15, 25-14 and 25-10.
The Bulldogs were flying everywhere around the court and were especially strong on defense. As a team they had 60 digs with junior libero Nina Gogijevska leading the team at 18. They also had eight total blocks with sophomore middle hitter Samantha Herman leading the way with four.
Offensively, the Bulldogs posted a .341 hitting percentage, 39 kills and 38 assists. They had a total of 10 players get kills with the senior outside hitter Allyson Cappel leading the way with 10. Senior setter Maeve Grimes added with 21 assists along with junior setter Julia Mitchell, who had eight assists.
"I thought it was sweet we were able to get a lot of kids in and the level of the play stayed the same. Everyone who went in, especially in the serving spots, continued to keep pressure on Purdue Northwest," Ferris head coach Tia Brandel-Wilhelm said.
On the other side of the net, the Pride struggled against the versatile Bulldogs. Purdue Northwest completed a total of 41 digs and five blocks. Dannie Fowler had a team high of 17 digs, and Annie Pulizos had a team high of three blocks.
The Pride posted a low hitting percentage of only -.054, with 25 kills and 17 assists. Pulizos also had a team high of seven kills, and Eudora Negri had a team high eight assists. It did not help that the Pride was playing with a different line up and out of their original system.
"Purdue Northwest had a lineup change here. Their setter wasn't in there, so they had some new setters. So, I thought they had to work from behind a little and get into rhythm of their offense and I think that was a big part of us being in control of the match," Brandel-Wilhelm said.
Another reason for the Bulldogs' success was the ability to go deep in their bench and have players step up. Along with squad depth, a couple of new Bulldogs saw their first action against the Pride. One of those players was freshman middle hitter Kristina Welter, who nailed her first kill as a collegiate player.
"I am really a part of something. This is my family here, and knowing that everyone is that excited for me is like 'Wow, this is my family.' It was really cool," Welter said.
Another player to step up and contribute two kills was freshman libero Ally Barkhaus. This weekend was also her first collegiate action and she was overwhelmed with emotions.
"I'm not gonna lie, I was a little bit shaky and nervous, but I thought as soon as I hit the ball it's just game time and just got to relax and play," Barkhaus said. "I heard a few people using my name which was crazy because I don't know them and so hearing their support brought me a lot of joy."
The Bulldogs were confident, prepared and executed very well all weekend. This focus carried once again to Saturday for the weekend's second game. The Bulldogs swept Wisconsin-Parkside, marking their third sweep of the week.
"Wisconsin-Parkside presents a lot of different things. They run a 6-2 with a pretty strong offense coming at you all the time, so a lot of it will be the serving and getting them out of system," Brandel-Wilhelm said.
The Bulldogs posted a .386 hitting percentage, with a team high 47 kills and 46 assists. Junior outside hitter Katie O'Connell led the team Saturday with 14 kills and Grimes led the team in assists with 38. The defense was stayed strong, with Cappel coming up with two blocks. Between Gorgijevska, O'Connell, and senior outside hitter Courtney Brewer, they came in with 11 digs.
Wisconsin Parkside struggled to reignite their game, with but a .074 hitting percentage, only 23 kills and 22 assists. Reese Rossnagel completed a team high seven kills, while Ann Leo led the way with 12 digs. Lexi Packard and Jazmine Neal had two blocks each.
The Bulldogs improve to 10-3 overall and 4-1 in the GLIAC after this week of play. They continue this home stint next week on Friday, Oct. 4, against Northern Michigan University and Saturday,Oct. 5, against Michigan Technological University.