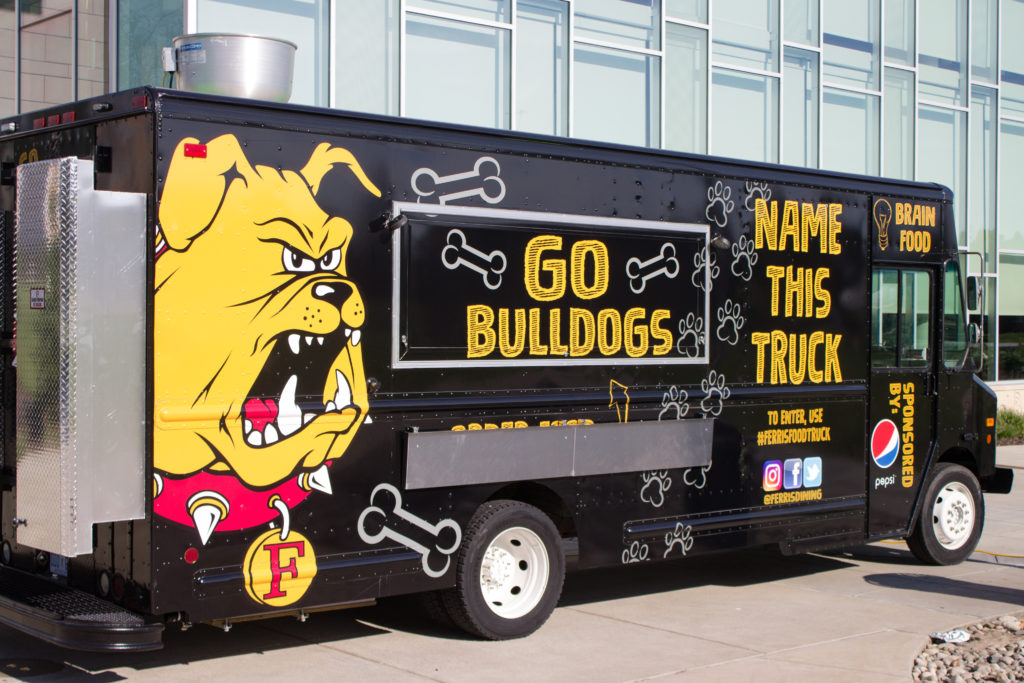 Ferris' newest purchase has students lining up all over campus for a bite to eat.
Ferris acquired a food truck over the summer, creating an additional dining option for students. The menu rotates between four different themes: All-American, Bulldog BBQ, Tex Mex and Noodle Bowls. Students are able to pay with a meal swipe, Bulldog Bucks, cash or credit card.
The food truck is not always in the same location. It alternates between the University Center, Optometry Building and Top Taggart Field. The truck will also occasionally be out during late nights or event outings.
Ferris information security and intelligence junior Jessica Jowett enjoyed being able to catch a quick meal before heading to class.
"I think it was pretty good, and it was definitely better than the food at the Rock or Quad," Jowett said.
The staff at the food truck, such as Ferris cook TJ Anderson, enjoy the atmosphere at the truck as well.
"It's a great job and can be a challenge, but it's fun," Anderson said. "I did two years working at the Rock over at Woody's Grill, so it's kind of the same idea as that."
Because the food truck operates certain hours, it is able to work with a variety of different menus and options.
"I believe it's on the same par as the Rock or the Quad, but we are able to do different and fresh options that they don't have, so it's definitely a different thing. So, I definitely invite people to come out and check it out," Anderson said.
Depending on the location, service can vary from hectic to more relaxed.
"When we were in front of the UC, we were fairly busy. We've been in front of the Optometry Building for the last week and it's been pretty relaxed, but we've had times where we've had more people over here too," Anderson said.
Ferris business administration senior Jan Henrik Janssen has been to the food truck once before and enjoyed the experience.
"I think it's a really cool alternative to the Quad," Henrik Janssen said. "I thought that the Angus burger that they offer was a lot better than the normal hamburger that they have there. Also, the potato tots that they have are just perfect. I think they don't have them anywhere else besides at the food truck. It was just good food and I liked it."
Currently, the food truck remains nameless. Students have entered their suggestions and the winner will receive $100 in Bulldog Bucks.
The schedule for the menus and locations of the food truck is available on the Ferris dining website.