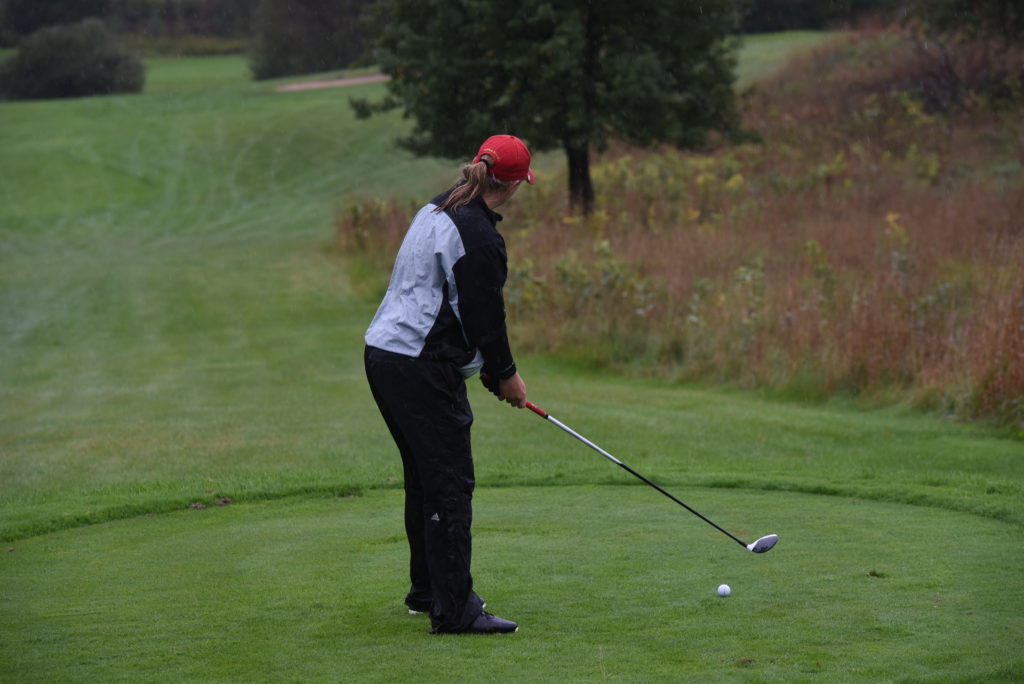 The women's golf team finished second this weekend in the Bulldog Fall Invitational after the second round of the tournament was cancelled due to rain.
The team finished second on Saturday, Sept. 28 after shooting a 313, two strokes behind Saginaw Valley State University, who shot a 311 as a team on day one of action. Rain put a damper on a potential comeback attempt after the Bulldogs got off to a hot start on Sunday.
The Bulldogs started the day strong on Sunday, drawing even with the Cardinals, but as the rain worsened, the greens became swamped and forced a cancellation before enough holes were played. This meant the results from Saturday stood as the final score.
"Just a disappointing way to end it with the cancellation," Ferris head golf coach Kyle Wittenbach said. "It was a must, the course unplayable and there was no way you could have got it in. It wasn't going to stop raining, it wasn't going to dry up, so it wasn't the most difficult decision to call it as the host. But a very disappointing decision.
"We were, as far as we can tell from the live scoring, making a comeback. We were all excited about it and we were all amped up. Sadly, it didn't work out."
The team was again led by junior golfer Destiny Lawson, who shot an even par at 72 for a second place finish and sophomore Elaina Derose was close behind in third with a 73 on her first round of play.
Both finished with 3 birdies while Lawson had one more par with 13 to Derose's 12. Lawson finished the day with three birdies, a bogey and a double bogey. Derose finished with 3 birdies, two bogeys and a double bogey as well.
The Bulldogs once again were the model for consistency after leading the invitational in pars as a team with 50 on the day. They finished fifth in the invitational in birdies with four total. The team was consistently strong on both par threes and par fours, shooting +9 on par three's and +28 on par fours, third best in each category.
Other top players for the team were freshman Karina VanDuinen and senior Shayna Schneider, who each shot a 79. Other players putting in scores for the team were senior Margo Brown and and sophomore Mackenzie Dale.
The Bulldogs will have a little bit longer to rest up and prepare for their next tournament in Findlay. The Beall Fall Classic will take place on Monday, Oct. 7 and Tuesday, Oct. 8.