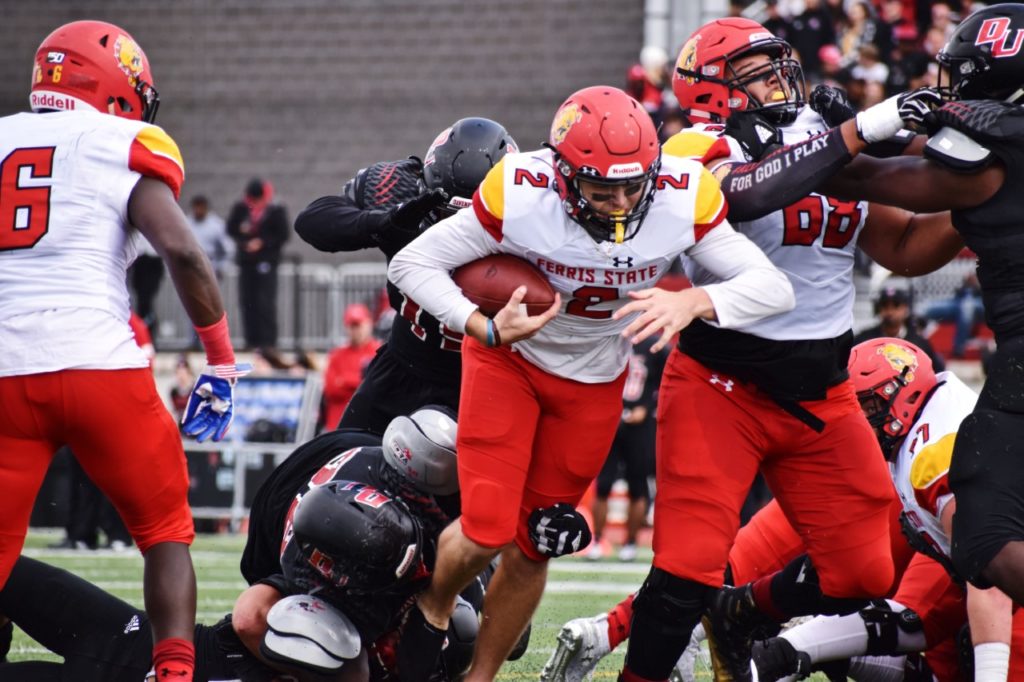 Ferris Football remains undefeated after steamrolling the Davenport Panthers 35-7, but is still plagued by mistakes that keep them from reaching their full potential.
The No. 2 nationally ranked Bulldogs handed Davenport their first loss of the season, but committed 16 penalties along the way, giving up 138 yards on Saturday, Oct. 5. Two such penalties led to the Panthers' only touchdown in the fourth quarter, and dashed any hopes of registering the team's first shutout since Nov. 4, 2017, which was also against Davenport.
Ferris head coach Tony Annese voiced some post game frustration to the team for their effort in the fourth quarter, demanding more from his team after the win.
"It's just one of those things that I'm bound and determined to push them hard enough for them to respond to let themselves be the best they can be and I've always been that way," Annese said. "I told them in the locker room that it's our standard. Sometimes young people look at the scoreboard, it's 35-0 and they think it's time to just relax and hang out on the sideline and I just want everybody engaged and playing four full quarters."
Senior quarterback Travis Russell earned the official start, according to Annese, but sophomore Evan Cummins took the first snap because the first play call was a quarterback run play. Senior quarterback Jayru Campbell sat in the coach's booth all game "helping us call plays," Annese said. He did not dress for Ferris' 58-man roster.
Russell, who was out for three games due to a broken rib, was dressed without pads for all three games and was given a headset to help play call on the sidelines.
Annese claims Campbell is "making a lot of strides" and would have played had Annese believed he required him.
Another game without Campbell meant another run-heavy offense, and the Bulldogs racked 317 rushing yards on 64 carries. Between Cummins, Russell and senior slot receiver Jevon Shaw, only 13 passing plays were called with five completions for 106 yards. Cummins led the rushing stats with 77 yards and four touchdowns.
Annese claims the constant rotation of quarterbacks doesn't compromise consistency, and hasn't affected the team at all.
"There isn't any uncertainty. We are certain that whoever's playing quarterback is good. There is no uncertainty when it comes to the quarterback play and all three of those guys have played well," Annese said. "We don't throw it as efficiently or effectively without Jayru and when Jayru's in there, the receivers like it more because we're more of a vertical stretch team and we throw it a lot more."
Cummins echoed Annese's statement and said the team performs well no matter who's at quarterback. Only six passing plays were called for Cummins Saturday, but the young quarterback is confident that if more get thrown his way, he can handle it.
"Of course, I just got to trust my guys. We have great skill players and we win games when we get the ball into their hands," Cummins said.
Cummins admits his increased amount of runs is taking a toll on his body, but mentally he feels more comfortable now with his bigger role after Campbell's absence. Cummins led the team in carries against Davenport with 16.
"I just prepare the same every week, just same thing, repetition. Everything starts to come together the more you [repeat] it," Cummins said. "It's definitely getting easier. Harder on the body, but it's getting easier mentally and just settled in, I guess."
The Bulldog defense held Davenport to only 62 yards of total offense and kept them out of the end zone until the beginning of the fourth quarter. Senior cornerback James Ceasar had two interceptions on the game and senior linebacker Avonte Bell accounted for three of Ferris' six sacks that totaled 52 yards for loss.
"My coaches put me in the right position and all I have to do is execute," Bell said. "So it just feels good to have three sacks, I've never had that before. It's just a good feeling."
Campbell's status for this weekend is still uncertain with the team heading to Detroit for their matchup against Wayne State, who is still undefeated in conference play. Kickoff is set for 6 p.m. Saturday, Oct. 12.