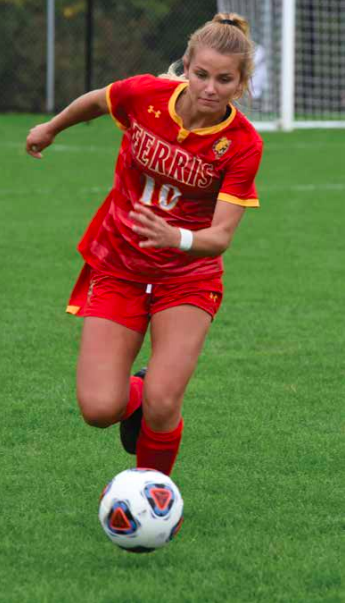 The first eight games of 2019 have left the Ferris women's soccer team with a 6-1-1 record, a mark that keeps them on pace to match last year's record-setting squad.
The good news for the Bulldogs is more than 20 returning players from last year's team played upward of 10 games. Eight of those 20 players started more than 20 games for the Bulldogs.
"Realistically the only change from last year to this year is there's more freshmen coming in," Ferris women's soccer head coach Greg Henson said. "We've got players that know what it takes to win and we're going to ride their backs."
Riding the backs of veteran players has been vital to the Bulldogs' success thus far, as scoring has primarily come from players with at least one year behind them.
Leading the way in goals this season has been Ferris sophomore forward Pia Nagel with six. A slew of juniors trail her with a pair of goals each: forward Mackenzie Dawes, midfielder Bri Rogers and junior defenseman Gabrielle Teodorescu.
"Scoring gives our whole team confidence in the game and how we play," Ferris senior goalkeeper Alison Chesterfield said. "If we can get up by a few goals we know that it'll start to discourage the other team and make it easier on us. However, we still have to be on our toes and ready for our opponents to push back. We can't shut off until that final whistle."
While the offense has been effective — scoring 17 goals through eight games — it's been the defense leading the way.
Chesterfield has started six games in goal, posting a 4-1-1 record with four shutouts. Ferris senior goalkeeper Grace Kraft is equally involved, starting two games and posting shutouts in both matchups.
Henson began the year riding Chesterfield before offering Kraft a chance in the team's sixth game against Saginaw Valley State University. Kraft saved three shots in 90 minutes of play, prompting Henson to start Kraft again in a 6-0 win over Davenport University.
Chesterfield and Henson echo each other on the team's decision to who rules the goal: whoever allows the best chance to win.
After Chesterfield gave up her first goal of the season Sunday, Sept. 29, in the 3-1 match against the Ashland University Eagles (Ohio), the starter in front of the net could shift back to Kraft.
The Bulldogs hit the home pitch 4 p.m. Friday, Oct. 4, to host Northern Michigan University's Wildcats.