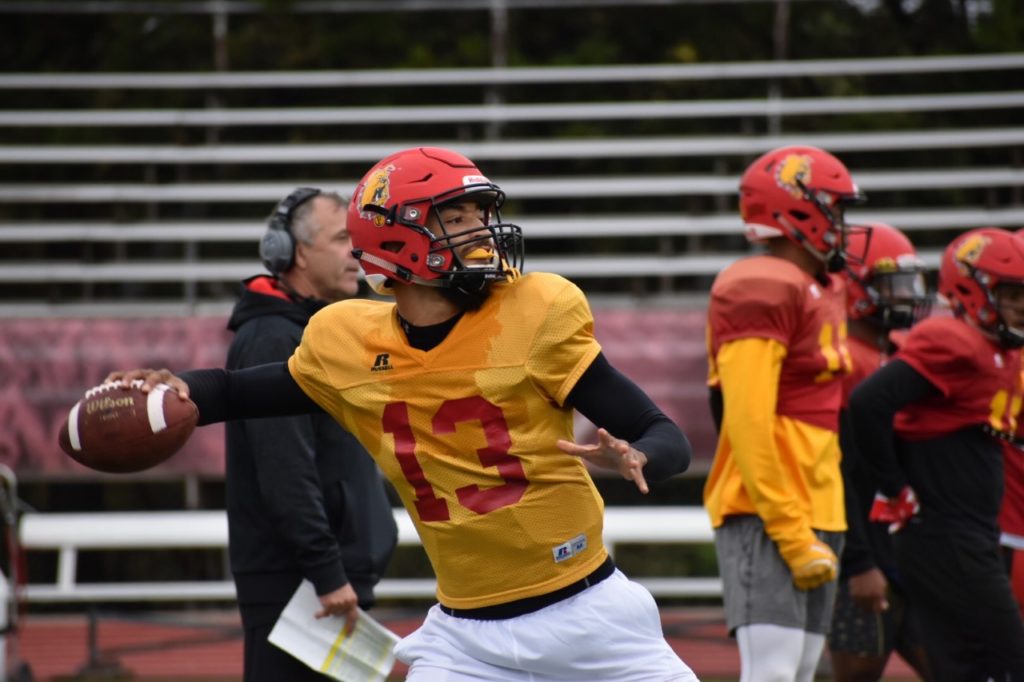 After missing two consecutive games to unnamed health issues, senior quarterback Jayru Campbell will be dressed and ready to go for Ferris' matchup in his hometown of Detroit.
Ferris head football coach Tony Annese reiterated how Campbell was ready to play last week, he "just kept him out." This week, however, with senior quarterback Travis Russell out yet again with an injury, Annese said Campbell is ready to see the field against Wayne State Saturday, Oct. 12.
Though Annese did not specify whether or not Campbell would start, he made it clear that he is prepared to play the reigning Harlon Hill winner alongside sophomore Evan Cummins. After being one of Ferris' top rushers the last two games, Cummins said his body is starting to feel it, but Annese said he'll have to push through it.
"I'll probably use them both and try to balance out reps a little bit. But it's football so Evan's just going to have to understand he's going to have to tough it out a little bit," Annese said after practice Wednesday.
Annese addressed Campbell's guest role in the coach's booth at Davenport and said it was due to having not worked with him on signaling on the sidelines, so they had him helping "from a schematic standpoint." Russell has experience signaling and helping call play from the sidelines, so Russell will likely be seen in uniform on the sideline with a headset for the fourth game this season on Saturday.
Russell said after taking a hit in the first quarter against Davenport, he felt a little sore and thought nothing of it. But he awoke Sunday in a lot of pain, having reinjured his rib previously broken in this season's first game.
Ferris has relied heavily on their run game in recent weeks, and Annese bears no issue with taking advantage of their running success.
"If we can run it downhill and rush for over 300 yards a game and keep people off balance with the pass, I'm happy about that," Annese said.
The consistent rotation of quarterbacks with no true starter — now halfway through the season — hasn't affected the receivers' attitude, according to senior slot receiver Jevon Shaw, and he said they know the lack of touches in games isn't permanent.
"The energy has been great. It's just you've got three different quarterbacks at once, sometimes four," Shaw said. "You don't know how much you're going to touch the ball that day depending on who the quarterback is. We just want to get one person going and be sure of that person."
Annese agrees the receivers' attitudes are good, despite the lack of touches the last two games, and he trusts they'll make big plays when needed.
"They understand what the situation is," Annese said. "When the opportunity presents itself, they'll make big plays. All in all, they know the nature of the way football is and there's times people are taking away certain things and times the passing game isn't there and other times it is there."
Shaw, who has been getting a handful of plays a game at quarterback, claims the spontaneity of running the offense has been fun for him.
"It's kind of fun not knowing," Shaw said. "So it's a spontaneous thing, especially on game day. It's not difficult because I really have the set plays that I run, I don't get too much thrown at me. It's not difficult at all."
With several players from Detroit, Shaw said the morale has been high this week preparing to face off at Wayne State.
"Everybody happy. Even if you're not from Detroit, everybody happy," Shaw said. "But especially for the guys that are from Detroit, they're really happy because they know a lot of family, a lot of friends, a lot of coaches they played with down there are going to be at the game, so everybody's excited and just ready to go home."
Wayne State is currently undefeated in the Great Lakes Intercollegiate Athletic Conference (GLIAC), having upset Saginaw Valley State University 24-20 in Week 4. The Warriors are on a three-game win streak and will most likely attempt to strike early, having scored 83 of their 133 points this season in the first half.
Wayne State has averaged 251 rushing yards per game and has ran in 11 of their 17 touchdowns this season. But with the Ferris defense holding opponents to 120 rushing yards per game, the Warriors may struggle to create offensive momentum.
Annese's goal for his team this weekend is to play a "complete game," which he said his team has yet to do in their five wins.
"I just think sometimes it's hard to put it all together," Annese said. "Going back to the early part of the season, our defense they didn't play at the level they could play in the early part of the season and now they've turned it on but, it's just attention to detail. Two weeks ago, we had five turnovers and to me, between turnovers and penalties and simple execution of our scheme, those are all forces that make a coach unhappy and that's really the gist of it."
Ferris will kick off at Wayne State 6 p.m. Saturday, Oct. 12, in their fourth GLIAC matchup of the season.
Campbell was not available for comment upon request.