Saturday night wasn't just another game for senior quarterback Jayru Campbell. Detroit wasn't just another road game location. The homecoming of sorts was a symbol of his journey and all the family, friends and coaches who supported him along the way.

"It felt real good, like one of the biggest blessings I ever saw," Campbell said. "A couple years ago, I couldn't even imagine me even playing football again, let alone playing in front of probably hundreds of people that's actually rooting and been supporting me on my journey."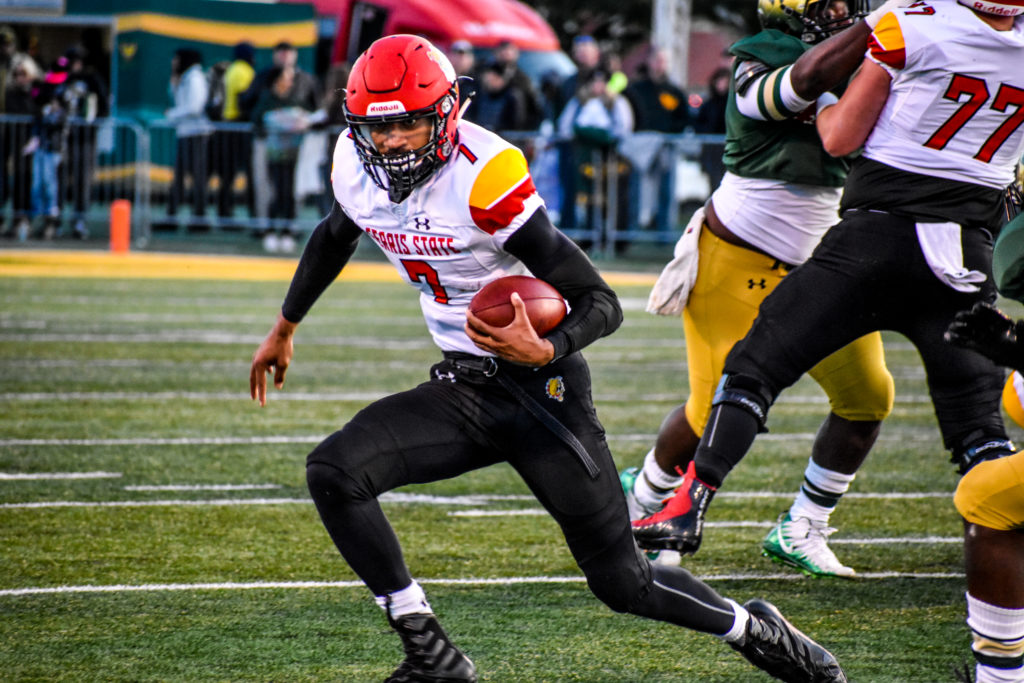 Campbell ended his two-game absence with a statement, scoring five touchdowns and accounting for 279 yards of offense in the first half of Ferris' 59 – 13 win at Wayne State University on Saturday, Oct. 12.
After a rocky start fumbling on the first drive, Campbell hit his stride and never looked back. Taking all but five snaps the first half, Campbell had 10 completions on 12 attempts for 203 yards and three passing touchdowns. His running game was firing on all cylinders as well, with 76 yards on eight carries, two of which ended in touchdowns.
Ferris head football coach Tony Annese thought Campbell "was great" and was happy to get the ball to outside receivers again with him at the helm.
"He was ready man, he was definitely ready tonight," Annese said. "A lot of our guys are from this city so they want to come back and show out and I thought we did. In the last two weeks, we haven't really been able to get our outside receivers the ball the way we were tonight, so part of that's Jayru, (who's) more of a polished passer than the other guys."
Sophomore wide receiver Sy Barnett welcomed the change of pace, gaining 139 yards on five catches and scoring two touchdowns. Campbell, who has been an eye witness to Barnett's athleticism, has a lot of faith in his hands.
"Sy is just a heck of an athlete," Campbell said. "I have a lot of trust in Sy. I've seen him, do a tip dunk, dunk the ball and break the whole backboard. I've seen that with my own two eyes. So when it comes to deep balls and jump balls, I trust him a lot."
Campbell credited his coaches for supporting him and guiding him throughout his career, starting at the very beginning with his little league coach, Ron Coleman, who was in attendance.
"I think he (Coleman) coached me when I was nine, ten years old and I still remember, word for word, our phrases at the end of practice, all that type of stuff," Campbell said. "Man I was so happy to see my little league coach today and he probably didn't even understand the impact that he had on my life.
"But growing up, I didn't really have no father figures like that, so those are guys I looked up to in some type of way because I love football. So God really placed a heck of a lot of individuals that did a tremendous job as far as motivating me to keep going."
He still keeps in touch with his high school coaches, Jermain Crowell and Thomas Wilcher, who he said helped him stay focused both on and off the field. Campbell said his junior college coach, Jeff Sims, was the one who helped him build up his work ethic to prepare for Ferris and Annese, who Campbell also mentioned.
"With the coaches that I have played for and the environments I've been in, I just felt like they prepared me for so much," Campbell said. "But all those coaches, ever since I was a little kid, God has always placed some great coaches in my life to really guide me in the right directions and the right steps."
With 11 players on the roster from Detroit and 23 from its surrounding suburbs, Campbell wasn't the only one excited to be in the Motor City. Senior defensive backs Omari McCauley and Stanley Williams and senior cornerback James Ceasar got the opportunity to join senior quarterback Travis Russell as the game's captains.
"It really meant a lot to me because, this being my home town, I just couldn't wait to get back here and put on in front of my family and my friends and everybody else that I know," Ceasar said. "So it was just great to be able to go out for the coin toss and be a captain."
The Ferris defense held Wayne State to only eight first downs and 3 – 16 on third down conversions. The Warriors only gained 120 total offensive yards and -3 rushing yards. This is the second week in a row the Bulldogs kept their opponent to negative rushing yards.
Ferris did not punt once the entire game, with every series ending in a score or one of their four turnovers.
"It's fun having him (Campbell) at quarterback and it's easy to play defense when you know you got a quarterback who's gonna put it in the end zone almost every time he touches it," Ceasar said.
With a 35 – 0 lead at halftime, sophomore quarterback Evan Cummins took over the offense second half and completed 10 – of – 16 passes for 82 yards and no interceptions, showing a glimpse of his throwing potential. He also ran in his eighth touchdown of the season at the end of the fourth quarter. Ferris ended the game with 602 yards of total offense, converting four of their five fourth down attempts.
Ferris' other touchdowns came from junior tight end Lazon Hicks — his first collegiate touchdown after being on the team five years — sophomore running back Jeremy Burrell and junior running back Tyler Minor.
"That was awesome. Lazon's been with us now, (his) fifth year, and for him to get a touchdown, it's awesome to see," Annese said.
The Bulldogs, now 6 – 0, have knocked out the last undefeated team in conference play and sit alone at the top of the Great Lakes Intercollegiate Athletic Conference. They will continue GLIAC play with a home matchup against Northwood 1 p.m. Saturday, Oct. 19.