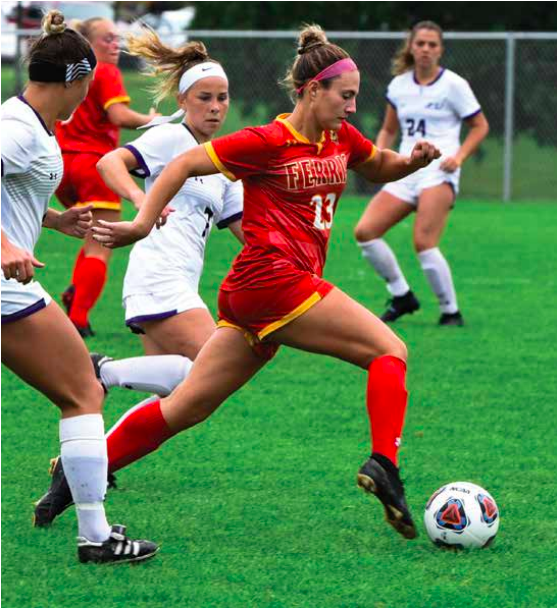 The Ferris women's soccer team found themselves in unfamiliar territory this weekend, as they tried to rebound from their first loss of the season.
The Bulldogs were 6-1-1 heading into a matchup with Northern Michigan University (NMU) Friday, Oct. 4. In the rearview for the team was a 3-1 loss to Ashland University just a week prior.
There was no semblance of rust against NMU as Ferris returned to their old ways in a 5-0 shutout victory. Ferris senior goalkeeper Grace Kraft knew it was vital to get back on track and recreate the momentum that let the Bulldogs rattle off six-straight wins.
"The win was extremely important for us," Kraft said. "We mentally had to get back into playing the game the way we want to play."
Kraft got the start in net and received plenty of defensive help as she was only forced to record three saves on the day.
Ferris sophomore forward Pia Nagel continued to defend her position as the Bulldogs' lead scorer, finding the net twice on five shots on goal. Also finding the net was junior forward Mackenzie Dawes, sophomore defender Merin McDermott and junior midfielder Bri Rogers.
Ferris women's soccer head coach Greg Henson has earned a lot of praise for the defensive play of his squad, but the offense has started to shine as well. Over their last three wins, the Bulldogs have recorded 14 goals.
"We trust each other up top and in the back," Kraft said. "We know that our team is able to get the job done and we rely on every person on our team to play their part."
Kraft earned her fourth start of the year when the Michigan Technological University Huskies came to town Sunday, Oct. 6. Rogers found the net again against the Huskies for her fourth goal of the season as the Bulldogs took home a 3-1 victory.
Ferris now stands at 8-1-1 overall with a 2-0 conference record. That mark has them standing tall at the top of the Great Lakes Intercollegiate Athletic Conference (GLIAC) leaderboard.
The Bulldogs aren't done however, as they have their eyes set on a rematch with Ashland this weekend.
"Knowing which players are their dangerous players will help a lot," Kraft said. "Also knowing what to expect when we play them. We have a ton of fire in us that is itching to get out."
Ferris has a weekend of GLIAC matchups on the road ahead and will look to even the score with the Eagles 1 p.m. Sunday, Oct. 13. First, however, they'll have to take on the Saginaw Valley State University Cardinals 1 p.m. Friday, Oct. 11.