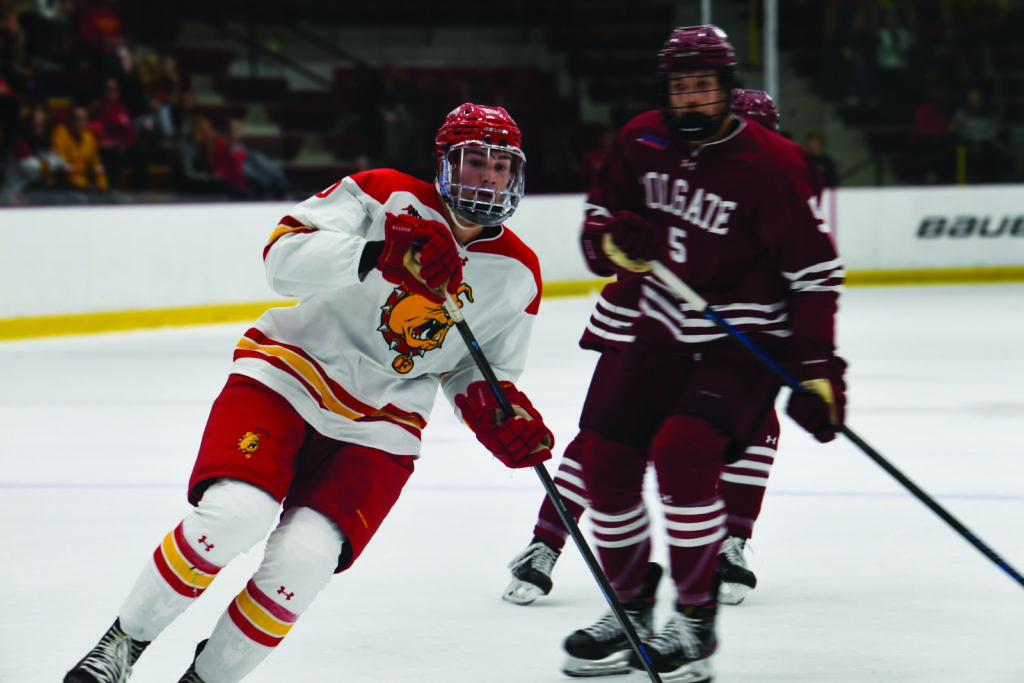 For the first time since the 2014 – 2015 season, the Ferris men's hockey team opened their season with a win, 3-1 against Colgate.
The Bulldogs won the faceoff to start the game Thursday, Oct. 10 and never took the pressure off the Raiders. Ferris was without senior forward Jason Tackett due to a concussion he suffered during the exhibition game against Waterloo Sunday, Oct. 6. Ferris head hockey coach Bob Daniels said it would've been really nice to have Tackett, the team's best faceoff man, in the matchup.
Colgate got on the board first only 6 minutes in but the Bulldogs weren't far behind. Ferris junior forward Marshall Moise laid a big hit at center ice on a Colgate Raider to ignite the Bulldogs' energy and with 5:32 left in the first period, Ferris tied it up. The goal was by junior forward Lucas Finner, assisted by senior defenseman Joe Rutkowski.
"It was good to see our veteran guys lead the way, and they are doing a great job of leadership in the locker room," Daniels said. "It's great to see them doing it on the ice as well. Interesting that it was all upperclassmen and in regards to points tonight, two juniors that scored as well as a senior and then same with the assist."
The second period went back and forth and the physicality of the game got more intense as time wore on. The Bulldogs struggled with faceoffs in the second period, winning only 18 and losing 22. Ferris held Colgate off with sophomore goaltender Roni Salmenkangas, who had 28 saves on the night.
"Roni did a great job, he was a brick wall back there and he covered up pucks when we needed, killed plays and stopped the momentum which definitely helped going into the third only up one and we found a way to win," Rutkowski said.
With 14:33 left in the third period the Bulldogs took the lead on an unassisted goal by Rutkowski. As the time ran out, the Raiders put in an extra attacker in attempt to even the score, but junior forward Coale Norris made an empty net goal within the final seconds of the game to secure the win. Salmenkangas was happy with his team's performance, crediting his teammates with making his job a little easier.
"I didn't have to do too much, guys were there when I allowed a couple rebounds, so they helped me a lot and made my job easy," Salmenkangas said. "I think I played unreal; I don't think they had too many chances at all even though we took around six penalties. I think the guys did an unreal job in the penalty kill, which helped me a lot."
The Bulldogs take the ice again 7:05 p.m. Friday, Oct. 18 when they travel to Ohio to take on the RedHawks from Miami, Ohio in a non-conference match at Goggin Ice Arena.