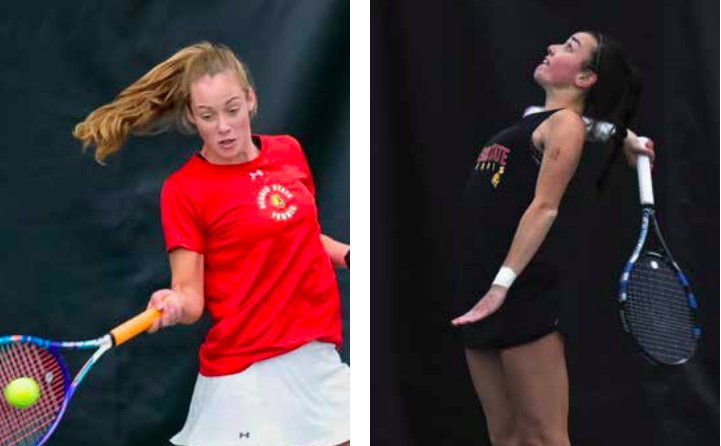 Sometimes the hardest thing to do is say goodbye, but that was what two women's tennis team players had to do this weekend.
Seniors Silvia Verebes and Johanna Frye played their final home matches this past weekend against Saginaw Valley State and Michigan Tech. The two graduating seniors were presented with both flowers and framed pictures of some of their moments with the tennis program.
Verebes has been a staple of the Ferris women's tennis program for four full years, working with four different head coaches.
"We did the senior presentation right after doubles and I think it set the energy really, really high and that's why I did so well in my match," Verebes said.
Her favorite moments have come this season though, as the Bulldogs have become a contender in the GLIAC.
"I think this season so far has been my favorite," Verebes said.
Frye was a much newer addition to the Bulldog team. From Germany, Frye only joined the team this semester after playing on the club team. Being new to the program hasn't stopped her from leaving her mark on the program, though.
Her largest contribution came against Northwood, where Frye won a three set thriller in the final match of the day to give the Bulldogs the win 4-3.
To Frye, the biggest thing she'll remember is the people she's been able to play with.
"I think I'm going to miss the people the most. I mean I've been here such a short time, two months on the team, but the people are just amazing. It's so much easier to play," Frye said.
Head tennis coach Mark Doren also reflected on the women's participation in the season and what he'll remember most of his graduating seniors.
"I would say today, Johanna had one of her best games she's had this season. She had a 35 to 40 shot rally near the end of her match and she won it, so it's one of those moments that you always remember," Doren said. "Silvia's defense is what I'm going to remember most about her, she is one of the best defensive players to come through Ferris in a long time and that just shows to her work ethic and determination."
Besides the emotions that come with senior day, the Bulldogs had an up and down weekend. After beating Saginaw Valley State University (SVSU) 5-2 on Saturday, Oct. 12, the Bulldogs proceeded to fall to Michigan Technological University (MTU) 5-2 on Sunday, Oct. 13.
Doren said despite the loss, he thought his team fought hard and played better against MTU than in their win against SVSU.
"I thought yesterday we were a little flat. Today I thought the team really gave their all. We ran into a team that is a darn good singles team, we won the doubles and we competed," Doren said. "The confidence level is high, it's high because both of our losses we were in it. Last year when we lost, we weren't in it. We went 5-4 last year so we're already ahead of last years total, and those losses last year we weren't really in it."
The women's tennis team will finish off conference play next week at Ashland University 10 a.m. Saturday, October 19. They will then travel to Detroit to take on Wayne State University on 10 a.m. Sunday, October 20.
With the Bulldogs currently sitting at 5-2 on the season, the final matches of the season will be critical as to what seed the team will get in the GLIAC slated for October 25-27.