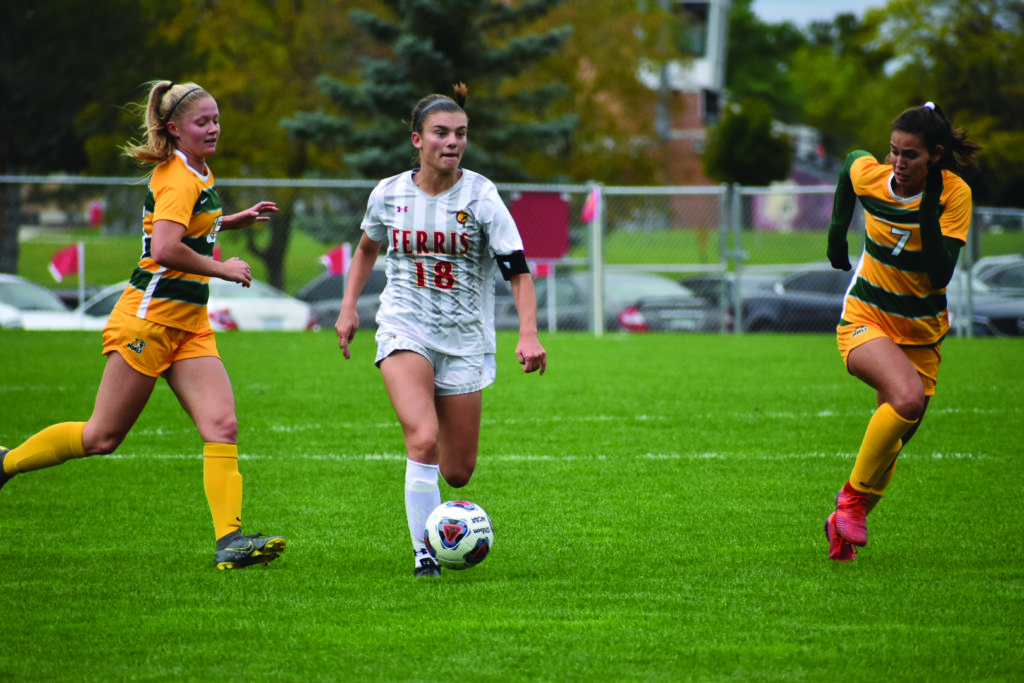 With her seventh career penalty kick made against Northern Michigan University, junior midfielder Bri Rogers set the school record for career penalty kick goals. For that—and her consistently solid offensive play all weekend—Rogers gets this week's Top Dawg honors.
In the Bulldogs' dominating opening weekend of Great Lakes Intercollegiate Athletic Conference (GLIAC) play, Rogers led the team and collected seven points. Against NMU, the captain had one goal, three assists and four shots in the 5-0 win. Rogers added four more shots against Michigan Technological University, with one finding the back of the net to add to the Bulldogs' 3-1 win.
Rogers' three assists on the weekend make her the leader in assists on the team and she lands in second in goals scored with four. Her poise in penalty kicks is no surprise, as she has not missed one in her entire career at Ferris, scoring two her freshman year, three her sophomore year and two this year so far.
Her offensive-minded play is not only aggressive, but it's accurate. Out of players with 10 shots or more, Rogers has the second highest shot percentage with .200, trailing only sophomore forward Pia Nagel who has a .211 shot percentage.
Rogers also gained GLIAC Offensive Player of the Week honors for her performances.