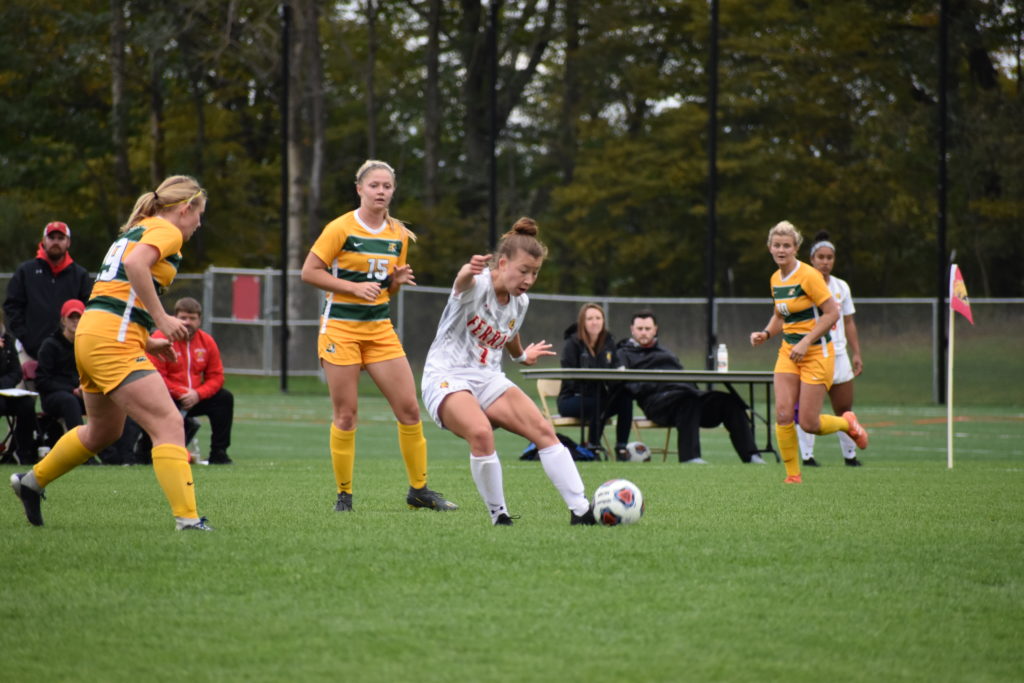 The transition from high school to college can be challenging, but transitioning to a new country at the same time can weigh on a student-athlete.
Pia Nagel – a sophomore forward for the Ferris women's soccer team – has made that transition look easy. Nagel joined the Bulldogs in 2018, making the move to Big Rapids from Karlsruhe, Germany and she hasn't disappointed.
"Pia has done a great job transitioning," Ferris head women's soccer coach Greg Henson said. "Coming into year two, she's familiar now and I think you're really seeing her mature into the player she's capable of being."
Following a freshman campaign that saw her score 10 goals to lead the team, Nagel is on pace to blow past that total as a sophomore. Nagel currently has eight goals to start the 2019 season, which is double the amount of goals of her nearest teammate (junior forward Bri Rogers has 4 goals).
Nagel credits a great deal of her success to her teammates, junior forward Mackenzie Dawes in particular.
"Most goals are great teamwork. The team is essential; a good player is nothing without a good team," Nagel said. "Mackenzie and I have a great understanding on the field of what the other player will do next."
The chemistry up top has not gone unnoticed by Henson and the two forwards have started together all but two games this season.
"Pia is a product of the environment and players that are able to set her up and put her in great situations," Henson said. "Her and Mackenzie up top have been a great pairing for us. I think most of Kenzie's assists have been to Pia so it's a great one-two punch."
Henson's assessment is correct. Of Nagel's eight goals, Dawes has assisted on three; likewise, Nagel has assisted on one of Dawes' three goals on the year.
As easy as Nagel makes it look on the field, her experience hasn't always been smooth. Nagel detailed the difficulties of playing in Germany versus the U.S. as the culture shock of living in a new country.
"Soccer here is more direct," Nagel said. "After winning the ball, most teams try to score with quick counterattacks, and it is also more physical.
"Adjusting to speaking English 24/7 and being away from home was difficult. Having an awesome roommate and a team that made me feel super welcome was huge."
The support of her team has elevated Nagel's play and is a big reason why the Bulldogs have been so successful this season. Ferris has scored 20 goals through their last seven games.
The Bulldogs are 9-2-1 after splitting a pair of road games with Saginaw Valley State University (SVSU) and Ashland University (AU).
Ferris defeated SVSU 2-0 Friday, Oct. 11 before suffering their second loss of the season 2-1 Sunday, Oct. 13 against the same AU squad that muddied their perfect record two weeks prior.
Nagel and the Bulldog offense will now turn their attention to a pair of home games with conference rivals in the University of Wisconsin-Parkside (UW Parkside) and the University of Purdue-Northwest scheduled this weekend.
UW Parkside will arrive first with that matchup set for a 4 p.m. kickoff Friday, Oct. 18