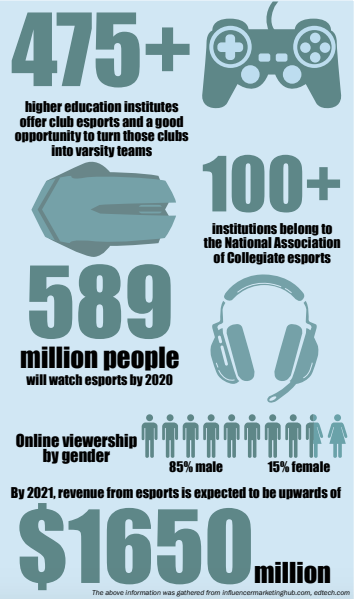 Ferris is considering venturing into an untapped market for the university — esports.
In general, the global market of esports has generated $1.65 billion in revenue and has gained significant national attention. While currently limited to a Ferris RSO, there are ongoing discussions to promote esports to an official Ferris varsity sport.
"Esports is growing daily. It's just not growing under athletics," Ferris' instructional technology coordinator Andrew Peterson said. "We had to go through an organization called Tespa to make sure we could have varsity status and that entails high administration support."
Some Ferris students are excited about the potential for esports teams at Ferris.
"I know that making esports a varsity sport is something that is happening at universities around the country and I believe that Ferris should be one of them," Ferris' President of Esports Jono Eaton said. "We would have to create a space, but last I heard, the new Virtual Learning Center will have an esports arena that would be fantastic for varsity esports, especially recruiting top players."
Right now, Ferris has a registered student organization (RSO) for esports, with between 250 and 300 students involved. This includes a varsity team, back up teams, observers, commentators and streamers.
Playing games within the RSO brings different types of gamers together. They have a team Discord account that allows anyone interested in esports to join and become a part of the community.
The RSO covers a multitude of different games to attract various types of gamers to the club. They have varsity teams in Overwatch, Rainbow 6 Siege, Rocket League and Super Smash Bros. They also have casual gamers with the aforementioned games as well.
Recently, the varsity Overwatch team beat Division 1 Ohio State University. They will soon face other Div 1 schools in esports.
Ferris esports tries to attract attention by streaming their matches. The Overwatch team streams their varsity matches every Sunday at 8 p.m.
Frankly, there is no space for players or spectators, but there have been talks about adding an arena somewhere.
After searching documents and receiving testimonies, there are two theories on where the new esports arena could be. The television and digital media production classes are moving to a new building, so esports could possibly move with them.
A larger area for the esports team was also considered in the Visual Learning Center, to be built following the demolition of Vandercook Hall.
The esports RSO has public meetings 11 a.m. Thursdays in UC 211.