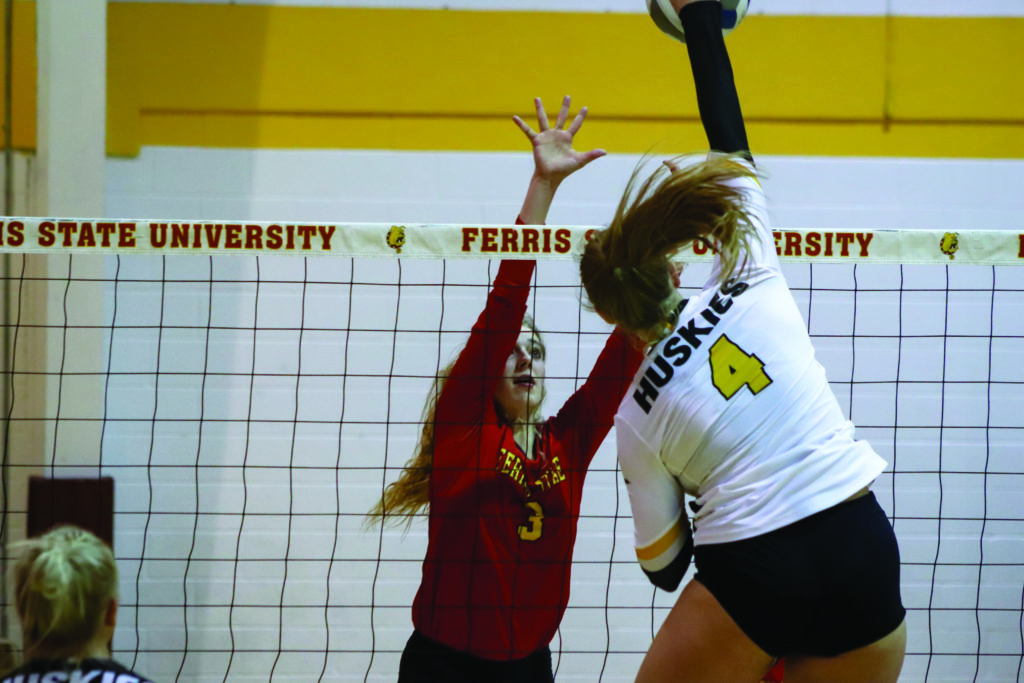 The outside world sees one thing: the product.
They come and see the team on gameday and only get to see the result. However, there is much more that goes into winning than Friday nights and Saturday afternoons. There are other intangibles which create wins and success only the team can understand.
The Ferris volleyball team has had an impressive season so far, no question about it. They have an overall record of 14-3 along with being ranked No. 14 in the nation. They only have one loss in GLIAC play, putting them at 8-1 and first in the conference. But this success does not just come together on gameday. Ferris head volleyball coach Tia Brandel-Wilhelm credits practice habits and her players' work ethic day in and day out, aspects of her team that excite her.
"When they come into practice, every kid on the team is really focused and they know what they are trying to do. They hold each other to standards as we go through practice," Brandel-Wilhelm said. "We have improvements that we want to make so the fact we come into practice every day and really focus and get after it is exciting."
The Bulldogs' discipline in practice led to two more GLIAC wins, and they defeated Grand Valley State University Friday, Oct. 11 and swept Davenport Saturday, Oct. 12. When taking a closer look at the numbers, it's no surprise Ferris has once again been dominating in conference play.
Ferris has the highest hitting percentage in the GLIAC at .259 and is fourth in the conference in kills with 827. Senior outside hitter Allyson Cappel is sitting at fifth in the conference with 223 kills and third in kills per set with 3.84. The team is also second in blocks, second in points per set, first in digs per set and second in kills per set.
The Bulldogs' stats rank well nationally, as well. They are Top 20 in four different categories: hitting percentage, digs per set, assists per set and opponents hitting percentage. Along with that, they are Top 25 in kills per set and senior setter Maeve Grimes is Top 25 in assists per set.
However, Brandel-Wilhelm doesn't focus on past games or statistics and encourages her team to adopt the same mindset.
"I think we aren't looking at what we've done we are really just working on evaluating ourselves and trying to be better," Brandel-Wilhelm said. "I wouldn't think that anybody on our team would say we are off to a hot start. I think we're just trying to do the things that we can and learn in the ways that we can and move on to the next game."
Something else the average fan or spectator can't see is the character of the people that make the team. Chemistry and team cohesiveness is an underrated skill that goes unnoticed until it isn't there. The character and quality of the people on the team is a key to success.
"There are some amazing women on this team that are just high-quality people with really good values and a humbleness, yet confident completeness," Brandel-Wilhelm said. "Just kind people and thoughtful people. Being around each other is a joy and being with this team is so much fun."
With GLIAC play just over halfway done, the volleyball team will compete in the Midwest Regional Crossover this weekend in Indianapolis, Indiana, where they will face competition from the Great Lakes Valley Conference and the Great Midwest Athletic Conference.