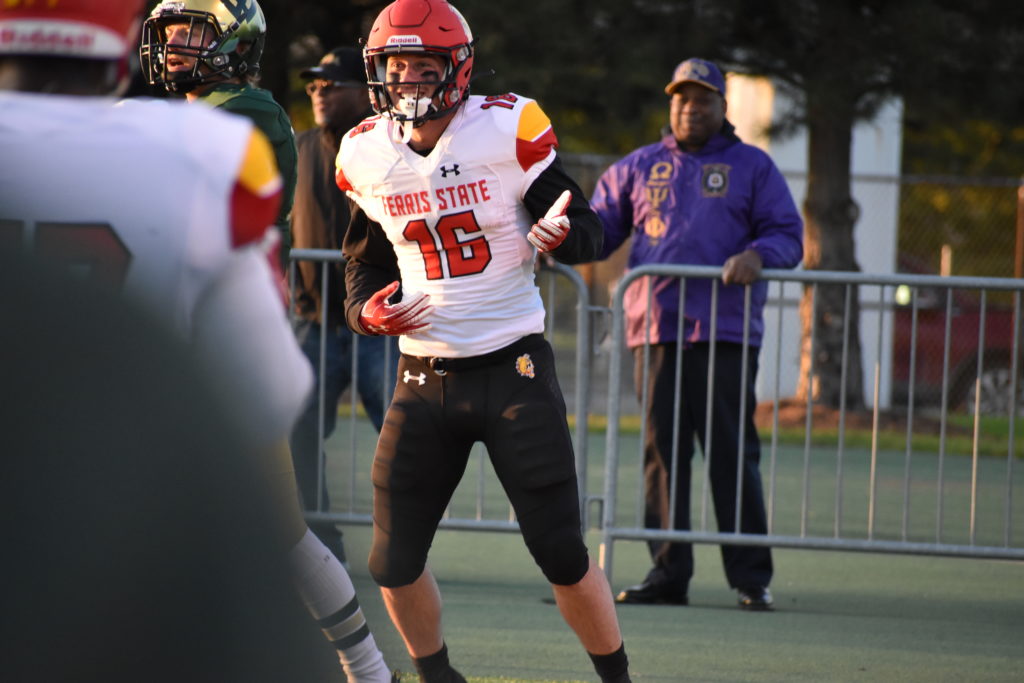 After two slower weeks for the receivers, sophomore wide receiver Sy Barnett easily tapped into his freakish athleticism this week without missing a beat and for that, he earns Top Dawg honors.
In Ferris football's 59 – 13 win over Wayne State, Barnett accounted for 139 of the team's 285 recieving yards and two touchdowns, one of which he had to fully stretch out and launch himself into the air to come down with.
During the two last weeks without senior quarterback Jayru Campbell—and subsequently, two weeks without much passing—Barnett only had one catch for 10 yards. Only a total of 13 passes were thrown against Davenport and 18 were thrown against Northern Michigan. Last week's matchup against Wayne State saw 28 passes thrown to receivers with 20 catches.
Barnett's longest catch on Saturday, Oct. 12 was 46 yards and he averaged 27.8 yards per catch on his five receptions. Barnett has accumulated 387 receiving yards this season, averaging 64.5 yards per game.
Ferris head football coach Tony Annese and Campbell had nothing but praise for Barnett's hands and both have a lot of trust for the athletic wideout.
"He's a great player ball in air, I feel very confident that he's gonna come down with it," Annese said.
Barnett also consistently punts for the Bulldogs and averages 45.5 yards a punt and has 364 total yards off of eight punts this season. However, Ferris had no need to punt the ball once against Wayne State, so Barnett did not add to his stats on Saturday.