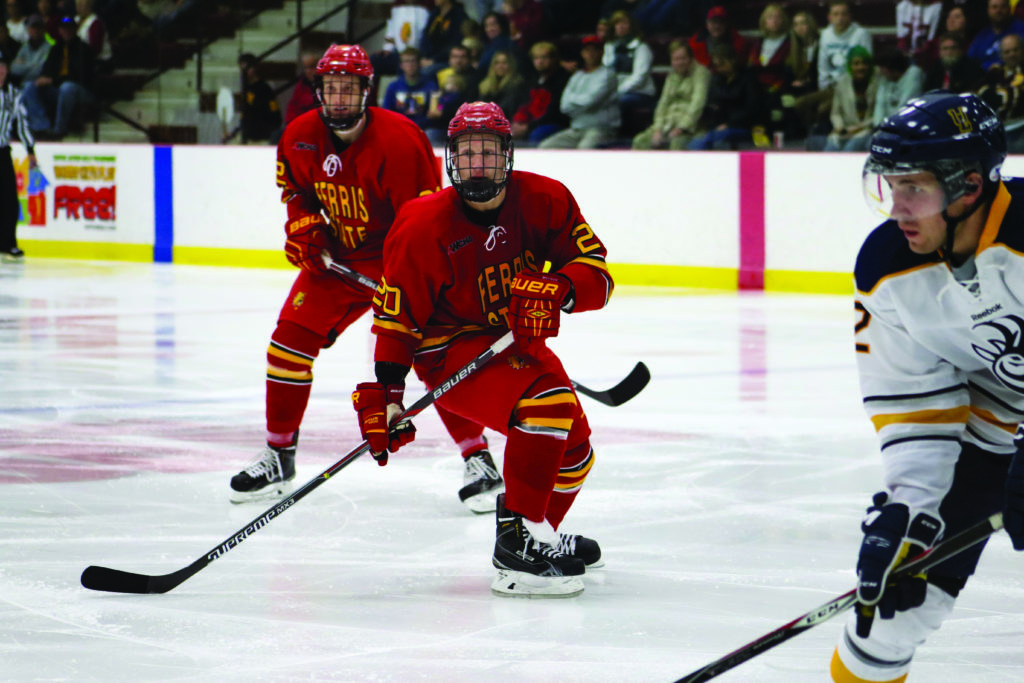 Gerald Mayhew — for those who do not know — is one of Ferris hockey's all-time greats. At Ferris, his spectacular plays, high energy and clutch performances were known as #GerryTime. He has taken #GerryTime to the pros with him and now all the way to the NHL, one 12 former Ferris players to do so.
He appeared in his first NHL game at center for the Minnesota Wild Tuesday, Oct. 15, against the Toronto Maple Leafs. They lost 4-2, and Mayhew saw a little more than ten minutes of ice time.
Even though Mayhew was limited in minutes, he still found a way to give the team a spark. With less than two minutes left in the game, Mayhew was in the right place at the right time and knocked in a goal.
"Exciting time for me, I was a little nervous, but I had some of my family there, which was great. It was a surreal moment. Every kid who plays hockey has that dream of playing in the NHL. Just lucky to play in an NHL game," Mayhew said.
This spring, Mayhew signed a two-way contract with the Minnesota Wild organization, meaning he can be called up to Minnesota in the NHL or sent back down to the Iowa Wild, the AHL affiliate, at any time. The biggest difference other than the level of play is the salary. When playing for Iowa, he makes a certain salary, and when he is called to play in the big leagues, his salary increases.
Early last week, Mayhew received that call from Minnesota after starting the first four games with Iowa. In just four games for Iowa, he had three goals and three assists. Minnesota thought it was time after their rocky 1-4 start to make the call and pull #GerryTime up from the AHL, and it paid off.
"I was definitely pumped about it. It was a late goal, and I was in the right place at the right time," Mayhew said. "Pretty special to score your first goal in your first game, not many people do that. Very special that my family was there and got to witness it."
He started playing for the Iowa Wild in 2017 after his senior season at Ferris, where he only appeared in 17 games but had six goals and one assist. His first full season in 2017–2018, he played in 72 games and had 16 goals with 16 assists. His third year, he played in 71 games and recorded 27 goals and 33 assists. Every year he kept working and getting better. The key to his success was working hard and never giving up.
"Went right to Iowa after Ferris and the playing time wasn't that much to start out," Mayhew said. "Had to work my way up, and I never gave up. A good message to other players that are getting overlooked and not much given to them: just keep working hard, and anything can happen."
Being an undrafted player from a small school gives Mayhew that blue-collar work ethic and perspective.
"Yes, it sucks when people overlook you, I definitely have a chip on my shoulder," Mayhew said. "It motivates me and helps me to work harder. When you just grind and keep working hard, your coaches and teammates will take notice, and you can benefit from it. It certainly has benefited me."
With the NHL call-up, Mayhew's role has shifted a bit. Last year he played 71 games for Iowa and recorded career highs for goals (27) assists (33), points (60), penalty minutes (51), power-play goals (9), shorthanded goals (2), plus-minus rating (+15) and shots (200). He also led the team in goals, plus-minus rating and shots.
As a member of the Minnesota Wild, his role has changed. In his first two games, he's seen about 17 minutes of ice time total, scoring one goal during which.
"For Iowa this year I was starting, on the power play kill and playing 20 plus minutes a game. Now, it's tough, I played six minutes the other night, so I am sitting on the bench for a while," Mayhew said. "Something that I will have to get used to if I want to be successful in the NHL.
"You have to limit your mistakes and do the little things right, and everything else will take care of itself. This league wants you to produce, so I have always been able to do that and produce. So, I just need to keep doing what I've been doing the past six years. Keep working hard and getting on the ice after practice."
One thing for sure: Mayhew has always been able to produce, especially going back to his days as a Ferris Bulldog.
Over his four-year career at Ferris, he participated in 150 games. He played in a total of 80 wins along with an Elite 8 appearance in 2015–2016. He had a total of 52 goals, 67 assists and 119 points in his career.
His best year came during his junior stint when he helped the Bulldogs to an NCAA Regional Finals appearance and their first WCHA Tournament Championship in team history. He led the team in goals for three years and was named to the WCHA second team his junior year and then named to the first team as a senior.
He found motivation in the success he found at Ferris after starting on the fourth line as a freshman. Mayhew said he got a shot to start near the end of his freshman season and started on first line the last 10 or so games.
"We made the tourney that year, and I had a great playoff run," Mayhew said. "What I took from Ferris is just being at a small school; it's not a Big Ten school or anything like that. But we had a bunch of guys willing to work and buy into coach, and if you can do that, you'll have a lot of success."
Mayhew is just beginning his first year of the two-year twoway contract with the Wild. But for now, you can catch the 26-year-old Ferris alum center wearing No. 26 for the Minnesota Wild in the NHL. In their upcoming games, they will play Nashville on Thursday and Los Angeles on Saturday.