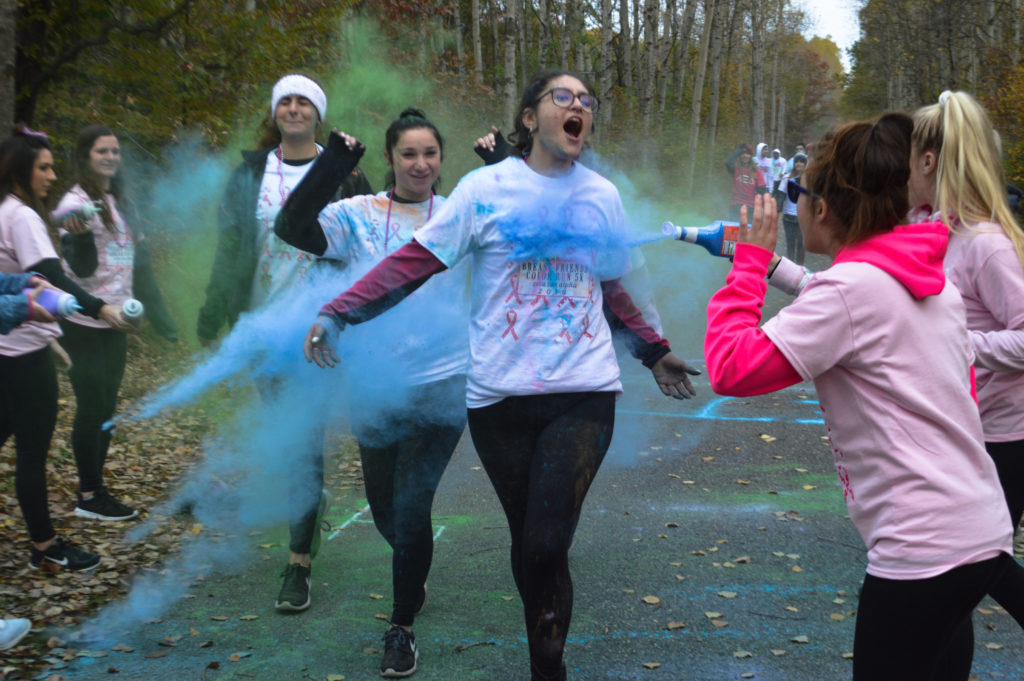 Keeping the tradition alive, Zeta Tau Alpha held its Breast Friends 5k Color Run for the 4th consecutive year in honor of their philanthropy, breast cancer education and awareness.
Inspired by other chapters, the sorority tested out this event four years ago and found that it was the perfect way to get the community involved, especially in October, which is Breast Cancer Awareness Month.
Typically, Zeta Tau Alpha holds one big philanthropy event per semester and members have seen the success from the tradition.
Ferris health information management sophomore and Zeta Tau Alpha Director of Philanthropy Mckenna Matthews said the organization set high goals for themselves.
"Each year, our goals are aimed a little higher than before," Matthews said. "This year, we raised the stakes and are challenging ourselves to raise $10,000 for our philanthropy, and we're almost there. With this event in particular, we usually bring in a couple thousand dollars, including donations from our Think Pink week leading up to it."
The event was held Saturday, Oct. 19, at Riverside Park in Big Rapids. At registration, participants received a shirt, pink bracelets and necklaces as well as refreshments such water and bananas. There were also bags filled with different colors, such as blue, purple, green and pink, that participants could throw at one another.
Five minutes before the race started, participants anxiously lined up to begin. The path of the race was two laps around Riverside park.
Throughout the race, there were five different color stations, where Zeta Tau Alpha members would throw colors at the participants. However, if participants didn't want color thrown on them, they were instructed to hold up an X with their hands over their heads as they ran or walked by.
Various members of the community came out to run to show support, including other sorority and fraternity members, like Ferris biology junior Camryn Booms.
"I'm running to promote Greek unity because I'm in a different sorority, but also to promote breast cancer awareness and support the cause. I did the run last year and it was very successful, and I enjoyed it a lot, so I wanted to come back and do it again," Boom said.
Ferris construction management junior Tristan Sparks ran not only to support breast cancer awareness and Zeta Tau Alpha, but also to defend his title as the winner from last year's run.
Ferris criminal justice junior David Hyoe did not participate in the Zeta Tau Alpha color run last year but decided to join the cause this year and get some exercise doing so.
The race had 100 participants and Zeta Tau Alpha raised a total of $2,725.06 toward their $10,000 goal for their philanthropy.