Defense wins championships, but the moments of glory after a sack or interception are few and far between. The day in and day out practice work can slip into a mundane routine for some players.
Not at Ferris, though. At any given practice on Top Taggart field, you can bet on players getting down to the music blaring on the speakers between drills or joking around about anything and everything. But once they're back in the drill, they're all in and 100% focused.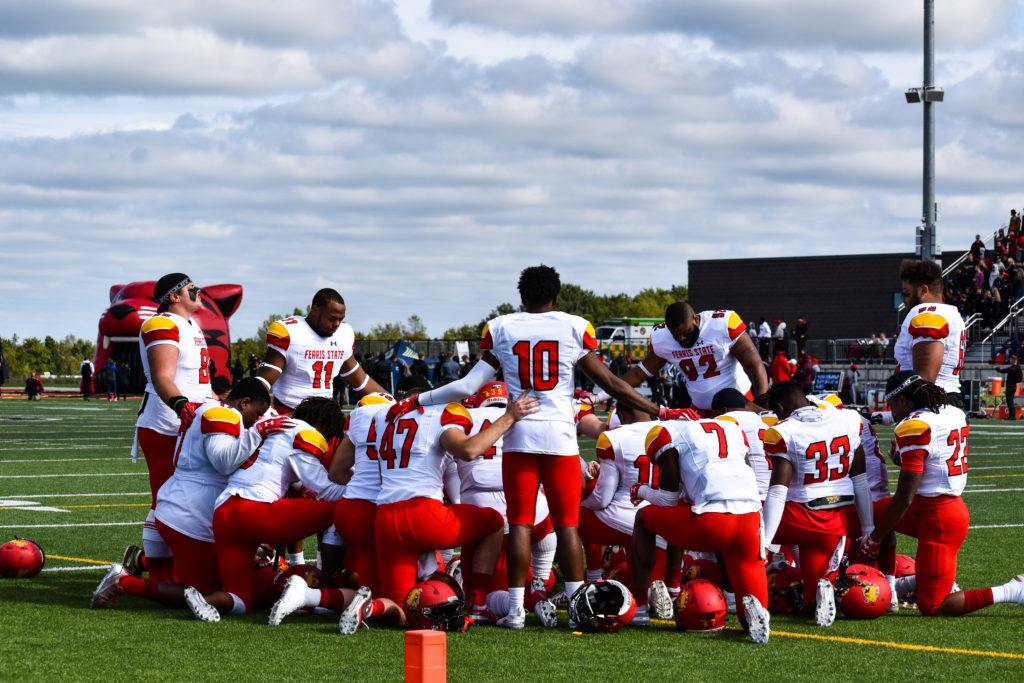 It's easy to see the players have fun with the game, an attitude that's important to sophomore defensive tackle Jordan Jones.
"It's very important because you don't want to be stressed out. We're already stressed out enough with school, so we don't want to be stressed out on the football field," Jones said. "This is fun. It's a game. We play a child's game and it's really fun to come out here and still play it at this age and at this level."
There's a noticeable bond between the defensive players and it's one that junior defensive tackle Greg Leatherwood calls "unbreakable."
"It's a blessing to have those type of guys that you mesh well with off the field and on the field and every little group has their different thing," Leatherwood said. "The DBs [defensive backs], they call it the 'Chain Gang.' The D-Line, we're the brick wall and the linebackers do their thing and when we all come together, it's a blessing to see."
According to defensive line coach Tesfa Smith, the key to their success is strong chemistry between the defensive players. Many players are roommates, spending a significant amount of time together through both regular season and offseason, and some of them are in fraternities together as well.
"If you have no chemistry, it can crumble at any point," Smith said. "They just spend so much time (together) that it's for each other out there. They're really fighting for one another, so when the chips are down, they pick each other up. I've never been on a team that's been successful where they didn't have great chemistry and I think that's very important and I see that here."
Senior linebacker Avonte Bell said the chemistry this year is noticeable and improved from last year when there were eight new defensive starters, a factor that has allowed them to play to each other's strengths.
"We just love each other, you can just tell," Bell said. "Every time we make a big play, everybody celebrates with everybody. DBs celebrate with D-linemen, linebackers celebrate with DBs. There's just so much camaraderie and that's what's helping us become stronger—just loving each other and expecting greatness of each other."
The Ferris defense is second in the GLIAC in sacks with 22, which is only three behind Michigan Tech's 25 on the season. Bell is second in the league in sacks with six, and senior defensive end Austin Edwards is tied for third with five.
The Bulldogs are in the Top 3 GLIAC teams in total yards allowed, rushing yards allowed and passing yards allowed. They lead the league in points allowed, only giving up an average of 15.9 points a game.
Ferris is tied for second in the GLIAC for interceptions with nine, and four of those belong to senior cornerback James Ceasar. Smith called the Division I Southern Illinois transfer an "immediate impact player" after he transferred to Ferris last winter.
"I think James Ceaser, our defensive back, has been a phenomenal leader, just a great addition," Smith said. "A kid that didn't say much when he got here, just went about his business and then solidified a spot and it's really shown how comfortable (he is) and what a great asset he's been for us on the field."
This success comes not only from great team chemistry, but strong leadership from upperclassmen as well. Edwards, a three–year starter, is the prime example of how to approach student athleticism in Smith's eyes and is a player who has stepped up as a leader for the defense.
"I think he's one of those guys that is a leader by example, but if it's time where he needs to say something to the guys, he won't shy away from getting into guys and telling them, 'Hey we need to pick this up.' So I think he's been a great leader in the back," Smith said.
While Edwards does not lead the team in stats, Smith said it doesn't matter whether he makes the play or not, he's always involved.
"He's such a force and while he may not make plays, he's so disruptive that he's allowing other people around him to make plays," Smith said.
Ferris' stat leader is senior linebacker Avonte Bell, who has 34 tackles and six sacks this season. He's also one of the biggest personalities on defense, according to Smith.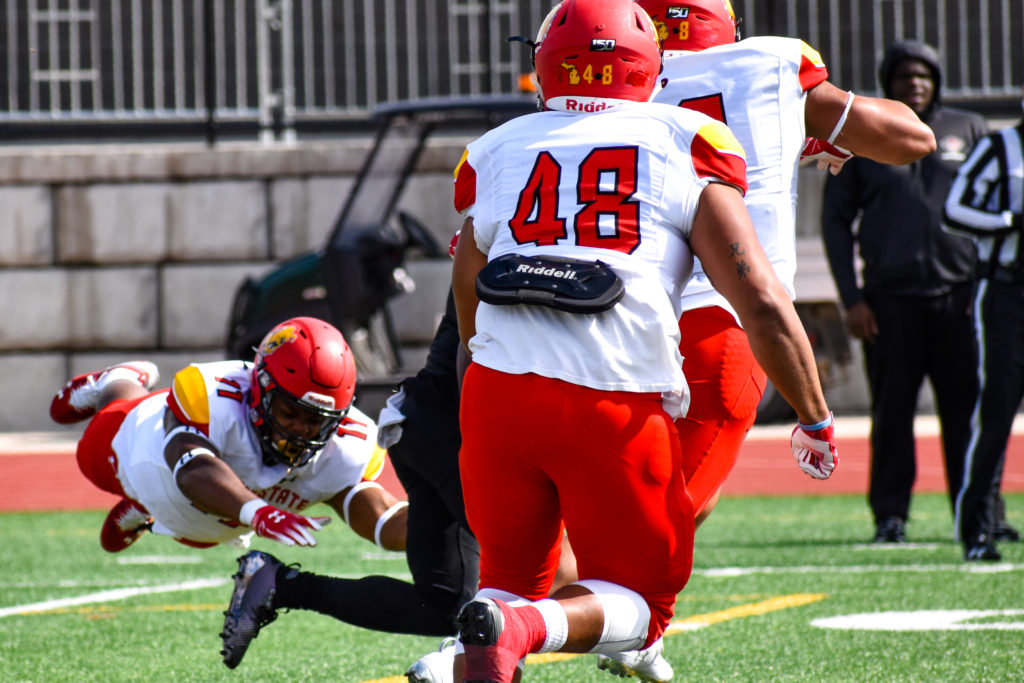 "He's just a wrecking ball and a tackling machine, but it's very colorful and keeps it loose for the guys," Smith said. "I think that's important when you're out here to keep it loose, because kids struggle with this monotony of practice every day. I think him keeping it light helps the team morale."
Jones, who most call "J-Jones" on the field, is well-liked on the team, and another big personality in defense. Smith claims Jones requires occasional reigning in, though Smith admits he "keeps it light" and in turn keeps up morale in practice. Any time on the sidelines makes it clear: pretty much everybody loves J-Jones.
Love and bonding aside, the mentality and work ethic are other major contributors to the defense's ability to keep opponents' offensive numbers low. They held Davenport to -9 rushing yards and Wayne State to -3 rushing yards in back-to-back games the first two weeks of October.
"We've got to come out here with the right mindset to just get better and grind it out every day," Leatherwood said. "We really can't think about the past, we can't think about the future, we've just got to think about right now and right now it's just getting better each and every day at practice, no matter the opponent, no matter who we playing in a couple weeks or anything."
Bell has a little more motivation as a senior, especially given the close loss in the national title game last year that Smith believes did not sit well with the defense.
"It's my last year so I don't want any mistakes. I don't want to go out like we did last year," Bell said. "I just want to go out and have fun with my teammates because this might be my last year playing football so I just know I need to go out there and play as hard as I can and give it everything I got so I can't look back in a couple years and say, 'Man, I wish I would have done that.'"