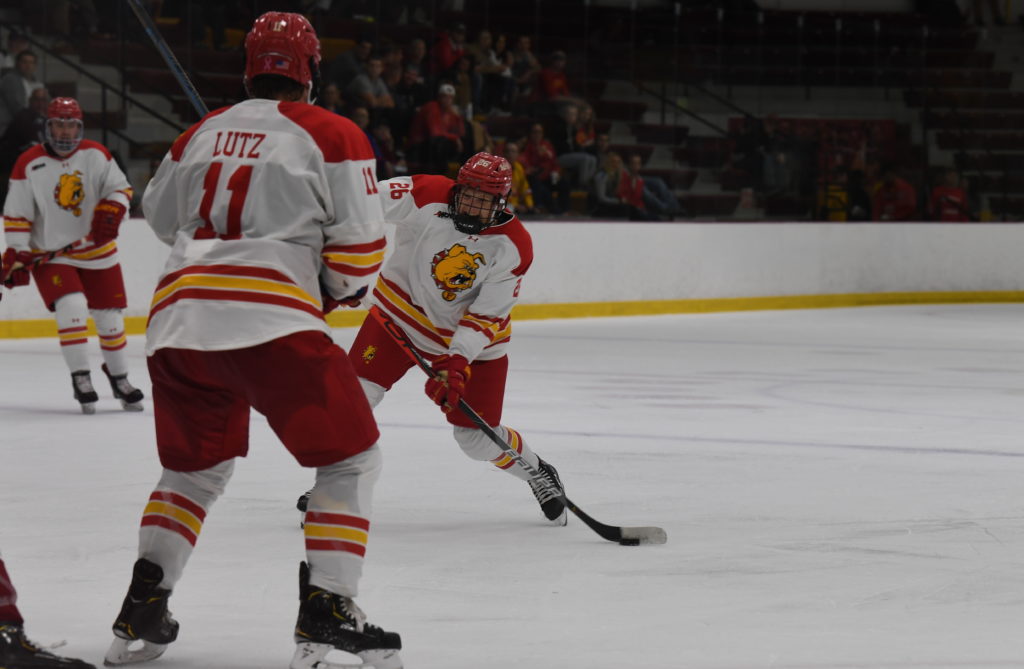 Ferris hockey kicked off conference play Friday night, Oct. 24, against Northern Michigan at Ewigleben arena and fell short 4-3 in a physical and competitive contest. A late goal by the Wildcats put them ahead and the Bulldogs had their chances, but eventually ran out of time.
Both teams played with a high level of focus and the overall level of play went up a couple notches now that conference play has begun. Ferris head coach Bob Daniels felt both teams matched the increased physicality in everything from hitting to battling for loose pucks.
"Both teams I thought were tenacious on that and both teams were heavy on their sticks. At times the play looked a little sloppy, but I think that was because of the physicality," Daniels said. "I thought it was a very good hockey game for this early in the year. We have a physical league and you could see that tonight."
The Bulldogs had seven penalties tonight for a total of 25 minutes. They had a five-minute major late in the third period, but they fought off the Wildcats' power play. Shortly after the Bulldogs were called for another two-minute penalty where the Wildcats capitalized for the second time on the power play. Then the Bulldogs struck a bit of bad luck when they tried to intercept a pass and the puck deflected into their own goal.
Ferris led the game with 35 shots, won the faceoff battle by six had 16 blocked shots. They only capitalized on one of five power plays. Senior defenseman and captain Nate Kallen helped the Bulldogs draw first blood in the second period and then again to tie the game at 2-2 later in the second period. Junior forward Lucas Finner tied the game at 3-3 in the third period after going down 3-2.
Northern took 26 shots and connected on four of them. The Wildcats had 32 saves, 6 blocks, and won 30 faceoffs. They also connected on two out of five power plays.
The Bulldogs will have to shake off this tough physical loss and get ready to go for another round with the Wildcats tonight. They will have to execute and focus on faceoffs in Daniels' eyes.
"I wasn't particularly very happy with our faceoffs tonight. Been a trend already were losing more faceoffs then were winning," Daniels said. "A lot of draws, at least half end up almost neutralizer tied up and then it's the next team that gets in and mops up that loose puck. Like a fumble in football you've got to be on top of it. If the puck's loose, it's up for grabs ad I think they did a better job on that."
The Bulldogs look to fix Friday's mistakes and get back on track Saturday, Oct. 26, with the puck dropping at 6:07 p.m. in Ewigleben Arena.