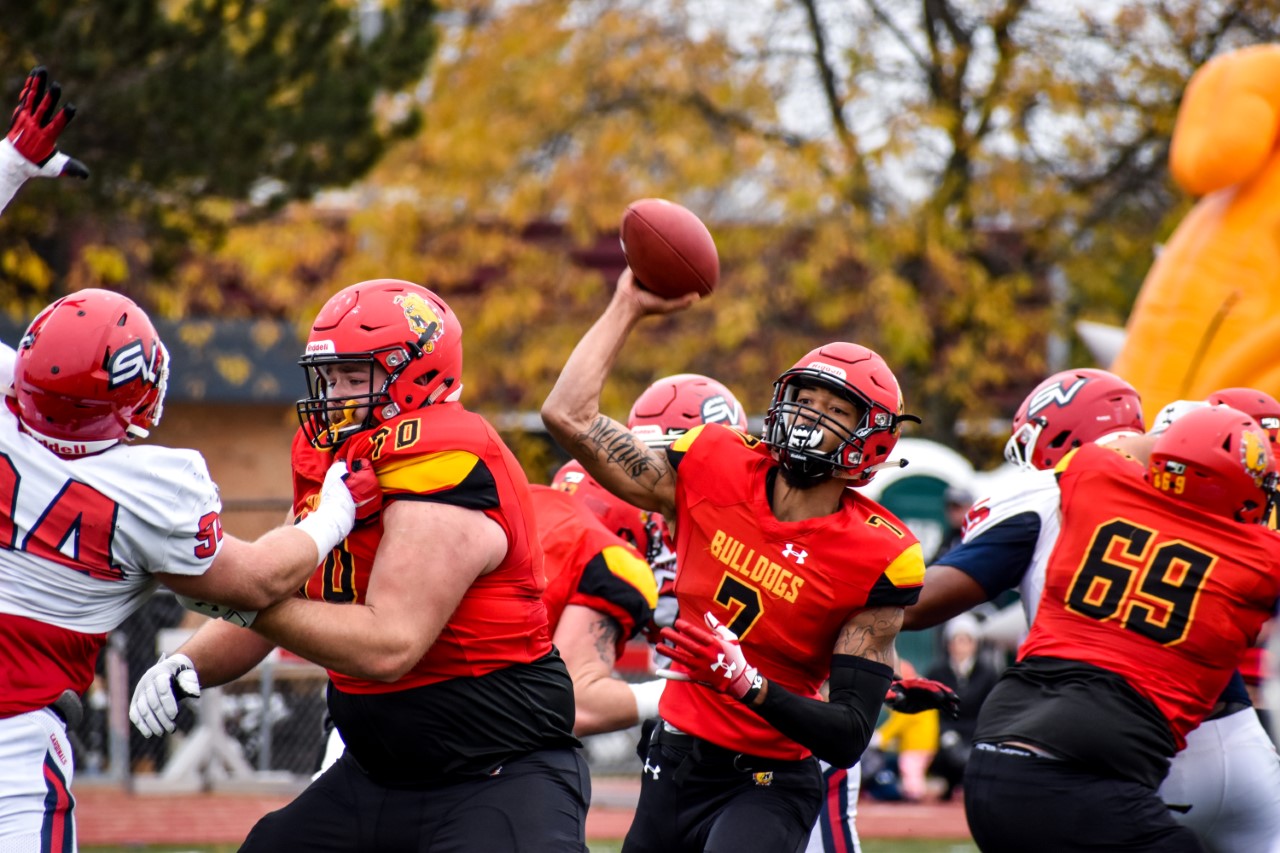 Everything seems to be coming together for Ferris football. In what was maybe the best team effort thus far to play a complete game, senior quarterback Jayru Campbell threw for more than 300 yards, and the defense pulled off six sacks against Saginaw Valley State University.
In the 34-10 win Saturday, Oct. 26, Campbell threw a total 347 passing yards — the first Ferris quarterback to do so since 2016 — and on only 13 completions. That's roughly 27 yards per pass.
After seeing the man-to-man coverage SVSU played, Campbell said he took advantage of the talent Ferris is stacked with at receivers and threw two touchdowns.
"We've got a lot of talent here so I just tried my best to get the ball out of my hands and get it into my guys' hands," Campbell said. "It feels real good, just to know I got some guys that's opening up and running to go get the ball. I think I had zero sacks today, so big shout out to the offensive line, couldn't have done it without them. They made it way easier and like I said, it makes it a lot easier when you got guys that's running and getting open."
Campbell's accuracy Saturday is his second highest of the season with a 68% completion average. Head coach Tony Annese said they're willing to take shots, Campbell sometimes too often, but his risk-taking has been paying off lately.
"Thirteen-for-19, and 347, with us being a top 10 in the nation rush team? Those are good things to have happen, it puts some pressure on our opponents for sure," Annese said.
Campbell has held his composure in tight situations, such as their second drive against SVSU when the offense was backed to their own one-yard line. Campbell completed a 23-yard pass to sophomore wide receiver Xavier Wade, and they moved it down most of the field before settling for a field goal.
Having only played five games this season, Campbell hasn't played a full game yet, only playing three quarters on Saturday. However, he managed to lead the team in rushing with 66 yards and two touchdowns on the ground, one of them a 30-yard run.
Despite the team's third game with more than 600 total yards of offense — a total of 623 this week — Campbell doesn't think the team has reached its peak yet.
"I still don't think we're playing to our full potential yet," Campbell said. "We've got a lot of talent, a lot of talent. I don't even think guys on the team, some of them don't know how talented they are. We're getting there, you can definitely tell we're getting there."
All three quarterbacks were dressed Saturday, and all three took snaps for the first game all season. Senior Travis Russell, Campbell and sophomore Evan Cummins create a trio Campbell believes causes a lot of confusion for opposing defenses and is yet another threat for the Ferris offense.
Beside the six sacks accumulated against the Cardinals, Ferris defense snagged two interceptions by senior defensive backs James Ceasar and Alex Thomas. SVSU converted only two of 12 third down attempts, and 10 of their 12 drives ended in a punt or an interception.
"Going into this game we were No. 2 in the nation in passing efficiency defense, which is really cool to see. We're defending the pass really well," Annese said. "We're not giving up real easy ones, and in the past we did that. So I love the way we're playing on defense and it gives us really a great balance, because on both sides of the ball we've been solid."
Sophomore wide receiver Sy Barnett once again led the team in receiving yards with 114 on only three receptions, his longest an 88-yard touchdown. Barnett currently leads the GLIAC in receiving yards per game at 79.1.
"When Sy gets out ahead, it's like… I mean, I don't know, does anybody notice how fast he is in open space? It's like nobody's ever caught him," Annese said.
Ferris hits the road for the trek north to Houghton to face the Michigan Tech Huskies Saturday, Nov. 2. The Huskies will pose a challenge to Ferris' offense as they lead the GLIAC in sacks with 27, and are next in line behind Ferris in rushing yards allowed per game at 113.4.
"We're grounded every week. We come to work, ready to play, we're focused on the task at hand. We haven't looked by an opponent in years, and I mean years," Annese said of the upcoming matchup. "Tech's been really good. They've played everybody tough in our conference. They're always physical and so that's who we're going to be focused on and we'll be ready."