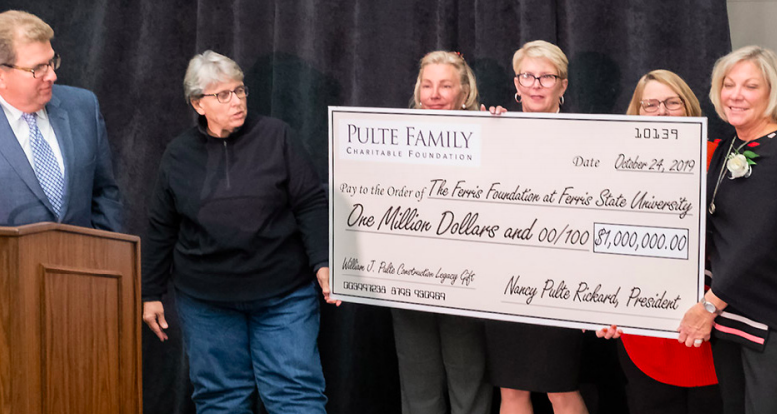 Ferris' construction technology and management program was recently gifted $1 million from the Pulte Family Charitable Foundation.
The first $700,000 will be used for a scholarship granted to students entering the construction management program while the remaining $300,000 will be used to better the program.
The $1 million donation to the program includes a $700,000 award to establish the William J. Pulte Scholarship Endowment, which receives a match from The Ferris Foundation, as part of the Ferris Futures Scholarship Challenge.
This brings the total value of the William J. Pulte Construction Scholarship Endowment to $1.4 million.
The remaining $300,000 will go to the Construction Management Experiential Technical Learning Endowment which impacts all students in the program, according to Ferris construction management professor Suzanne Miller.
The construction management program at Ferris is well known for its success and prosperity around Michigan, and this scholarship and donation duo may add to its reputation.
"I actually went online and Googled construction and trade schools in Michigan," widow of Bill Pulte and spokesperson of the Pulte Family Charitable Foundation Karen Pulte said. "After visiting Ferris State and touring the facility and seeing all they had to offer, it felt like an immediate fit. Bill [Pulte] always felt that the trades were one of the most important aspects to the building business, but unfortunately it was not a 'glamour' job. That being said, less and less students were going into that field."
The additional money in the program allows Ferris to improve the facilities, and to update technology required for the program.
Many students, as well as staff, are excited that the new money is being implemented into the branch of the school. It will allow the construction management group to grow as a whole and improve many aspects of their facility in addition to making the program more appealing to new students with the new scholarship available to students in their field.
Students in the construction program are also interested in where the money will go and have some expectations as to how the money will be used.
"I would like to see it go into maybe some scholarships, but also newer technology in our atrium, with a printer and some newer technology," Ferris construction management senior Tyler White said. "Construction is headed more toward technology-based career."
If you are interested in the charity or the scholarship, more information can be found via the Ferris website.